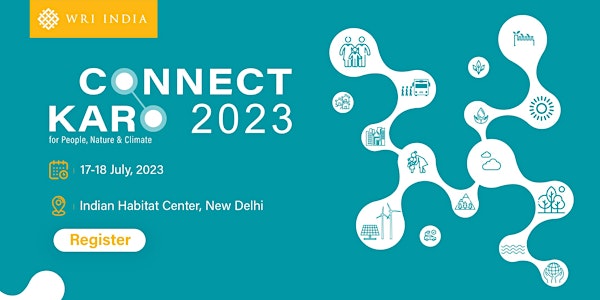 Connect Karo 2023
WRI India's annual flagship event brings together individuals and organizations working towards a sustainable low-carbon future.
Date and time
July 17 · 9:30am - July 18 · 6pm IST
Location
India Habitat Centre Lodhi Road New Delhi, DL 110003 India
Agenda
Day 1: 17 July
Day 2: 18 July
10:00 AM - 11:00 AM
Opening Plenary: For People, Nature and Climate
---
Silver Oak
11:10 AM - 12:40 PM
National Urban Policy
---
Jacaranda I
Water Sensitive Urban Management: Challenges & Practices
---
Jacaranda II
Circularity in Renewable Energy Projects in India
---
Silver Oak
Vulnerability to Resilience: Fostering a Just Transition for MSMEs
Climate; Energy; Resilience
---
Juniper
Streets and Safety: Learnings from 10 years of Open Streets Movements in India
---
Tamarind
1:40 PM - 2:40 PM
Plenary: Economy-wide Transitions for Green Development
---
Silver Oak
2:50 PM - 4:20 PM
Report Launch: NCR Economic Geography
---
Jacaranda I
Elevating Community-level Water Security towards a Water Sensitive City
---
Jacaranda II
Evaluating Readiness for Deployment of 50,000 e-Buses by 2030
---
Juniper
Station Access and Mobility Program (STAMP) I
---
Tamarind
Fast Tracking Green Hydrogen Value Chain in India
---
Marigold
4:30 PM - 6:00 PM
Infrastructure Response in TOD Zones
---
Jacaranda I
Thriving Eco-City Regions in India
Water & Resilience; Urban Planning
---
Jacaranda II
Financing the Clean Energy Transition for India
---
Silver Oak
Building Efficiencies in Electric Bus Planning and Operations
---
Juniper
Station Access and Mobility Program (STAMP) II
---
Tamarind
About this event
1 day 8 hours

Mobile eTicket
WRI India is happy to announce that its flagship knowledge event, Connect Karo 2023 is back this year as a ground event that will be held during July 17-18, 2023, at the India Habitat Centre, New Delhi. The overarching theme for this year's event is 'For People, Nature and Climate.'
Connect Karo 2023 offers a platform for multiple stakeholders from India and abroad to share their knowledge, perspectives, and experiences as well as to ease collaborations toward finding meaningful responses to critical environmental and sustainability challenges. Connect Karo is an institutional event that presents a wide portfolio of its research-based, solution-centric programs and initiatives.
This year, Connect Karo 2023 will convene plenaries on themes like Transformative Urbanization and Green Development as well as specific sessions on Climate Action, Responsible Energy, Clean Energy Transition, Energy for Health, Financing Clean Energy, Carbon Markets, Green Hydrogen Technologies, Food Loss and Waste, Healthy Public Spaces, Water Security, Water Resilience, Ecocity Regions, Transit-Oriented Development and Transport Efficiencies in E-Bus Initiatives.
Connect Karo 2023 promises to be a lively, dialogic space where ministers, administrators, policy makers, investors, philanthropists, business leaders and journalists deliberate with sectoral experts, practitioners, and researchers to reach an evidence-based understanding of complex, sectoral issues and seek nuanced, contextualized solutions to some of the most urgent challenges of our times.
WRI India plans to release some of its major publications and, with our partners, launch initiatives like the Clean Air Accelerator and the second iteration of TheCityFix Labs: Accelerating Nature-based Solutions at Connect Karo 2023.
Frequently asked questions
Is advance registration required?
Are there any restrictions on who can register? Is there any fee to attend Connect Karo?
Where can I find information about the event agenda and schedule?
What topics will be covered at Connect Karo?
How can I /my organisation participate in Connect Karo?
Where can I learn more about WRI India?
About the organizer
WRI India, an independent charity legally registered as the India Resources Trust, provides objective information and practical proposals to foster environmentally sound and socially equitable development. Our work focuses on building sustainable and liveable cities and working towards a low carbon economy. Through research, analysis, and recommendations, WRI India puts ideas into action to build transformative solutions to protect the earth, promote livelihoods, and enhance human well-being.