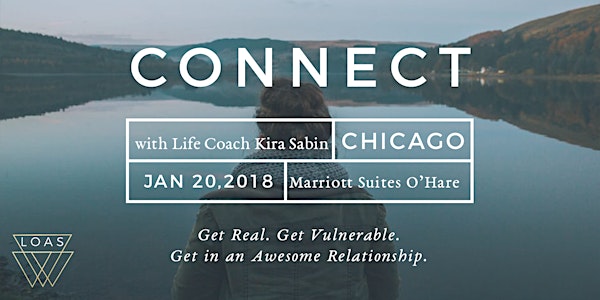 CONNECT :: Get Real, Get Vulnerable & Get In An Awesome Relationship
When and where
Location
Chicago Marriott Suites O'Hare 6155 North River Road Rosemont, IL 60018
Description
CONNECTION.
As humans, we not only WANT to be connected to others, we NEED to be connected. To live, thrive, and survive.
And if you're single, you probably feel this lack of connection more than most. So why does making a real connection seem so hard nowadays?
It's certainly not for lack of options. There are more ways to meet people than ever — Match, OKCupid, Tinder, Bumble, eHarmony, the lists go on and on — but you're so tired of it all; you just want to meet that one person who magically gets you. At the same time, you're trying to protect yourself, so the walls go up...
Without realizing it, you're subtly sabotaging potential connections, all the while hoping they'll take the time to break down the walls that you put up in order to protect yourself.
Here is the truth:
It is no one's job to figure you out, break down your wall, read your mind or just "get you".
Love doesn't work that way.
It's our job to be available and vulnerable enough to teach someone how to love us and how to fit in our lives. If people don't know how to fit in our life, love us, or be great for us...the love and relationship won't go to a deeper level.
We can't truly CONNECT.
That's why I created this special one day event to really dig into...
Why you aren't being approached by men.

Why you're attracting emotionally unavailable people and how to stop.

What emotional and physical availability really looks like and how to spot it early in a dating relationship.

How to truly start connecting with people and creating deeper relationships.
You'll walk away with new ways to think about yourself, men, and the dating culture, a clearer understanding of how to date smarter - with less fear of rejection - and with more confidence so you can let down those walls and truly connect.
CONNECT is great for you if:
You find yourself going on date after date and not finding the right person, and you have no idea why.

You just can't seem to get past the first or second date no matter what you do.

You haven't dated for awhile and are scared to put yourself out there.
I got you.
CONNECT is a full day workshop with a community of other incredible single women working on their best selves. We will not be in our seats the whole time zoning out while I drone on for hours. :) We'll be sharing, interacting, and laughing with a group of new best friends from around the country.
Schedule for the day
9:30 am – Check-in. Meet the other ladies, and get settled in for the day.
10:00 am - Why things are different now. I will break down what it's like to be dating in 2018, why it's different than ever before, and why it is killing our chances at true connections.
11:00 am - Ways you're sabotaging yourself and don't even know it. We're going to dig into common mistakes you're making that stop connection in it's tracks — mistakes you probably didn't even know you were making.
12:30 pm - Lunch. You will have the option to pre-order lunch so you don't have to go out in the cold. Brrrrr.
1:30 pm - Emotional availability — what it really means and how to detect it. Do you keep hitting dead ends with guys? Do you think it'll work and they end up ghosting, checking out, or just not being able to commit? There are ways to detect it and prevent it!
3:00 - How to really connect with dates and create relationships that work. We are going to be figuring out (and practicing) how to have better dates, build deeper connections, and date with confidence and ease.
There will be occasional stretch and restroom breaks throughout the day.
Sounds awesome. Right?
You'll walk away knowing...
How to be able to detect if someone is emotionally unavailable and effective strategies for walking away if they're not.

How to watch yourself for self-sabotage and be able to stop yourself.

Scripts for letting someone know you are or you're not interested.

How to be more available to be approached more often.

How to create deeper connections with everyone in your life, especially men.
Optional: After the event, join us in the hotel bar/restaurant for cocktails and dinner – a great opportunity for more time to chat with me and the other ladies.
Your ticket includes:
7.5 hours of downright dating genius.

A Facebook group that will open December 15th so you'll have a chance to to meet the other ladies, and find a roommate if you need to.

Fun surprises and giveaways at the event.

The chance to meet other incredible single women who get what you are going through.

A super-awesome insider's discount for my upcoming Owner's Manual LIVE event in the Spring!
Not included:
Travel to and from Chicago

Hotel stay

Meals and beverages
About the hotel:
Chicago Marriott Suites O'Hare - Rooms start at $85 a night
Free parking at the hotel for anyone who drives.
Free airport shuttle.
The all-suite, newly renovated hotel boasts stellar amenities, including flat-screen TVs, separate areas for working and relaxing, a marble bathroom, and more. They also offer a range of additional perks such as: a fully stocked gym, a business center, a heated indoor pool, and on-site dining at their hotel restaurant. Check it out here.
FAQs
Why Chicago...in January?
It may seem weird to head toward the cold in January. But here's the awesome part: no one wants to hang out in snow in January, so I can keep this whole experience super-affordable!
A beautiful newly designed Marriott hotel that averages about $85/night. (Note: I don't set the hotel prices, so they may change.) You can even find a roommate!
Flights are also super reasonable! These are some of the flights round trip. Can you believe it?
NYC - $79
LAX - $93
MIA - $66
MSP - $89
HOU - $79
PHX - $84
Is there a minimum age requirement to enter the event?
You need to be at least 21 to attend this event.
What are my transportation/parking options for getting to and from the event?
Fly to O'Hare, with a free Marriott shuttle to/from the hotel.
Driving? Head to 6155 North River Road Rosemont Illinois 60018 USA with free parking for event participants.
How can I contact the organizer with any questions?
You can reach out to Kira with any questions at sabin.kira@gmail.com
What's the refund policy?
There are no refunds, but if you find you can't make it after you've purchased your ticket, you can apply your ticket price to another event, class, or private session.
Are men allowed to come?
Nope. Ladies only.