Description
Connect @ Aldo Lamberti is a networking event brought to you by the Alice Paul Instiute along with the South Jersey Chapter of the National Association of Women Business Owners (NAWBO SJ). Engage with established local professionals from two strong networks. The API Connection Series is excited to work with NAWBO SJ to expand networking opportunties and give faithful attendees fresh engagements. Reserve your place and become a part of our network. Unwind after work. Hosted at Caffee Aldo Lamberti, the night is sure to impress with a robust food selection, refreshing champagne tasting, and sparkling conversation.
---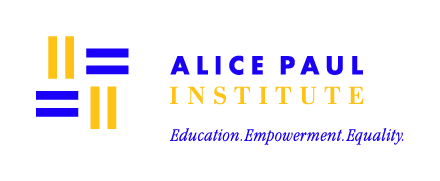 Founded in 1985, the Alice Paul Institute (API) is a non-profit 501c(3) organization based in Mt. Laurel, NJ. API educates the public about the life and work of Alice Paul and continues that work by educating and empowering women and girls from all segments of society to take leadership roles in their schools and communities. API is headquartered at Paulsdale, Paul's birthplace and family home. A National Historic Landmark, Paulsdale serves as a center for women's leadership development and heritage programming. To learn more about the Alice Paul Institute, please visit www.alicepaul.org.
---

NAWBO SJ was formed in February of 2003 and was granted chapter status from the National Organization in June 2003. NAWBO South Jersey's vision and mission is aligned with that of NAWBO National. We are committed to empowering the women business owners of South Jersey through education, leadership opportunities, sisterhood and advocacy.
Due in part to the support of our Corporate Partners and the success of our annual Beyond the Glass Ceiling Awards Gala, we have been able to create high-quality programs that offer women business owners educational programming and leadership opportunities that propel their businesses forward.
As we look to the future, we strengthen our resolve to continue that legacy and to become the unified voice of the women business owners in our region. We dedicate ourselves to forging the bonds of sisterhood so that, together, we create a vibrant and powerful community.
NAWBO® South Jersey serves the needs of women business owners in the following New Jersey counties: Burlington, Camden, Gloucester, Cumberland, Salem, Atlantic, Cape May and portions of Mercer.
For more information: www.nawbosouthjersey.org