Description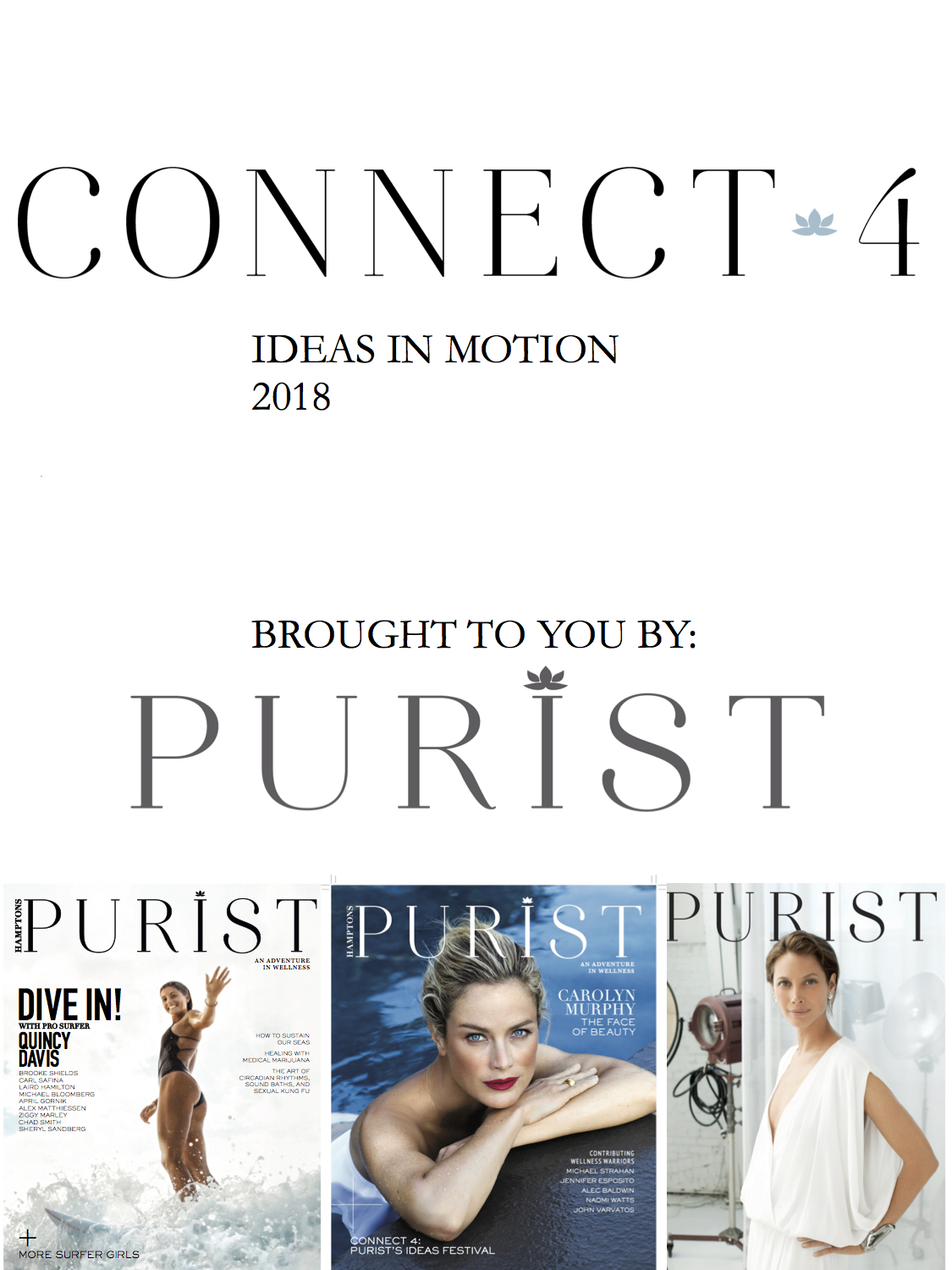 COME TO AN INSPIRING, MAGICAL 2-DAYS OF TALKS!!! We all crave connection to each other, and PURIST's CONNECT 4 connects people and ideas over 2 days of inspirational speakers.
Single Day Tickets: $150
2-Day Discounted Pass: $250
Thursday, August 16th: 1PM-5PM
1-1:45PM Wellness advocate Donna D'Cruz,

Integrative medicine physician and New York Times best-selling author


Dr. Frank Lipman, Karolina Kurkova, creator of a healthy baby line of products, and Fashion Icon and Philanthropist Donna Karan in conversation and D'Cruz will lead us all in a 5-minute meditative moment too.
2PM Author and David Lynch Foundation head, Bob Roth, in conversation with Mary Louise Parker on Transcendental Meditation
3-4:30PM Award-winning filmmaker Alexandra Shiva, whose film, This is Home, won the Audience Award at Sundance this year, will screen film and hold a discussion immediately following.
Friday, August 17th: 1PM - 5PM
1 p.m. Doug Stoup - The world's leading polar explorer (and expert on Climate Change) pushes the limits of human endurance and humane existence
2 PM Record industry icon Jason Flom fights injustice with the Innocence Project; his new book, Lulu is a Rhinoceros, benefits the African Wildlife Foundation.

3-5PM The Nantucket Project brings their signature programming to our stage with live talks, original short films, music, art and more with special guests including a performance from Red Hot Chili Peppers drummer Chad Smith
6 PM Governor Andrew Cuomo's dedication to public service and proven leadership skills have made New York once again the nation's beacon for social progress. Governor Cuomo will speak at Topping Rose, 1 Bridgehampton-Sag Harbor Turnpike, Bridgehampton.
The new wave of 'ideas events' will converge in the Hamptons for the second annual talks symposium from PURIST MAGAZINE and bring together academics and creatives in the

four

major fields at the top of everyone's minds today: the well-being of ourselves and our environment, new technology, education and finance.


Come for one speaker or come for all!
15-minute intermissions between speakers.
---