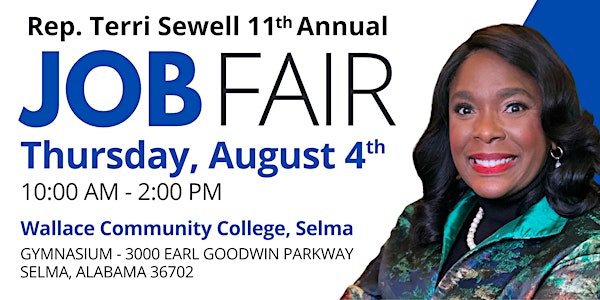 Congresswoman Terri Sewell Hosts: 11th Annual Job Fair
Congresswoman Terri Sewell Hosts: Alabama's 11th Annual 7th Congressional District Job Fair
When and where
Location
George Corley Wallace State Community College Selma 3000 Earl Goodwin Parkway Selma, AL 36703
About this event
Congresswoman Terri Sewell is excited to host the 11th Annual 7th Congressional District Job Fair. If you are looking for employment, a better opportunity, or would like to explore a new career, join us at Wallace State Community College-Selma Campus Gymnasium on Thursday, August 4th. Employers will be on site from 10:00am-2:00pm. Please dress professionally with resumes on hand and a winning attitude.
Pre-registration is highly recommended, but not required. Onsite registration will be available.
COVID Safety Procedures:
Attendees are strongly encouraged to wear masks, while indoors.
Greeting others with physical contact (for example, handshakes) is discouraged.
Featured Industries:
Automotive
Restaurant & Food Management
Transportation & Construction
Hospitality & Retail
Health Services
Utilities & Telecommunications
Manufacturing & Production
Staffing Agencies
Government Agencies
Law Enforcement