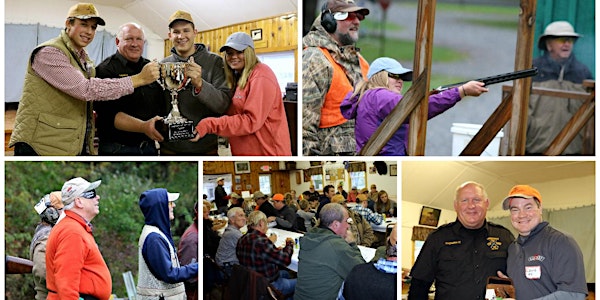 Congressman GT Thompson's 7th Annual Top Shot Day
When and where
Location
Liberty Township Sportsman's Club 1140 Marsh Creek Road Howard, Pennsylvania 16841
Description
7th Annual Congressman GT TOP SHOT Competition Day
Saturday September 8th, 2018

Categories:
Trap/Wobble Trap/Sporting Clays

Pistol

Blackpowder

NEW! .22 Rifle
Both experienced and beginning shooters welcome; mentors are available.

8:00 AM - Onsite Registration & Optional Warm-ups
9:00 AM - Competition Begins
Cost:$ 50 - payable cash or check at the door. Includes course fees and meal. $20 student tickets available. Must be 18 or older. Includes lunch.
Clay birds are provided for Trap/Wobble Trap/Sporting Clays shooters free of charge.

Shooters are responsible for providing own firearms & ammunition. (Ammunition will be available onsite for purchase.

Shotguns, pistols & blackpowder rifles will also be available for use on a limited basis.
Note: ONLINE PRE-REGISTRATION IS REQUIRED.
Questions? events@gtthompson.com or call Jason Smith: (570) 660-7057
You must complete the online form in order to participate in this event. Please be prepared to show photo ID upon arrival. Registrant participation is at the sole discretion of the organizers and law enforcement.
---
Disclaimer
Contributions from corporations, labor organizations, national banks, foreign nationals that are not lawfully admitted permanent residents, and federal government contractors are prohibited. Funds received in response to this solicitation are subject to federal contribution limits. Federal law requires us to use our best efforts to collect and report the name, mailing address, occupation and name of employer for individuals whose contributions exceed $200 in a calendar year.

By purchasing a ticket to this event and/or making a donation, I confirm that I am at least 18 years old and am making this contribution on a personal credit or debit card with my own personal funds – not those of another person or entity – and that I meet the eligibility requirements set forth below:

* I am not a foreign national.
* I am not a federal contractor


---
Top Shot is sponsored by Friends of Glenn Thompson.