Sales Have Ended
Registrations are closed
Thank you so much! 감사합니다!
Sales Have Ended
Registrations are closed
Thank you so much! 감사합니다!
Description
Reps. Charles B. Rangel and Ed Royce cordially invite you to a
Congressional Screening of Ode To My Father:
Korean War & Divided Families
<국제시장> 미국 연방 의회 특별상영회
Wednesday, June 3, 2015
Congressional Orientation Theater South
U.S. Capitol Visitor Center (CVC)
Washington, DC • 20515
Watch the trailer here.
This very special screening is held in support of
legislation encouraging family reunions between
Korean-Americans and North Koreans (H.CON.RES 40)
and to strengthen the US-ROK alliance.
Speakers:
Representative Charles B. Rangel
House Foreign Affairs Committee Chairman Ed Royce
Ambassador Ahn Ho-young (안호영 주미대사)
Director Youn Je-Kyoun (윤제균 감독)
5:30pm - 6:30pm Reception
6:30pm - 9:30pm Screening & Discussion
Moderated By: Jean H. Lee, Associated Press Bureau Chief, North Korea (former)
with Youn Je-kyoun, Director, "Ode To My Father" "Haeundae"
& James Person, Deputy Director, Wilson Center Korea Program
Guests enter the main CVC entrance & notify security
they are going to the Ode To My Father screening.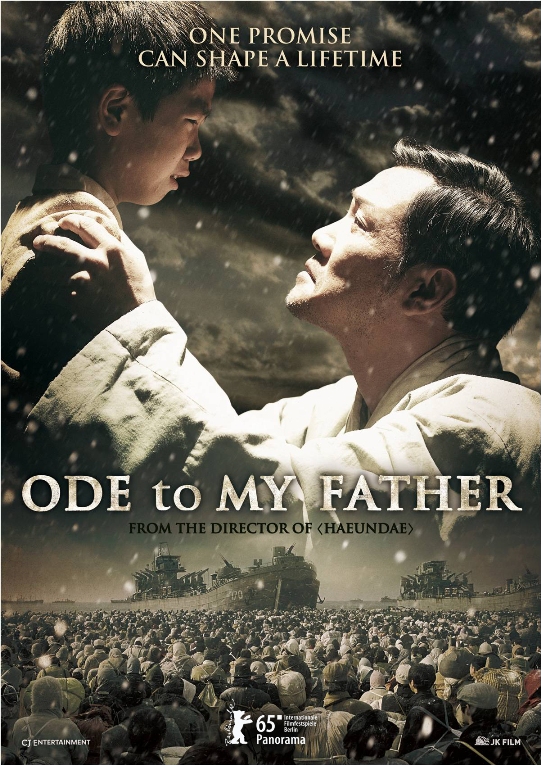 Ode To My Father is the story of Deok-Su, an ordinary man, who in the face of tumultuous events, marshals extraordinary courage to protect his family. Beginning with the break-up of his family during the Korean War, Deok-Su's last words to his father are a promise to put the family first. As he matures, that vow leads him to the coal mines of 1960's Germany, the jungle of the Vietnam War, and even onto national television. 'Ode To My Father' is a heartwarming tale of a regular man who musters superhuman strength to provide for and re-unite his family amidst the maelstrom of modern Korea's history.


1950년 한국전쟁을 지나 부산으로 피란 온 '덕수'(황정민 분)의 다섯 식구, 전쟁 통에 헤어진 아버지를 대신해야 했던 '덕수'는 고모가 운영하는 부산 국제시장의 수입 잡화점 '꽃분이네'서 일하며 가족의 생계를 꾸려 나간다. 모두가 어려웠던 그때 그 시절, 남동생의 대학교 입학 등록금을 벌기 위해 이역만리 독일에 광부로 떠난 '덕수'는 그곳에서 첫사랑이자 평생의 동반자 '영자'(김윤진 분)를 만난다. 그는 가족의 삶의 터전이 되어버린 '꽃분이네' 가게를 지키기 위해 '선장'이 되고 싶었던 오랜 꿈을 접고 다시 한번 전쟁이 한창이던 베트남으로 건너가 기술 근로자로 일하게 되는데… 가족을 위해 굳세게 살아온 그때 그 시절, <국제시장>은 가장 평범한 아버지의 가장 위대한 이야기다!