About this Event
Stablecoins and The Future of Money
United States Capitol Visitor Center - Congressional Meeting Room South (CVC 217)
What exactly is a stablecoin and what important functions can a stablecoin serve? How are stablecoins different from already-existing payments instruments? Why are major regulators and central banks talking about ways to regulate them and possibly create their own?
Prompted by the announcement of the Libra platform, we have seen multiple Congressional hearings on the topic, reports from global organizations (including the G7 Working Group on Stablecoins), and news that China is preparing to issue its own renminbi-backed stablecoin in the coming months.
The Chamber of Digital Commerce seeks to educate policymakers about the important functions, opportunities, and challenges stablecoins present. Hear from industry and government experts on the different types of stablecoins and perspectives on their policy, regulatory, and global implications. Daniel Gorfine, former Director of LabCFTC and former Chief Innovation Officer at the CFTC, will moderate this discussion. Presenters will include Steven Becker, President and COO, Maker Foundation; Erik Bethel, Executive Director, World Bank Group; Yusuf Hussain, Head of Risk, Gemini; and Amy Davine Kim, Chief Policy Officer, Chamber of Digital Commerce.
Join us to find out why stablecoins are more than a popular buzz word.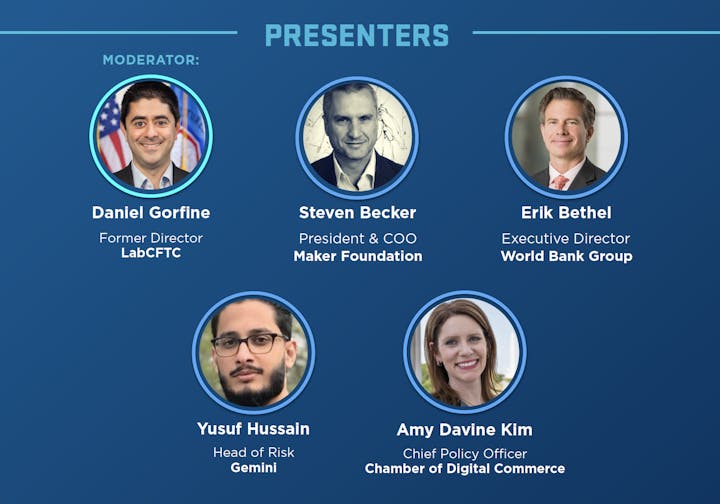 Lunch will be provided.
This event has been designed to comply with House and Senate Ethics rules as a widely attended event.