Congress Adam Schiff: How We Almost Lost Our Democracy and Still Could
To access event, copy and paste this link into your browser: ZOOM LINK: https://us02web.zoom.us/j/87675642709
About this event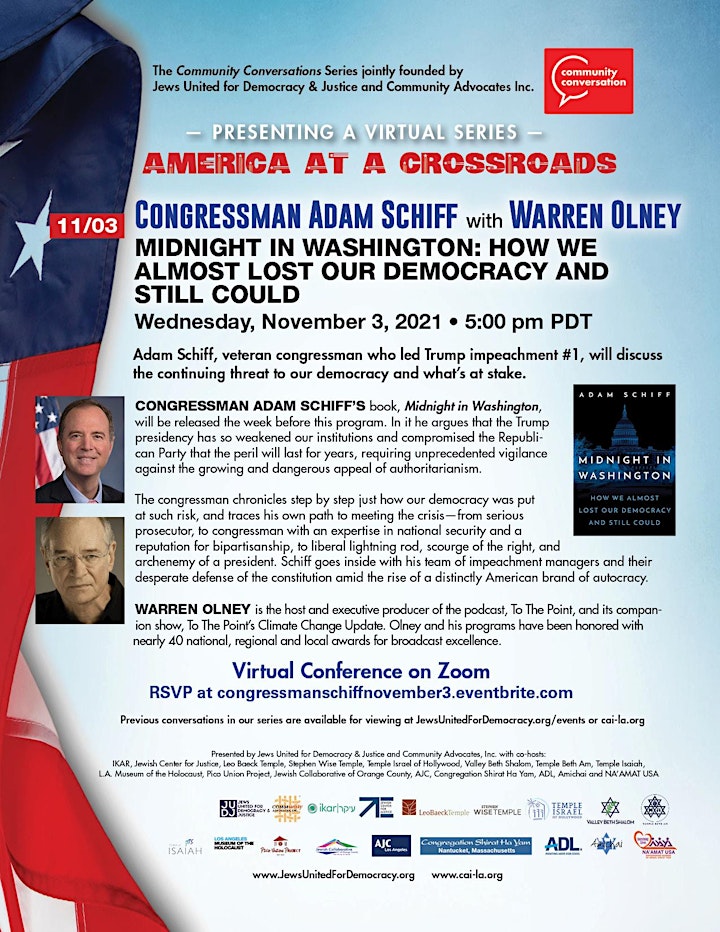 Congressman Adam Schiff
Congressman Adam Schiff's book, Midnight in Washington, will be released the week before this program. In it he describes the continuing threat to our American democracy. He argues that the Trump presidency has so weakened our institutions and compromised the Republican Party that the peril will last for years, requiring unprecedented vigilance against the growing and dangerous appeal of authoritarianism. The congressman chronicles step by step just how our democracy was put at such risk, and traces his own path to meeting the crisis—from serious prosecutor, to congressman with an expertise in national security and a reputation for bipartisanship, to liberal lightning rod, scourge of the right, and archenemy of a president. Schiff takes us inside his team of impeachment managers and their desperate defense of the constitution amid the rise of a distinctly American brand of autocracy.
Deepening our understanding of prominent public moments, Schiff reveals the private struggles, the internal conflicts, and the triumphs of courage that came with defending the republic against a lawless president—but also the slow surrender of people that he had worked with and admired to the dangerous immorality of a president engaged in an historic betrayal of his office. Schiff's fight for democracy is one of the great dramas of our time, told by the man who became the president's principal antagonist. It is a story that began with Trump but does not end with him, taking us through the disastrous culmination of the presidency and Schiff's account of January 6, 2021, and how the anti-democratic forces Trump unleashed continue to define his party, making the future of democracy in America more uncertain than ever.
(from publisher, Penguin)
Organizer of Congress Adam Schiff: How We Almost Lost Our Democracy and Still Could
Jews United for Democracy and Justice (JUDJ) is a broad cross-section of Los Angeles Jews who stand with our community and others to assert a Jewish voice to safeguard the principles and foundations of our constitutional democracy.
Founded in the wake of the executive orders on immigration and refugees, JUDJ is deeply concerned about rising threats to religious tolerance, equal rights, a free and fair press, human dignity, and long-held norms of decency and civil society. We will speak out and take action when our shared Jewish values require us to counter those threats.
Community Advocates, Inc. (CAI) is a nonprofit organization that advocates innovative approaches to human relations and race relations. It was founded on the idea that while we do not live in a perfect world, there has been steady and continuing progress in the arena of race and human relations. CAI is led by its Chairman Richard Riordan, former Mayor of Los Angeles and President David A. Lehrer, former Regional Director of the Anti-Defamation League. For many years its vice president was the late Joe R. Hicks, former Executive Director of the Los Angeles City Human Relations Commission. CAI spreads its vision through op-eds, speeches, panel presentations, journal articles and broadcast programming.