Description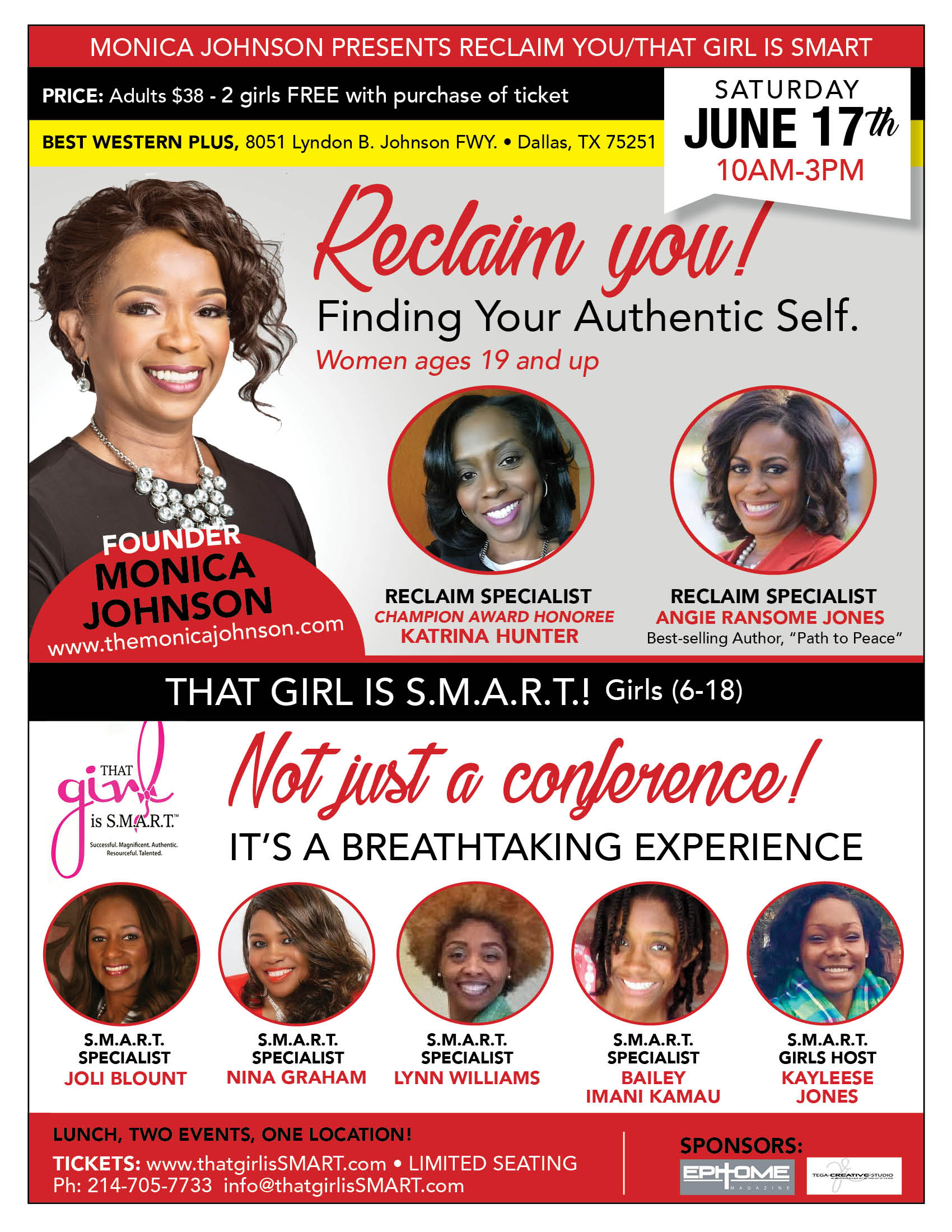 Let's have the Crucial Conversations and an amazing life experience. Join us for Women and girls empowerment & excitement June 17, 2017 Dallas, TX.
Reclaim You/That Girl is SMART presents our 1st annual "Champion Award" recipient honoree Katrina Hunter.
We are honored to recognize Katrina Hunter's contributions of servant leadership and philanthropy. Katrina has a heart of love, outstanding acts of kindness and humility that enriches the lives of individuals, helps families with life issues, and actively supports organizations who promote human welfare. Katrina ultimately creates a more just and caring world.
Reclaim You:
Our core is to help women reclaim themselves by living authentically. Reclaim the womnn that has lost herself through life experiences.
That Girl is SMART:

Our core mission is to help transform the lives of young girls from the inside out. We accomplish this by creating an environment which motivates and empowers our girls to be S.M.A.R.T (Successful. Magnificent. Authentic. Resourceful. Talented)
ALERT: Women when you purchase a ticket the more girls can attend for FREE (With the purchase of an adult ticket TWO girls can attend for FREE).
OR
You can also donate to sponsor a girl by clicking this link.
www.PayPal.Me/thatgirlisSMART/25 $25.00. In today's time it's more needed than ever.
Get Your Ticket... It's NOT a Conference, it's a Breathtaking Life Experience.
TGIS is a registered 501(c)(3). You can also go to www.thatgirlissmart.org & get your TICKETS or DONATE a tax deduction. #ThatGirlisSMART
Questions please call 214-705-7733 or email info@thatgirlissmart.com

#ThatGirlisSMART
Instagram @iamthatgirlissmart
Twitter @ThatGirlissmart
Facebook That Girl is SMART