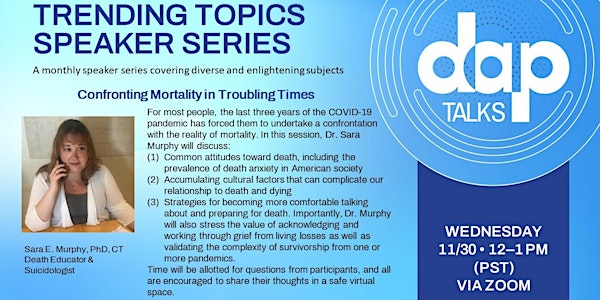 Confronting Mortality in Troubling Times
Trending Topics: A monthly speaker series covering diverse and enlightening subjects
About this event
Welcome to DAP Health's monthly speaker series, where we discuss educational topics that tackle real world issues.
For most people, the last three years of the COVID-19 pandemic has forced them to undertake a confrontation with the reality of mortality, yet the troubling nature of our contemporary climate has initiated or compounded a number of death losses and living losses that may make acceptance of mortality challenging. In this session, Dr. Sara Murphy will discuss (1) common attitudes toward death, including the prevalence of death anxiety in American society; (2) accumulating cultural factors that can complicate our relationship to death and dying; and (3) strategies for becoming more comfortable talking about and preparing for death. Importantly, Dr. Murphy will also stress the value of acknowledging and working through grief from living losses as well as validating the complexity of survivorship from one or more pandemics. Time will be allotted for questions from participants, and all are encouraged to share their thoughts in a safe virtual space.
Dr. Sara Murphy is a death educator, certified thanatologist (Association for Death Education and Counseling), and suicidologist with fifteen years of scholarly, pedagogical, and professional experience in the field. She is a faculty member at the University of Rhode Island in the Honors Program and Department of Gender & Women's Studies and an affiliate faculty member in the Thanatology Graduate Program at Marian University.
Trending Topics is a monthly series featuring expert speakers on a variety of topics. RSVP to receive the Zoom link. All Trending Topics are open to the public.