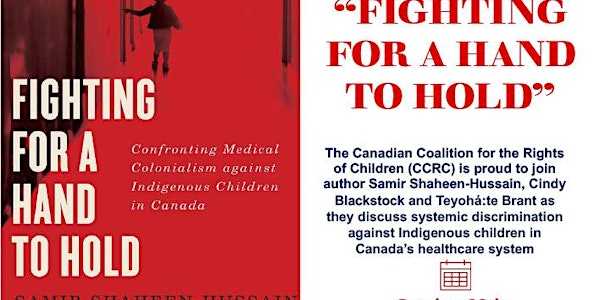 Confronting Medical Colonialism: Fighting for a Hand to Hold Book Launch
Join Samir Shaheen-Hussain, Cindy Blackstock & and Teyohá:te Brant as they discuss discrimination against Indigenous peoples in healthcare.
About this event
The Canadian Coalition for Children's Rights is proud to join author Samir Shaheen-Hussain (@SamirS_H) as he discusses his new book, Fighting for a Hand to Hold (https://fightingforahandtohold.ca/) with Cindy Blackstock (@cblackst @CaringSociety & @SpiritBear) and Teyohá:te Brant.
The interactive discussion will give space for the panelists to discuss how colonial practices and policies in Canada have harmed and continue to negatively impact on the health and well-being of Indigenous children. They will also explore tangible avenues to decolonize healthcare and social services to ensure a more just world for present and future generations.
For children & youth: the Caring Society recently released the Spirit Bear animation short film for kids/youth. Check it out: https://fncaringsociety.com/films.
This webinar is hosted by the Canadian Coalition for the Rights of Children, a registered Charity.
All author royalties from sales of this book will be redirected to groups and initiatives that support Indigenous self-determination, and that are concerned with the health and wellness of Indigenous children and youth, including First Nations Caring Society (https://fncaringsociety.com/), Eagle Spirit Science Futures (https://www.facebook.com/eaglespiritacademy/) and Minnie's Hope Social Pediatric Centre (https://www.facebook.com/MinniesHopeSPC/). We encourage participants to consider a donation to these two organizations that support the rights & well-being of children.
Zoom details for this event will be sent to all those who register in advance of the webinar.
Registration closes October 29th at 2pm or when tickets sell out!
Speaker bios:
Cindy Blackstock, PhD A member of the Gitxsan Nation, Cindy is the Executive Director of the First Nations Child and Family Caring Society and a professor of social work at McGill University. She focuses on Indigenous children's rights and children's engagement in reconciliation-based social justice.
Teyohá:te Brant is Kanyen'kehá:ka raised in the community of Tyendinaga. She has contributed to research related to Indigenous health and social justice at St. Michael's Hospital's Well Living House and Women's College Hospital's Institute For Health System Solutions and Virtual Care. She is entering her fourth year of philosophy at Dalhousie University and hopes to later attend medical school.
Samir Shaheen-Hussain is the author of Fighting for A Hand to Hold: Confronting Medical Colonialism against Indigenous Children in Canada. He has been involved in anti-authoritarian social justice movements for nearly two decades, and is a member of the Caring for Social Justice Collective. He is an assistant professor in the Faculty of Medicine at McGill University and works as a pediatric emergency physician in Tio'tia:ke (Montreal).