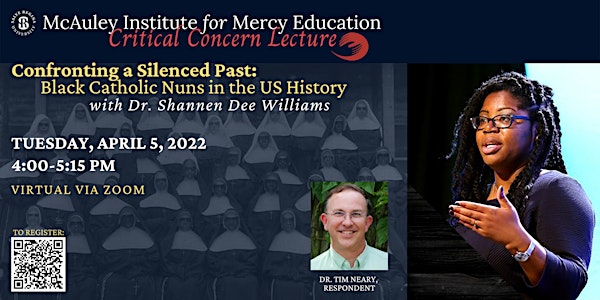 Confronting a Silenced Past: Black Catholic Nuns in the US History
McAuley Institute Critical Concern Lecture & Dialogue
About this event
The McAuley Institute for Mercy Education hosts a Virtual Critical Concern Lecture & Dialogue:
How is the history of the Sisters of Mercy connected to the Critical Concern of Racism? How might this history impact our commitment to the work of antiracism today? In this talk, Dr. Williams, Associate Professor of History, University of Dayton, will explore the master narratives of women's religious communities, including the Sisters of Mercy, and consider how Catholic participation in the Black freedom struggle fundamentally change when the lives and experiences of African American nuns are taken seriously.
Dr. Shannen Dee Williams is Associate Professor of History at the University of Dayton and author of the forthcoming book, Subversive Habits: Black Catholic Nuns in the Long African American Freedom Struggle (Duke University Press, 2022).
Dr. Timothy Neary will serve as a respondent. Professor Neary is the Chair of the Department of History and American Studies at Salve Regina University and McAuley Scholar in the Mercy Interdisciplinary Faculty Collaborative on Race.