Confluence 2014

Monday, November 17, 2014 at 9:00 AM

-

Tuesday, November 18, 2014 at 12:00 PM (MST)
Event Details
 We're sorry.  This event is sold out!

Confluence 2014
Welcome to the inaugural Weber River Symposium: Confluence 2014
The Weber River Partership is a diverse group of people comprised of representatives of cities, counties, water users, conservation districts, private/state/federal agencies and private landowners.  The partnership developed a Restoration Plan for the Weber River in 2014.  The Restoration Plan identifies 7 watershed values ranging including
Quality of Life
Water Quantity
Water Quality
Agriculture
Recreational Fishing
Water-Based Recreation
Community and Economic Development
These watershed values overlap and are intertwined, providing clear evidence for the need to develop and grow a watershed partnership that integrates these values.  One of the key watershed needs identified in the strategic plan was a way to improve and integrate communication among broad and diverse interests. 
Click on the image below to read the 2014 Watershed Plan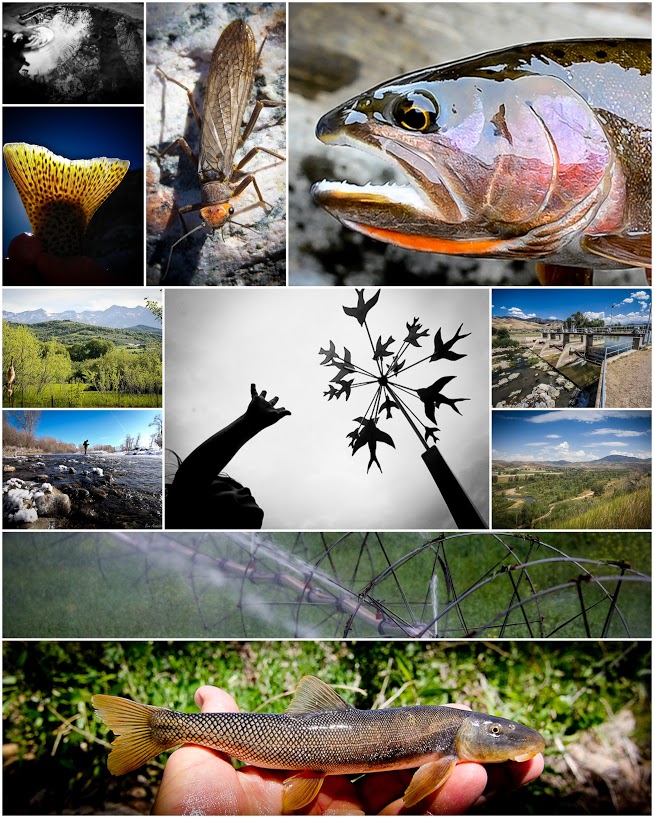 or

Confluence 2014 Agenda
November 17th (9:00 AM – 5:00 PM)

Plenary Session

Time

Title

Presenter(s)

9:00-9:30 AM

Welcome

Jake Powell – Upper Weber River Watershed Coordinator

9:30-10:00 AM

Keynote Address: "Working towards a shared future – the importance of cooperation at a watershed scale"

Mike Caldwell – Ogden City Mayor

10:00-11:00 AM

Panel Presentations: "Why is the Weber River watershed important and how do the people we serve benefit from partnership-focused, collaborative efforts in the watershed?"




Moderated by Mike Luers – Snyderville Basin Water Reclamation District

Tage Flint – Weber Basin Water Conservancy District

Alan Matheson – Senior Environmental Advisor to Governor Herbert

Greg Sheehan – Director of the Utah Division of Wildlife Resrources

Walt Baker – Director of the Utah Division of Water Quality

LuAnn Adams – Commissioner of the Department of Agriculture

11:00-11:15 AM

Hosted Break

11:15 AM-12:15 PM

Panel Discussion: Moderated question and answer session

Mike Caldwell – Ogden City Mayor

Tage Flint – Weber Basin Water Conservancy District

Alan Matheson – Senior Environmental Advisor to Governor Herbert

Greg Sheehan – Director of the Utah Division of Wildlife Resrources

Walt Baker – Director of the Utah Division of Water Quality

LuAnn Adams – Commissioner of the Department of Agriculture

12:15-1:30 PM

 Lunch (Provided by the Weber River Partnership) 

Symposium Presentations

1:30-1:50 PM

A look into the future of water supply in the Weber River watershed

Brian McInerney – NOAA

1:50-2:10 PM

Current and future water law in Utah and its implications to the Weber River watershed

Timothy Hawkes – Trout Unlimited

2:10-2:30 PM

Charting the course toward Utah's water future

Alan Matheson – Senior Environmental Advisor to Governor Herbert

2:30-2:50 PM

Water quantity and demand in relation to growth projections in the Weber River watershed

Scott Paxman – Weber Basin Water Conservancy District

2:50-3:10 PM

Hosted Break

3:10-3:30 PM

The impact of water on community and economic development

Chris Robinson - Summit County Council Member

3:30-3:50 PM

Irrigation in the Weber River watershed; opportunities for collaboration

Ivan Ray, Davis and Weber Counties Canal Company/Weber River Water Users Association

3:50-4:10 PM

Agriculture in the Weber River watershed; How does the river support us and also challenge us?   


Danny McBride - Natural Resources Conservation Service

4:10-4:30 PM

Water quality and partnerships in the Weber River watershed

Kari Lundeen – Utah Division of Water Quality

4:30-5:00 PM

Networking

 

November 18th (9:00 AM – 11:50 AM)

Symposium Presentations (continued)

9:00-9:10 AM

Welcome back – Moving forward

Jake Powell – Upper Weber River Watershed Coordinator

9:10-9:30 AM

Partnerships as a key to success. Case studies from across the West

Robert Warren – Bonneville Environmental Foundation

9:30-9:50 AM

The status and role of fisheries in the Weber River Watershed

George Sommer - Utah Habitat Council

9:50-10:10 AM

Bonneville cutthroat trout and bluehead sucker in the Weber River: Endangered Species Act implications

Paul Thompson – Utah Division of Wildlife Resources

10:10-10:30 AM

Holistic stream restoration in the Weber River watershed

Joe Wheaton - Utah State University


10:30-10:50 AM

Hosted Break

10:50-11:50 AM

Panel discussion and work session: How do we move forward together?

 

Moderated by Ben Nadolski – Utah Division of Wildlife Resources

Erin Bragg – Summit Land Conservancy

Elaine York – The Nature Conservancy

Paul Burnett – Trout Unlimited

Patrick Putt – Summit County Community Devleopment Director

Cole Panter – Weber and Ogden River Commissioner

Ivan Ray, Davis and Weber Counties Canal Company/Weber River Water Users Association

11:50 AM

Adjourn
When & Where

Ben Lomond Suites Historic Hotel
2510 Washington Blvd
Ogden, UT 84401


Monday, November 17, 2014 at 9:00 AM

-

Tuesday, November 18, 2014 at 12:00 PM (MST)
Add to my calendar