Conflict Resolution & Mediation Skills Training
About this event
Register ➣ Attend ➣ Get Involved
Be Engaged With The Learning Process!
This online training will be unlike any you've attended. Get engaged through interactive learning, online classes, Zoom breakout sessions, live presentations, personalized role-playing with coaches, problem-solving strategies, building communication skills and more.
In this online training, participants will gain a new perspective on conflict and conflict resolution, while acquiring skills that allow them to effectively handle personal and professional disputes.
Through interactive lessons and live sessions, learn how to be a better negotiator and how to help others resolve their conflicts as a mediator. Training modules include:
► Understanding Your Conflict Management Style
► Six-Step Interest-based Negotiation
► Building Communication Skills
► Mediation Process
► Culture and Mediation
Register now to attend the full training (10 learning modules), OR Register to take individual modules in Communication Skills, Negotiation, or Culture & Mediation.
Who Should Attend This Online Training?
Attorneys
Realtors
Grad Students
Educators
Law Enforcement
Human Resource Professionals
Therapists
Anyone who wants to deal with conflicts more effectively
Anyone who wants to learn how to mediate conflicts
Critical Skills You Will Learn.
✔️ To become a mediator and effectuate peace in your community.
✔ To improve your communication skills so you can avoid conflicts or more effectively resolve them in your personal and professional life.
✔️ To learn how to de-escalate conflict and deal with "difficult" people.
✔️ To become a better negotiator.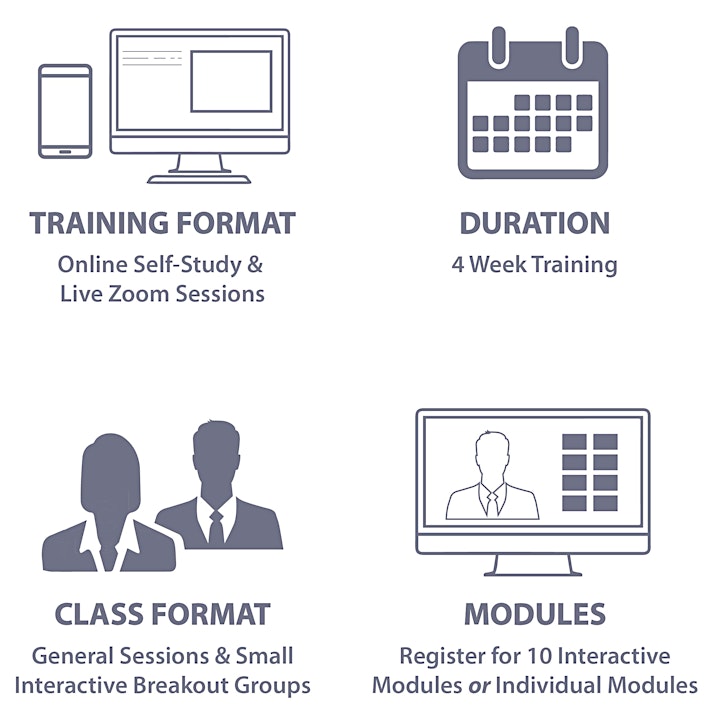 Live Zoom Sessions will take place on the following dates. Participants MUST attend all of the live Zoom sessions in order to receive a Certificate of Completion.
Tues, 5/31(6 – 7 pm PST) – Introduction to Conflict Resolution
Sat, 6/4 (9 – 1 pm PST) – Building Communication Skills
Tues, 6/7 (6 – 8 pm PST) – Interest-based Negotiation
Sat, 6/11 (9 – 2 pm PST) – Mediation Process
Sat, 6/25 (9 – 2 pm PST) – Agreement Writing & Online Dispute Resolution
Register today. Student pricing available!
This investment will last a lifetime!
Conflict Resolution Institute was established in 1990 and is recognized by the California Department of Consumer Affairs as a local mediation program in Ventura County.
CANCELLATION OR COURSE TRANSFER POLICY:  Paid participants who wish to cancel their registration or transfer to another training must submit their request in writing.
If a cancellation request is received 7 days prior to the training, the applicable registration fee will be refunded minus a $50 administrative fee.  If a cancellation request is received less than 7 days prior to the training, no refund will be issued.
A $25 administrative fee is required to transfer to another training.  The fee is due at the time of the transfer request.
For further information or assistance registering, call Conflict Resolution Institute at 805-384-1313 or email directly to info@conflictresolutionvc.org