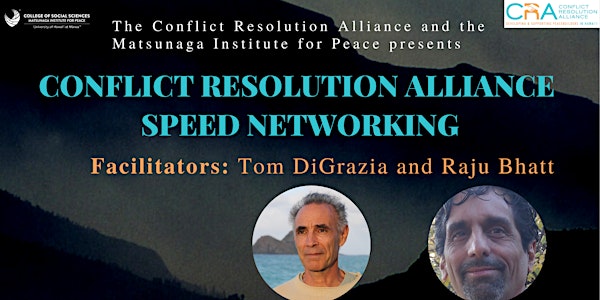 Conflict Resolution Alliance Speed Networking
"Conflict Resolution Alliance Speed Networking" Facilitated by Tom DiGrazia and Raju Bhatt
About this event
The Conflict Resolution Alliance and the Matsunaga Institute for Peace presents
"Conflict Resolution Alliance Speed Networking"
Facilitated by Tom DiGrazia and Raju Bhatt
The Session
Join us for an opportunity to meet other peacebuilders and CRA members in a guided networking event, create connections among people who share interests in making our world better, and build bridges in our communities. We encourage you to bring another person who would be interested in participating or becoming a CRA member. This sessions topic will be around group envisioning of a 21st century peacemaking model utilizing conflict issues relating to the protracted India-Pakistan conflict.
EXAMPLE: The Hollywood Model
Have you ever noticed at the end of a major, multi-million dollar Hollywood movie how long and human resource deep the ending credits are? Often, the credits go on almost without end for many minutes. Every type of resource from producers to directors, cinematographers, sound experts, make-up artists, cultural and language experts, carpenters, lawyers, accountants, drivers, editors, and you name it are listed and credited for making the movie a manifested reality. No expense in the pursuit of artistic success is seemingly spared. Often the greatest actors, writers and directors are employed, which almost guarantee the artistic and financial success of the cinematic enterprise.
Why can't those of us in the peacemaking field, with all of our diversity and experience in various aspects of conflict resolution, envision a similar model? With the avalanche of political, social, economic and cultural conflict in American and planetary society, we need a Twenty-First Century model that incorporates the best of what has worked in the past to resolve conflicts at every level of human relationship. This would include the ever and fast evolving use of Internet tools. And, most importantly, a new interdisciplinary, human resource-rich approach to assisting the conflicted among us. Together, acting as one creative mind and heart, we can explore a 21 st Century model for conflict resolution.
This would be a model or its variant that would be replicable by other peacemakers.
"The Bollywood Model"—Looking at models for Global Peace
To explore a case study: Why is it taking so long for Peace to be established in an area like Kashmir?
1. What are the complexities at work with the number & variety of actors who are involved in the making of the Movie?
2. Are we all working on the same Movie or are there forces that are sabotaging the creative process?
3. Can the Movie be derailed by a political whim, and if so, what are the implications?
If world peace is truly possible, it's worthwhile to put some critical thinking into this process since all armed conflicts are essentially in the same paradigm and quagmire. Come with your thinking caps on as we explore these dynamics. Our process is just starting ... so imagine how hard it must be for those in the middle of the intractable conflict for years and years and that's why those on the outside looking with fresh eyes, good energy, and right intention are being called to join us in this conversation. Raju
Come join Conflict Resolution Alliance members in this much-needed discussion in the peacemaking field. Please find one such model that can help stimulate our collective energy at the link below.
More about "Why are Kashmir Pandits migrating from the region once again?"
More at "Some Thoughts On Human Division And Conflict"
About Tom DiGrazia
Tom has been a peacemaker, collaborative lawyer, family mediator and public policy facilitator for over fifty years. He has been a CRA director and officer for many years. He is a published author and has been an adjunct professor and lecturer at Hawaii Pacific University and UH's Richardson School of Law. He has been and is a Yoga practitioner and teacher, and has studied Eastern peace and indigenous philosophy and practice.
About Raju Bhatt
While Raju's family heritage came from the same area in India, the state of Gujarat, as Mahatma Gandhi's, Raju's passion for resolution and peace was inspired by studying the works of the Mahatma. Raised in London & educated in Texas, Raju continued his education with a B.A. from the University of Texas in Austin, and an M.P.A. from the LBJ School of Public Affairs. After 20 years at the Texas House Appropriations Committee, he intertwined his passion for public policy and the field of wellness. His own journey of healing took many decades of twists and turns while training in these peaceful arts: Korean Ip Sun Tai-Chi, Programs of the Heart, Water Rebirthing, and Basic & Family Mediation. To bring a settlement to the conflict and quagmire to the intractable dispute in Kashmir, Raju launched GMT, Global Mediation Team, (acronym inspired for the time zone he was born in – Greenwich Mean Time). Raju uses his love for the Hoʻoponopono way of forgiveness as the centerpiece of being a peace designer.
About the Conflict Resolution Alliance
The Conflict Resolution Alliance (CRA) aims to promote and support peaceful conflict resolution and collaborative decision making at all levels in our society whether in our home, school, ohana, workplace, or community. CRA is made up of mediators, arbitrators, facilitators, educators, social workers, lawyers, psychologists, child and family advocates, problem solvers, and concerned citizens – all dedicated to the pursuit of peace. Learn more at https://www.crahawaii.org/.
About the Matsunaga Institute
The Matsunaga Institute for Peace is an academic department at the University of Hawai'i at Mānoa that promotes cross-cultural understanding, collaborative problem-solving, critical thinking, and lifelong skills to groom leaders to address contemporary and complex issues near and far. Learn more at https://peaceinstitute.manoa.hawaii.edu/.
Co-Sponsors:
Conflict Resolution Alliance
Matsunaga Institute for Peace