Conflict Management for Healthcare Professionals

Monday, November 14, 2016 at 8:00 AM

-

Friday, November 18, 2016 at 4:00 PM
Event Details
The Conflict Managment for Healthcare Professionals Instructor Certification Program is a forty (40) hour comprehensive communication and behavioral restraint training class designed for medical, mental health, and treatment professionals.
Normal price of this class is $1,497, however, due to the hosting partnership between Vistelar and Aurora Hospital we are offering a very special price of $997 if you register by Friday, November 4th. In addition, everyone who attends will receive a FREE copy of the book "Confidence in Conflict for Healthcare Professionals" by Joel Lashley of Aurora Hospital. 

Important: There is an online pre-work component that must be completed prior to attending this class. 
Verbal Defense & Influence™ (VDI) is a point-of-impact conflict management training program.
Practitioners of VDI have the knowledge and skills to reduce the frequency of conflict (non-escalation) in their interactions with others and, when a situation escalates, respond in an effective manner to de-escalate the conflict — instead of reacting impulsively.
The principles of VDI, which have been taught worldwide for more than 30 years, are grounded in academic research and real-world application. The structured framework, in which these principles have been synthesized, makes the course material easy to learn, remember and apply — and simple to teach.
Verbal Defense & Influence is a program of Vistelar, a global consulting and training institute focused on addressing the entire spectrum of human conflict at the point of impact. Vistelar's vision is to make the world safer by teaching everyone HOW to treat each other with dignity by showing them respect.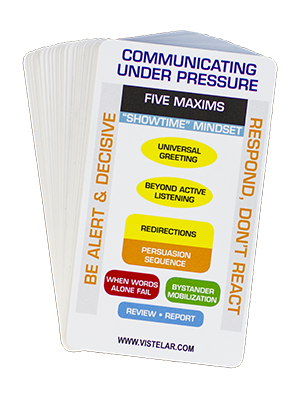 Topics covered in the program include:
The program deals with developing effective communication tactics for dealing with patients, their family members, the public, and your fellow staff members to include supervisors, peers, and subordinates, as well as other professionals.  It is based on the Verbal Defense & Influence training program. The instructors will be Gary T. Klugiewicz and Joel Lashley.
It may be used for either pre-service or inservice training and be taught in its entirety or in a modular format.
The program begins with a major block of training designed to emphasize the attributes and importance of becoming and remaining a professional.  The title accurately describes the program's  purpose of training professionals in the communication skills necessary to successfully fulfill their job task of effectively and  professionally making "Initial Contacts"; managing conflict with the "Persuasion Sequence"; initiating "physical control tactics"; and utilizing "Debriefing Tactics" to successful close the transaction.
Although the program will focus on Verbal Communication Skills, non-intrusive physical restraint will be included for those rare occasions where patient and staff safety require physical intervention.  Here again a quick transition back to verbal debriefing is designed to minimize the length of time required for such tactics.
Point-of-Impact Crisis Intervention Training will include nonintrusive tactics, as well as, de-escalation tactics using Crisis Intervention Strategies that include training in reducing stimulation, isolation & support, adaptive communication, and meeting unmet needs.
The program will emphasize the importance of using simulation drills and decision making scenarios to provide "Guided Discovery" to reinforce adult learning and foster change in performance in the workplace.
Instructors who successfully complete the class will be given the instructional material necessary to conduct the Training Program to include lesson plans, PowerPoint presentations, and all related handout material.
----------------
Training Methodology
Like all Vistelar's courses, Verbal Defense & Influence is taught from the perspective of the entire spectrum of human conflict (Vistelar's "5 Cs" :Contact, Conflict, Crisis, Combat and Closure) and is easily integrated into existing training and policies/procedures of an organization.
As stated above, this course is taught using Vistelar's proprietary Emotionally Safe Performance-Driven Instruction™ that improves retention of the course material and, more importantly, ensures students can actually perform the learned skills in the midst of stress ("fire drills versus fire talks"). This unique approach to training emphasizes student interaction, scenario-based skill practice (using a proprietary video recording/review technology), memorable stories ("peace stories") and analysis of real-life events captured on video.
Each participant receives access to an online pre-work program, a student workbook, an instructor binder and, following class, access to an online instructor-resource website. Participants leave the course fully-prepared to teach Verbal Defense & Influence within their organizations.
 Note: In order to effectively deliver this form of instruction, every attendee is encouraged to bring a smartphone that they are able to use during the course. If you are unable to bring a smartphone, please contact Vistelar to make alternative plans to complete content performance activities.
---------------
Who Should Attend:
This program is designed for professionals who manage difficult patients and include medical staff members, mental health staff members, treatment facility staff members, correctional special needs staff members, emergency medical services (EMS) staff members, Law Enforcement Crisis Intervention Team (CIT) staff members, and anyone else who interact with patients with challenging behaviors.
----------------
Registering
To register for this class, you have three options:
Pay Online Using A Credit Card: Click on Order Now at the top of this page, fill out the registration form with your credit card information and and click on Pay Now at the bottom of the page.
Pay By Check: Click on Show Other Payment Options at the top of this page, fill out the registration form and click on Pay By Check at the bottom of the page.
Request An Invoice: Click on Show Other Payment Options at the top of this page, fill out the registration form and click on Send An Invoice at the bottom of the page.
The normal price of this course is $1,497.00 and does not include Eventbrite registration fees.
If you are paying by check or against an invoice, payment is due within 10 days of your registration. Please mail payments to:
Vistelar, LLC
Attn: Accounts Receivable
1845 N Farwell Ave., Suite 210
Milwaukee, WI 53202
----------------
Cancellation Policy
If after registering, you determine that you are not able to attend, please notify us by email as soon as possible.
Cancellations more than five (5) business days before the first day of this course will receive a refund of the amount paid minus a $150 administrative fee.
Cancellations within five (5) days of the Monday prior to the course will receive a refund of the amount paid minus a $250 administrative fee.
No refunds will be made for cancellations received the Friday before class. If you do not cancel and do not attend the course, no refund will be made. 
Vistelar reserves the right to cancel this course if there is insufficient registrations and, if that occurs, a full refund of the amount paid will be made.
Please allow two weeks to process any refund.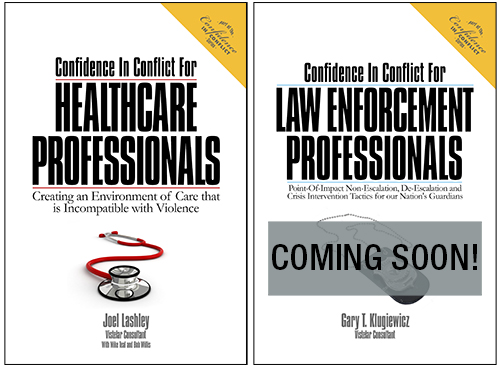 Have questions about Conflict Management for Healthcare Professionals?
Contact Vistelar
When & Where

Aurora St. Luke's South Shore Hospital
5900 S. Lake Drive
Cudahy, WI 53110


Monday, November 14, 2016 at 8:00 AM

-

Friday, November 18, 2016 at 4:00 PM
Add to my calendar
Organizer
Vistelar
Vistelar is a global consulting and training intitute focused on addressing the entire spectrum of human conflict - from interpersonal discord, verbal abuse and bullying - to crisis communications, assault and physical violence.
Conflict Management for Healthcare Professionals