Confident Women Consortium: Cultivating Confidence & How to Look As Good On...
Description
**A full Dinner is included with your ticket
**Order before July 12 and for the Early Bird Special Price of $50. After July 12 the price is $65
TWO SPEAKERS! A WONDERFUL DINNER! COMMUNITY AND CELEBRATION! What makes our Confident Women Consortium events more fun? When you Bring a Friend! Bring a Friend and get entered into a drawing to win a FITBIT! Just order 2 or more Tickets and you will be automatically entered to win!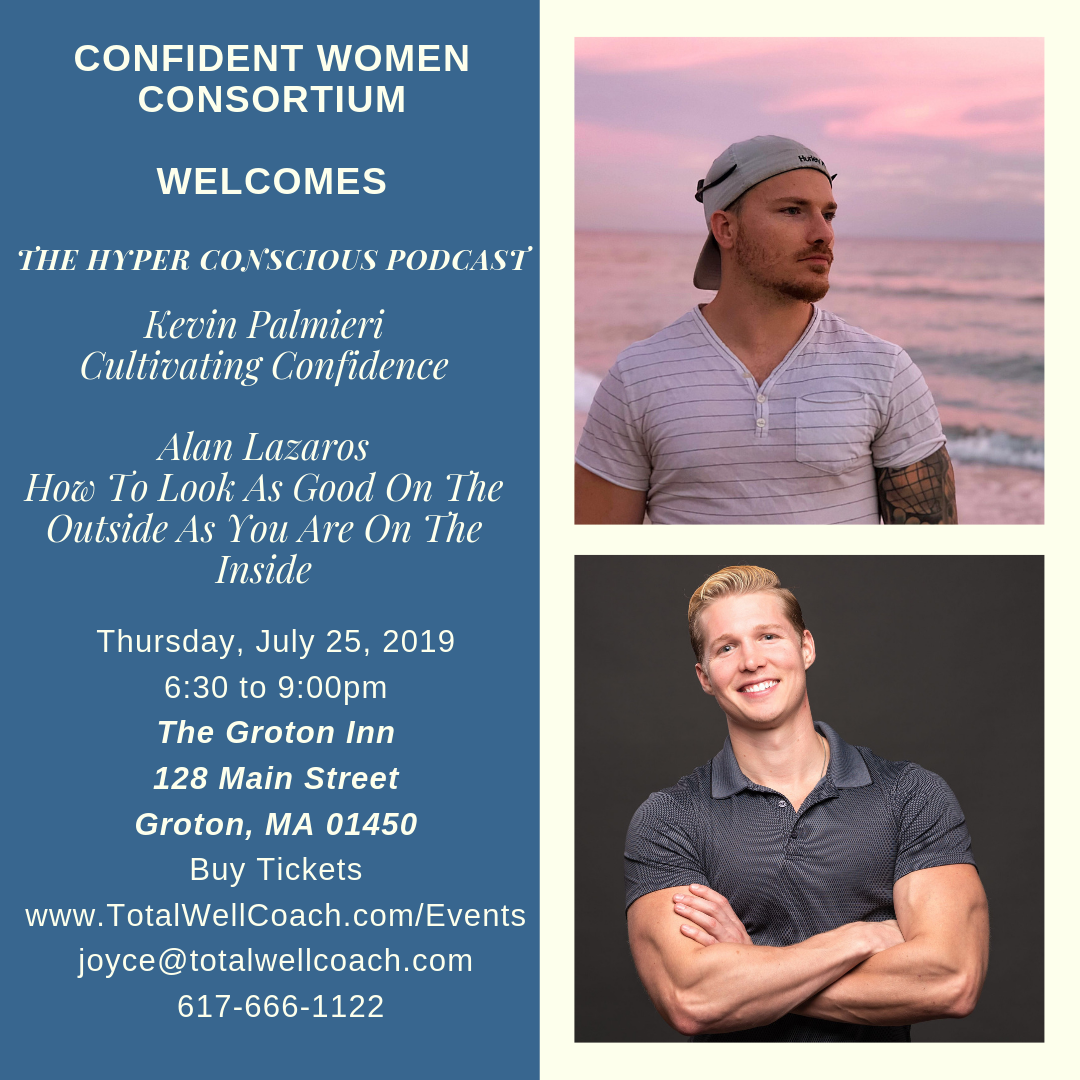 Confident Women Consortium was founded to help people create confidence through community and celebration.
Our TWO speakers this month are Kevin Palmieri and Alan Lazaros from The Hyper Conscious Podcast.
Kevin Palmieri: Cultivating Confidence

Alan Lazaros: How to Look as Good on the Outside As You Are on the Inside
The event includes a full, healthy dinner and two 40 minutes talks.

ABOUT KEVIN PALMIERI
Many people have the misfortune of hitting rock bottom. I learned from personal experience that rock bottom has a basement.
For a long time I pretended I was someone that I really wasn't. Everyone thought that I had it all.
- A high paying job
- A beautiful girlfriend
- A nice apartment
- Brand new car
- The body of my dreams
But inside I was living a nightmare. I didn't like who I was. I was overwhelmed with insecurity and lacking confidence.
After a bad breakup, all of my demons surfaced. This is when I truly realized that I had been putting on a show... For as long as I can remember. This was rock bottom (unfortunately it gets worse)
After this breakup, I dove headfirst into my work... Looking back I think it was because I wasn't ready to face my demons yet.
Traveling up and down the east coast as a construction foreman I spent 8 out of the next 10 months on the road.
My main focus was MONEY! I thought that it would make all of my problems go away. A different hotel every week, only sleeping in my bed 8 times a month, and really struggling to keep relationships were all just part of the job at this point. Not only did I trade my time for money... I traded my happiness and well-being.
I made the most money I'd ever made that year..... and NOTHING changed.
I'll never forget this moment.... I was laying in my bed and I thought to myself, "No matter how much money you make, what kind of car you drive, what house you're living in and regardless of who's sleeping next to you... If you don't control the way you think... You'll never control your life. "
I had already started The Hyper Conscious Podcast but wasn't taking it very seriously because another year was upon me and work was busier than ever. The days after realizing I wanted to be a full-time podcaster were the best days of my life... but also the worst.
It was in a dark dingy hotel room somewhere in New Jersey that I found out rock bottom has a basement. Shortly after my alarm went off at 5:30AM I started having these thoughts....
It would be so much easier if I was dead
You're going to be trapped at this job forever There's nothing you can do about it Maybe you should just end it all.
Luckily I was able to turn these voices off in my head and find some silence from all of this noise. Something changed in me that morning and I knew it was time for me to change my life.
That's the morning I found my purpose: To be the person I needed when I was at my lowest point. But in order to be that person, I had to work to be the best version of myself.
Fast forward 2 years and now I'm a full-time podcaster. Co host Alan Lazaros and I just crossed the 170 episode mark and have interviewed some of the most successful people in the world. I'm now a speaker focused on using my story to empower others and I now have 1 on 1 clients that I coach on peak performance weekly. More importantly though, I'm happy with the man I am today, and if I can do it... ANYONE can!
ABOUT ALAN LAZAROS
My name is Alan Lazaros, and rather than listing off a bunch of accomplishments or accolades, I'd like to tell you a story.
I was 26 years old, and I'm in New Hampshire with my little cousin. After a fun night of Call of Duty, we headed to TGI Fridays.
I'm driving. It's a cold and dark winter night, and I don't know the area.
We get to a triangular intersection, and it looks like the road stays left, but it doesn't. The road stays right, and I didn't see the yield sign...
Looking down at the GPS, and in what literally felt like a millisecond, I look up and see the brightest lights I'd ever seen.
A massive, lift kitted truck was blaring it's horn not 10 feet from us.
I honestly thought that was it…
To this day, that was the scariest moment of my life.
I get chills just writing about it.
Now, if you've ever experienced a life or death moment, then you know exactly what I'm talking about.
But to someone who hasn't, the feeling is indescribable.
And for me, my father passed away in a car accident when he was 28, so this was particularly traumatic…
Fortunately, I was driving a Volkswagen Passat, which was a steel trap. And both airbags deployed, so no one was seriously injured.
But what I can tell you is this, it made me question everything...
If this was the end, would I be proud of how I lived? If this was the end, would I be proud of the man I've become? If this was the end, would I be happy with how I spent my time?
Did I live life to the fullest? Did I live life on my own terms? Did I pursue my dreams courageously? Did I love fiercely and leave the world a better place?
These are the questions we all ask ourself.
And for me, I didn't like the answers…
And that's why I'm here to speak with you. I want you to ask yourself the tough questions, and take stalk in your own life before its too late…
Like me, I want you to start taking life head on, and to never let anyone or anything stop you from pursuing your dreams.
I'm here because I believe in people more than anything else, and I believe in dreams.
You are capable of so much more than you realize, and I'm here to prove that to you.
I appreciate your time, and I look forward to meeting and speaking with you soon.
Sincerely & with gratitude,
Alan