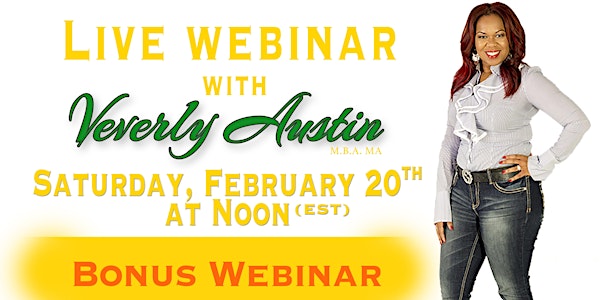 Confident Living with Veverly FREE Webinar
Description

What obstacles are stopping you from moving forward in your life RIGH NOW?
Whether you're a stay a home mom, entrepreneur, business professional, leader, business executive or just want to achieve more in your personal life... This FREE webinar will give you the insight and confidence you need to get up and go after every dream, desire and goal inside of you. I will share my successes and even my failures with you during this FREE webinar.
This FREE bonus 30 minute webinar will help you identify whats blocking you from being a FINISHER and INVESTING in yourself.
YOU'LL LEARN... how to overcome setbacks, obstacles and gain confidence to achieve your goals more efficiently and effectively.
YOU'LL LEARN... how to identify your 'I can't mindset and "it won't work" blockers...
YOU'LL DISCOVER.... what you need to START or KEEP GOING
PS. I'll be teaching from my Confident Living workbook so you definitely want to order it! If you're tired of "going through the motions" this hands-on workbook includes activities that will help guide you beyond your obstacles and set you on your path to achieve what you want in life! www.confidentlivinggr.com

"Self-discipline is a major factor in your journey to staying focused, meeting goals and achieving success." ~Veverly Austin