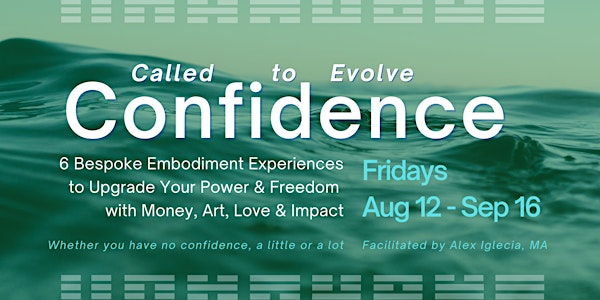 Confidence: 6 Bespoke Embodiment Experiences to Unleash What's Next
Confidence: 6 Bespoke Embodiment Experiences to Unleash More Power & Freedom with Your Money, Art, Love & Impact
About this event
Whether you have no confidence, a little or a lot...
What if you unlocked, untrapped, unleashed and upgraded your confidence before October?
At its source?
At no cost?
If you're reading this, you've been called and invited to increase your confidence, action, readiness, courage, determination, perseverance, guidance, and leadership for the sake of everything in your life with money, art, love and impact.
You come to these classes not to learn how, but to radically get out of your own way in ways you can't see, can't think about, and can't believe.
No matter how successful and impactful you are now, each of these sessions will open new and different doors because of the unique way we move through key patterns in your life and de-pattern the unconscious sources of limiting beliefs, limiting states, limited development and limited you.
"5/5! This series has been fantastic for getting grounded and feeling into a new level of awareness. Using my body to gain the orientation my mind has been yearning for. Thank you so much, Alex, I could never say enough about what you bring to the world." - Betty
In each class we'll:
😎 Get clear & aligned about what's showing up in and around you
💪🏽 Use & apply a new & different embodiment tool & get immediate results because it's embodiment.
🔥 Weave solutions for your real challenges and best possibilities
🎯 Leave having initiated beneficial change and with clarity about how to keep using what you learned and experienced.
You'll leave each unique session more energized and transformed with a new lifelong tool you can apply to your callings, creativity, relationships and career.
Price:
Free to the world. Register to come try a class and then invite your colleagues, friends, and even your competitors ;)
Replay / Recordings:
Classes will be posted in a private FB group and possibly a Youtube playlist, to make these practices available to more people around the world. Links will be sent to registered participants within 24 hours.
Questions?
Email fun@alexiglecia.com
🗣️ "5/5! I really appreciate Alex's leadership and facilitation style of embodied inquiry. He is patient, well versed and asks poignant and powerful questions to get you curious about your state of mind and body…truly expansive! Thank you Alex" - Monica
About Alex Iglecia, MA
Former NASA Engineer and Ninja-Yogi turned Body-Mind Facilitator with a Masters in Conscious Evolution, Alex has two black belts and guides people to find the freedom to be their full self, to come alive and awaken with clarity. He bridges intuitive strategy with systemic embodiment to creates effective transformational experiences and tools for leaders and their teams and tribes. 
Professionally, Alex has facilitated audiences large and small, corporate groups and non-profits, spoken to inspire, motivate and teach, and has shared the stage with visionary leaders including Brendon Buchard, Marcia Wieder, Amy Ahlers, Tim Kelley and SARK.
🗣️ "5/5! It's very cool! I love the play with words and ninja moves on what we think we're thinking. And flipping the narratives." - Marcia
🗣️ "5/5! I love Friday mornings!" - Michele