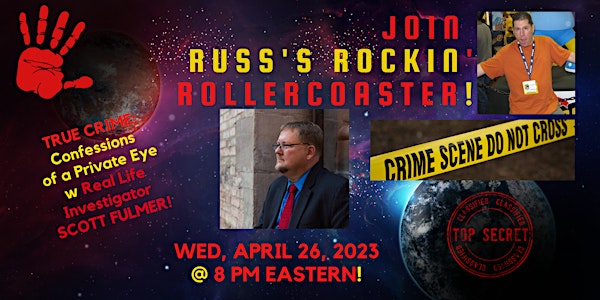 Confessions of a Private Eye with Real Life Spy for Hire SCOTT FULMER!
Host and Author Russ Colchamiro interviews real life private investigator Scott Fulmer about his life as a private spy for hire.
Date and time
Wednesday, April 26 · 5 - 6pm PDT
About this event
SCOTT FULMER is a 30-year veteran private investigator and the managing director of Missouri Private Eye, the top private investigation firm throughout Missouri. He is author of the critically acclaimed true crime memoir, Confessions of a Private Eye, available on Amazon, and host of, Private Eye Confidential, a new podcast on the Blubrry Network. Scott has conducted complex investigations throughout the US and several foreign countries and is considered a thought leader in the PI industry. He has a degree in criminal justice from the University of Texas at San Antonio and is a decorated combat veteran, having served with the 2nd Armored Division (Hell on Wheels) in the first Gulf War.
RUSS COLCHAMIRO is the author of Crackle and Fire, Fractured Lives, and Hot Ash, the first three novels in his ongoing Sci-Fi noir series featuring hardboiled private eye Angela Hardwicke. He is currently working on the fourth Hardwicke novel.
A member of Crazy 8 Press, Mystery Writers of America, and Private Eye Writers of America, Russ is also the co-author and editor of the noir novella collection Murder in Montague Falls, editor of the Sci-Fi mystery anthology Love, Murder & Mayhem, has contributed short stories to more than fifteen anthologies, including various Hardwicke mysteries, and is the author of the Sci-Fi adventure novels Crossline, Finders Keepers, Genius de Milo, and Astropalooza.
Russ also hosts his popular Russ's Rockin' Rollercoaster podcast, interviewing a who's who of science fiction, crime, mystery, and horror authors.
He lives in Northern New Jersey with his wife, two ninjas, and black lab, Jinx, who may be an alien herself.