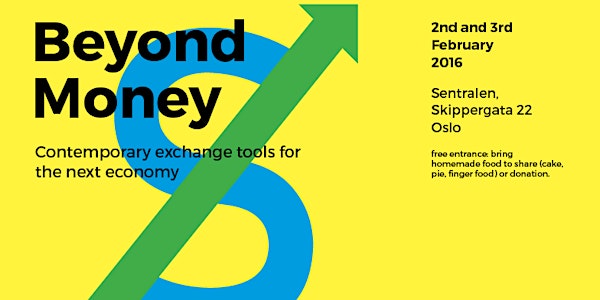 Conference / workshop: Beyond money
Location
Skippergata 22
22 Skippergata
0154 Oslo
Norway
Description
What's wrong with conventional money? How other forms of currencies can be relevant tools to address the challenges of our societies?
Money is a key tool in our economic system. It has three main usages:
- It is a unit / standard of account, a tool to measure the value created
- It is a mean of exchange to trade values
- It is a way to store value
Money is not given. Although we are not aware of it, kroner, euros and other currencies are essentially a political choice. Money is created by commercial banks through debt, and this system relies on interest to repay the issued money in the first place.
Since money is manmade, it can be reinvented to positively influence relations in the social, environmental and economic domain. Community currencies and other exchange tools are spreading in most countries. They can be designed and executed in many different ways. They can take the form of reward programmes, investment schemes, cryptocurrencies, etc.
How do these new currencies unlock value creation and help us reach our goals for a better society?
Research shows that community currency connects the goals of public institutions, businesses and people alike:
> Build resilient 'circular' economies, with strong regional businesses and meaningful jobs
> Unlock unused qualities, and link them to the many unfulfilled needs
> Co-deliver social and informal care, education, wellbeing in new ways
> Create liveable and clean neighbourhoods
> Reduce our carbon footprint


The intention of the event is twofold:
raise awareness about what is money, the role of money in our society, how it has evolved, what are the alternative exchange tools that can be used (timebanks, cryptocurrencies, complementary and local currencies, etc.), and how the decentralization of the production of currencies can unlock value creation and have a positive impact on jobs & social wealth. And also how those new exchanges can change the role of banks in the future.

support the local ecosystem to explore, depending on their aim, what type of community currency they could implement, what this would change in the way people behave and interact, etc.
Here are some of the questions that we want to address during those two days:
- What is the nature of our kroner and euros? Why is it so successful? Who and what benefits from it, what does it create and what does it block?
- Why are community currencies becoming popular complementary tools? When are they useful? What goals can community currencies support?
- What are the different models? Why are unity of aims, goals, users and models so important? How can you know if a community currency successfully meets its goals?
- How can local governments, business, social organisations and citizens start a currency in their own communities? What are the do's and don'ts, the nuts and bolts?

Program:
> Public opening 02.02.2016 / 8:30 – 11:00
8:30 /Opening
9:00 /Keynotes (45 min):
>Ove Jacobsen, Universitetet i Nordland, "Monetary diversity for a resilient economy"
>Edgar Kampers, QOIN "People Powered Money"
10:00 /Panel (45 min):
> Ove Jakobsen (Universitetet i Nordland)
> Edgar Kampers (Qoin)
> Anniken Fjelberg (657, have implemented an internal currency to stimulate cooperation)
> Per Espen Stoknes (BI)
> Manuel Lains (Founder of BitSpace / cryptocurrencies)

> Workshop "Creating a community currency"
02.02.2016 / 12:00 – 16:00 Part 1: exploration on the questions
Context: How do we see our world?
Goal: What do we want to change?
Participants: For whom are we doing it?
Partners: With who are we doing it?
Which Community Currency do we use?

03.02.2016 / 10:00 – 15:00*Part 2: creating community currency prototypes addressing the goals of the participants

The workshop will focus on 4 groups who are thinking about building a concrete community currency project. Participants who are not from those organizations will be asked to join and brainstorm with one of those projects for the workshop.
Projects: Oslo Business Region, Tøyen Unlimited, Losæter, SoCentral


Lunchs are based on the "Bring your own and share" rule. Coffe and tea will be provided.


The workshop will be facilitated by Edgar Kampers, director of QOIN
See profile here: https://www.linkedin.com/in/edgarkampers
See methodology here