Description
REVOLUTIONIZE YOUR SALES OVER BREAKFAST
Make a complete health check of your sales force.
Book your spot at our exclusive event for business leaders and CEOs.
The sales industry has changed more in the last 10 years than it has in the previous 30 years. Has your sales force adapted? The challenges the sales sector is facing are constantly evolving: increased competition, changing purchasing habits, longer sales cycle, pressure on prices and margins, increased customer expectations, constant search for performance, integration of new technologies, etc. Whether in terms of recruitment, mobilization, retention or the quest for performance, you must be able to motivate and lead your sales team to achieve and exceeds its objectives.
Take the unique opportunity to reach a hundred CEOs at this pivotal event and take advantage of an exceptional networking opportunity.


IN LESS THAN TWO HOURS, YOU WILL LEARN HOW TO:
Understand how the latest trends in sales affect your revenue;

Apply science based on the assessment of 2 million vendors, 100,000 sales leaders and 25,000 businesses;

Eliminate the excuses of your sellers against the competition and your business;

Hire successful salespeople

Generate more new sales opportunities;

Protect your profit margins despite aggressive competitors;

Rethink appropriate incentives to motivate the sales team;

Help your sales team to gain more opportunities;

Deploy the full potential of your team to increase their performance.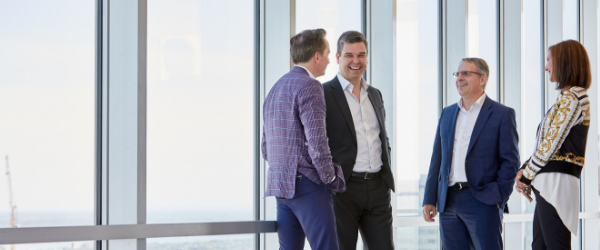 You will also get a free evaluation grid to identify how your team can increase sales now!
Every revolution starts at the top, with business leaders and their leadership team. Whether your sales force is direct or indirect, made up of 2 people or 200 - Join nearly 40 leaders from across the province for our executive luncheon.
Most organizations tolerate the underperformance of their sales force. Designed to support companies in search of progress, this gathering highlights what hyper-growth, wealth-creating, and job-rich companies are doing to surpass their revenue goals and how you can do what's right now in your business to generate revenue and gain the market share you deserve. With provocative presentations from our experts, you'll discover ways to increase the agility of your sales team and make it the most efficient in your industry.
Hundreds of business leaders, entrepreneurs and sales leaders participated in trainings, conferences and workshops by Frédéric Lucas, sales growth expert, author of the blog "science of sales" and president of Prima Resource.


YOU WOULD LIKE TO ATTEND THIS CONFERENCE IF YOU ARE CONFRONTED WITH THE FOLLOWING QUESTIONS:
What needs to change if we want to accelerate our growth?

What is currently missing in our sales culture?

Who composes my sales force? Do I have the right sales people to grow my business?

What level of expectations and requirements can I have in front of my sales force?

Do our salespeople have the ability to sell in a more relational and consultative way?

How can my sales force improve?

Are there any competent and successful sellers in the market? How to make sure to make the right choices when hiring?

What impact does our sales management have on the sales force?


WHO CAN PARTICIPATE?
This private event is reserved for business leaders, entrepreneurs, presidents, general managers, sales VP, human resources, operations and finance.
GET THE OPPORTUNITY TO MEET ALL PRIMA RESOURCE EXPERTS AT THE CONFERENCE