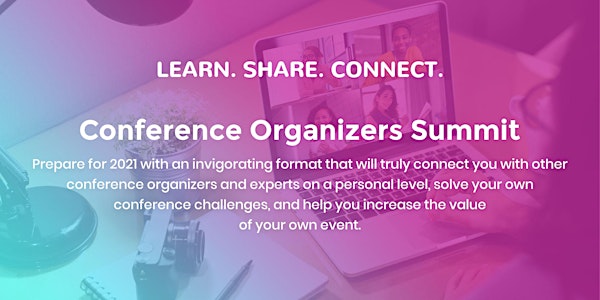 Conference Organizers Summit
Learn, share, and connect as you prepare for 2021 in the company of other great, smart conference organizers.
Refund Policy
Refunds up to 30 days before event
Eventbrite's fee is nonrefundable.
About this event
Prepare for 2021 with an invigorating format that will truly connect you with other conference organizers and experts on a personal level, solve your own conference challenges, and help you increase the value of your own event.
WHY ATTEND?
Geared for professionals who plan conferences, the Conference Organizers Summit (more info) really connects attendees with each other – and the best ideas and practices in today's radically different event world. No long speeches; no PowerPoints (seriously). Instead, the Summit is a fun, energizing mash-up of conference, support group, peer learning, practical training, and a ton of real human interaction and networking.
​Truly Interact - Real-time and face-to-face – with conference organizing peers to really commiserate, learn and laugh together.
​Network with others ​in your shoes to both learn and share within a powerful network of conference professionals.
The Experience - ​An attendee-centric online event built around human connection that will engage you with a half-dozen new tools, techniques and formats for your own events.
Feel Invigorated - Engage with a peer-learning format that doesn't rely on tired PowerPoints, boring speakers, and dull panels.
An Online Platform - See an online platform used in new ways to put you – and your own attendees – at the heart of the event.
Discover real, actionable ways to make your own events more compelling, marketable and profitable – for attendees, exhibitors, and sponsors.
Solve Your Own Challenges - Be able to pick the brains of dozens of other senior-level conference organizers, solve your own challenges and make your event easier, more engaging and more profitable.
Take Home Lessons that you can pass on to others in your organization and apply immediately to your own events.
Feel Supported - Interact with dozens of other professionals and feel supported in this time of uncertainty and change.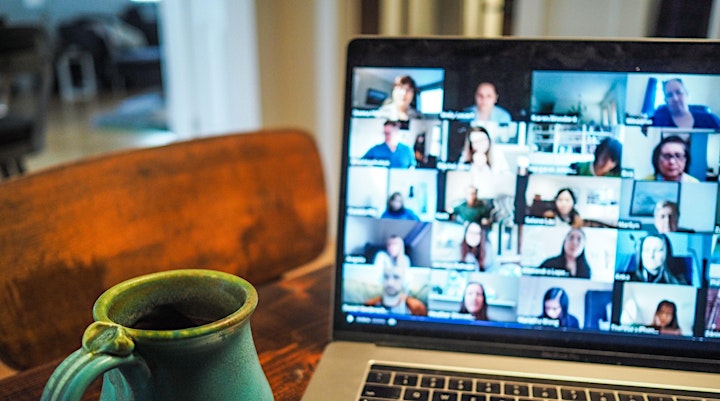 Tech requirements
You'll need a computer with a camera and a microphone. Attendees will join with audio and video.
For a better participant experience, join from a computer with a large screen rather than a phone or tablet. (Mobile devices tend to have less functionality and are less well suited to participatory events and networking.)
This online workshop will use Zoom.
Who should attend?
Professionals involved in the planning or execution of conferences, events, trainings, and meetings. This includes in-person and online events and conference directors and conference planners.
All times are US Eastern (New York)
Schedule subject to change
-------------------------------------
JANUARY 26
-------------------------------------
5:30 - 6:30 PM
Pre-Conference Reception
No jet lag. No wearisome ride from the airport. No standing around in a room of strangers. No rehashing the same old conversation with the same old group of colleagues. No freezing conference center. No cheap wine. No circling the crudités to strike up a conversation. Could an online reception actually be better than one in-person? Join us before the conference starts to find out – and start connecting with your new meetings industry BFFs in a fun, low-pressure mix-and-mingle. BYOB, obviously.
-------------------------------------
JANUARY 27
-------------------------------------
1:00 -1:50 PM
Welcome, Orientation, and Connections!
Get oriented to the event, the agenda and the tech. See who else is attending. Set some goals. Jump right in and meet 4 fellow attendees – plus discover 2 online conference tricks you can apply right away!
2:00 -3:00 PM
Get Real Solutions to Your Own Challenge
This dynamic and engaging session is a crowd favorite – whether online or in-person! Using the Three-Person Consulting technique, every attendee will get a chance to see your conference challenges with fresh eyes and perspective while gaining real clarity, actionable solutions, and two new friends.
3:00 - 3:30 PM
Break
Get a coffee or a snack. Get outside. Contribute to the Have-vs-Need bulletin board. Check on the kids. Reply to your texts. Arrange a call with an attendee you've met. Or get some work done in a Pomodoro-style sprint.
3:30 - 5:00 PM
Deliver–and Demonstrate–Value to Attendees, Exhibitors, Sponsors
What convinces someone to sign up for a conference? To make time for it? To pay to be there? To attend? To return the next time? We'll pool the best ideas and practices to get people and organizations to feel your event is worth their time and money, be it in-person, online or hybrid. Bring a bucket to take home a bunch of actionable ideas!
5:15 - 6:15 PM
Pet-friendly Happy Hour Social
Grab a drink and connect with a half-dozen meeting pros in a way that's natural and fun, not awkward. (You may also meet some attendees' cats and dogs!) This is all about casual networking and socializing; this is not an educational session. (Or is it?! After all, we'll be demonstrating some networking activities you can easily adapt and steal for your own events.)
-------------------------------------
JANUARY 28 (Optional Morning)
-------------------------------------
9:00 AM -12:30 PM
Individual Coffee Calls (on your own)
Before the official start of Day 2, connect with fellow attendees you met on Day 1. Arrange these calls on your own.
9:15 -10:30 AM
A Delicious Breakfast at the World Café
Really engage with your peers on audience-driven topics using the popular World Café format – and learn how to replicate it in your own event. Although an optional pre-session, this block lets you see and experience an online take on conference mingling.
10:45 -11:45 AM
Choose Your Own Adventure
We'll explore some possibilities when we allow attendees to move freely in a virtual space. In different online conference platforms, this may mean choosing which room, table, or booth you visit. As always, this is learn-by-doing, not a lecture about the topic!
12:00 -12:45 PM
​Global Meal
The word "companion" comes from the Latin for "with bread" and roughly translates as "people who eat together." As so many events are built around sharing food – networking brunches, lunch-and-learns, fundraising dinners, and awards galas – join other attendees for a collective breakfast, lunch or dinner depending on your time zone. This small-group meal acts as a demo of similar virtual meals you may put on yourself; you will not be eating while trying to shout over 50 people! Bring a sandwich or gourmet spread.
-------------------------------------
JANUARY 28 (Official Start)
-------------------------------------
1:00 - 1:35 PM
Best Things & Wish Granting
Day 2 officially kicks off with a collaborative re-cap of what you heard, learned and shared that was most valuable in Day 1. What did you pick up that your peers missed – and vice versa? Plus, as a community, we'll all make some lucky attendee's wish come true, live and on-air. Could it be you?
1:45 - 3:15 PM
How to (Re) Design Your Sessions for an Awesome Virtual Event
Well go over best practices, easy tips and valuable tricks to adapt a conference to thrive online. You'll have a chance to think through and level-up your sessions (or a full event) be they live presentations, pre-recorded content, hybrid, etc.
3:15 - 3:45 PM
Break
Brew some tea. Take a little walk ... perhaps to the frig. Contribute to the Have-vs-Need bulletin board. Help with homework. Wash your hands. Do a call with someone you just met. Or write an incredulous email to your boss saying this conference is super helpful!
3:45 - 5:00 PM
Hybrid Questions and Answers
Registration surveys for the Summit say you reeeeeally want to talk about hybrid conferences. So we're making room in the schedule to do that! As in-person venues re-open and virtual meetings persist, we'll also see their love child: hybrid events. We'll pool our collective knowledge and experience to address what what's working, what's not, and how to prepare and succeed with hybrid.
5:15 - 6:15 PM
The Grand Finale
A final session of reflection, learning and sharing to think about what we've seen, who we've met, and what we'll do next to maintain the value and energy from this conference and transfer it to yours! (Plus a few fun surprises.)