Description
CONFERENCE ON INDONESIAN FOREIGN POLICY 2018
"A DANGEROUS DRIFT? IDEAS TO FIX A BROKEN WORLD"
Sabtu, 20 Oktober 2018
THE KASABLANKA, KOTA KASABLANKA, JAKARTA
Registrasi dimulai pukul 08.00 WIB
Dua tahun lalu, Foreign Policy Community of Indonesia (FPCI) menyelenggarakan konferensi internasional yang diakui oleh Museum Rekor Indonesia (MURI) sebagai "Konferensi terbesar di dunia yang membahas kebijakan luar negeri Indonesia", dan juga banyak disebut sebagai "the world's largest foreign policy conference". Tidak ada konferensi politik luar negeri serupa -- baik di AS, Tiongkok, India, Inggris, Rusia dll -- yang bisa menandingi jumlah peserta CIFP -- sekitar 6,500 orang yang datang dari berbagai penjuru Indonesia dan dari luar negeri.
Tahun ini, FPCI akan kembali menyelenggarakan Conference on Indonesian Foreign Policy (CIFP) 2018 di Jakarta pada hari Sabtu, 20 Oktober 2018. Kami berharap konferensi tahun ini akan sebesar atau bahkan lebih besar dari CIFP sebelumnya. Tema utama tahun ini adalah "A DANGEROUS DRIFT? IDEAS TO FIX A BROKEN WORLD". Tema ini dipilih mengingat situasi dunia yang semakin tidak menentu arahnya dan semakin membahayakan, dan dunia kini sangat memerlukan ide-ide yang inovatif dan cemerlang untuk menyelesaikan berbagai masalah yang ada.
FPCI dengan hormat mengundang seluruh stakeholders, yaitu pejabat pemerintah, Duta Besar dan diplomat, pengusaha, akademisi/dosen, kalangan militer dan intelijen, peneliti, tokoh masyarakat, pelajar/mahasiswa, dll, untuk menghadiri "festival of diplomacy" ini. FPCI juga akan mengundang pembicara2 yang cemerlang dari dalam dan luar negeri untuk mengisi 20 sesi CIFP yang menyorot topik-topik terkini.
Untuk menghadiri konferensi ini, silakan melakukan pendaftaran melalui: cifp2018.eventbrite.com
Partisipasi dalam CIFP bersifat GRATIS / tidak dipungut biaya.
Sesi – sesi yang akan ditampilkan adalah sebagai berikut: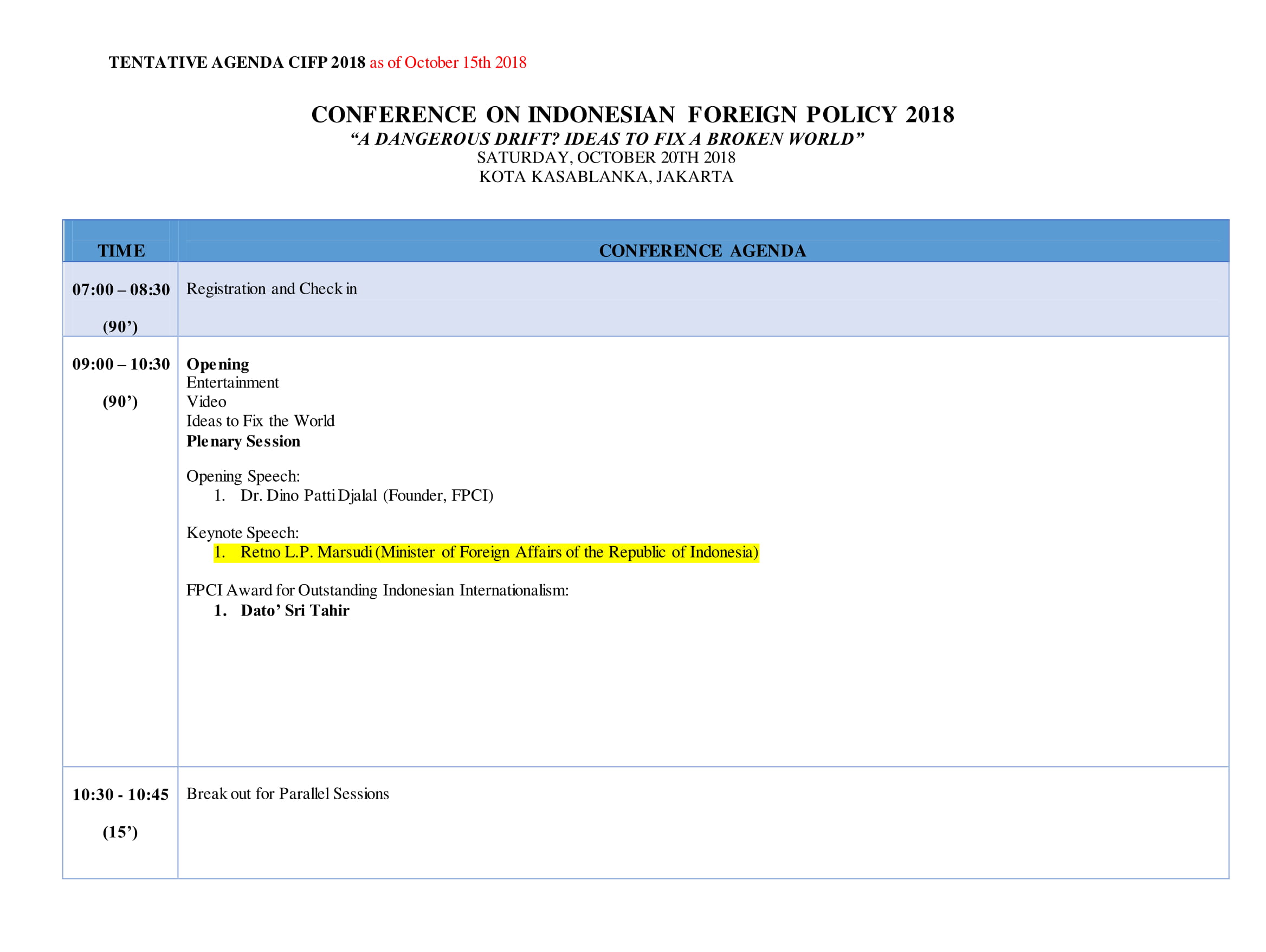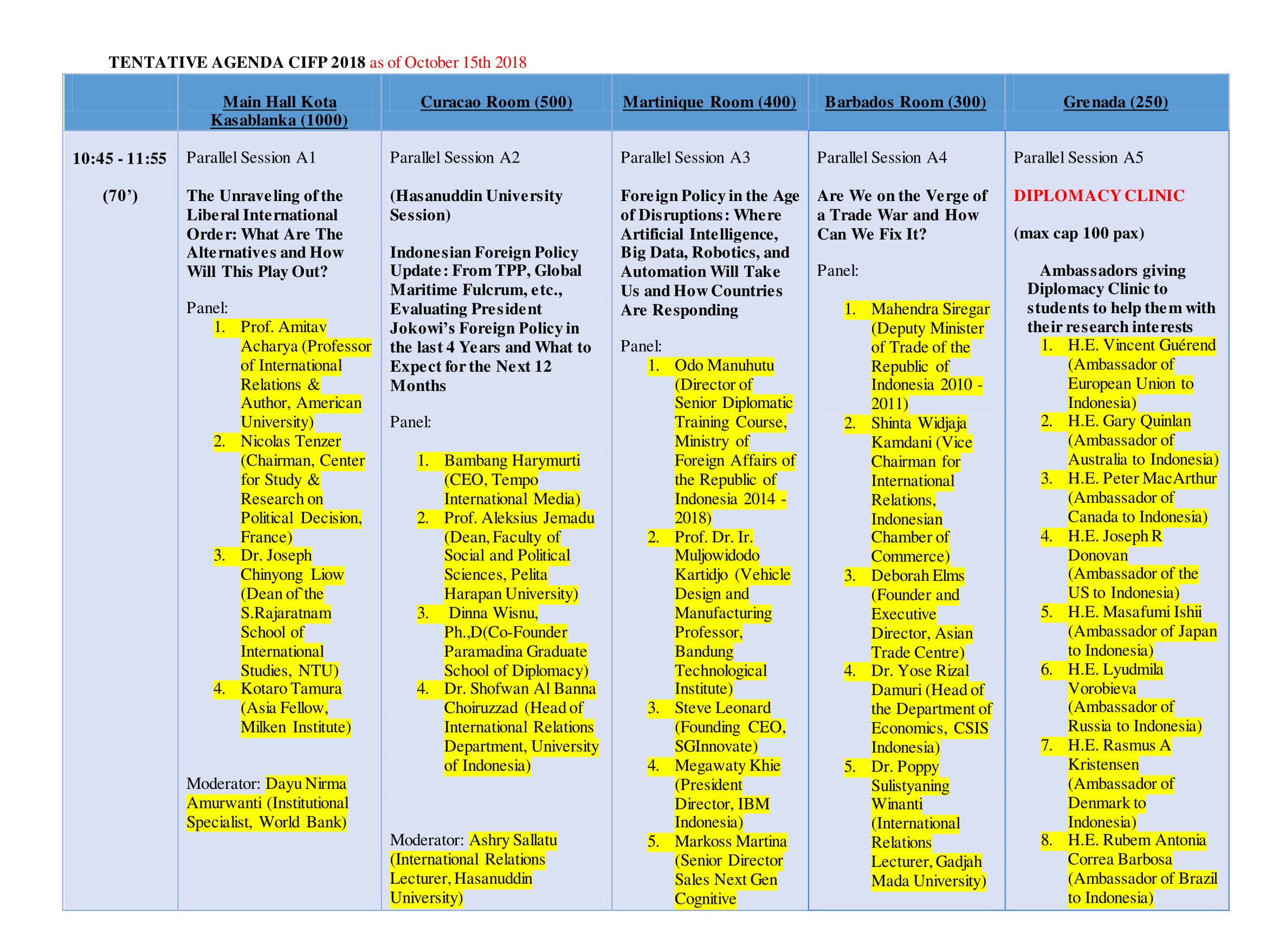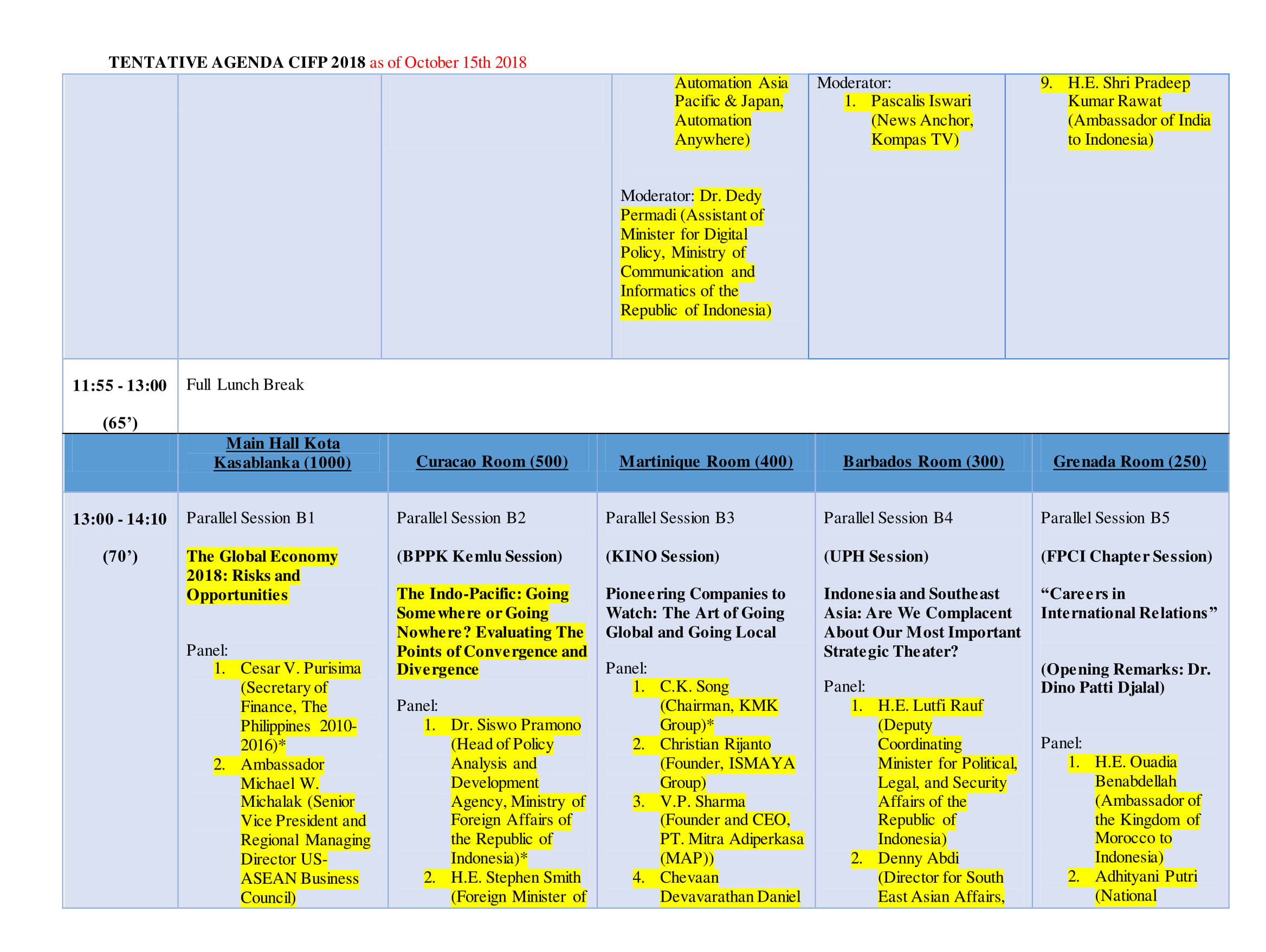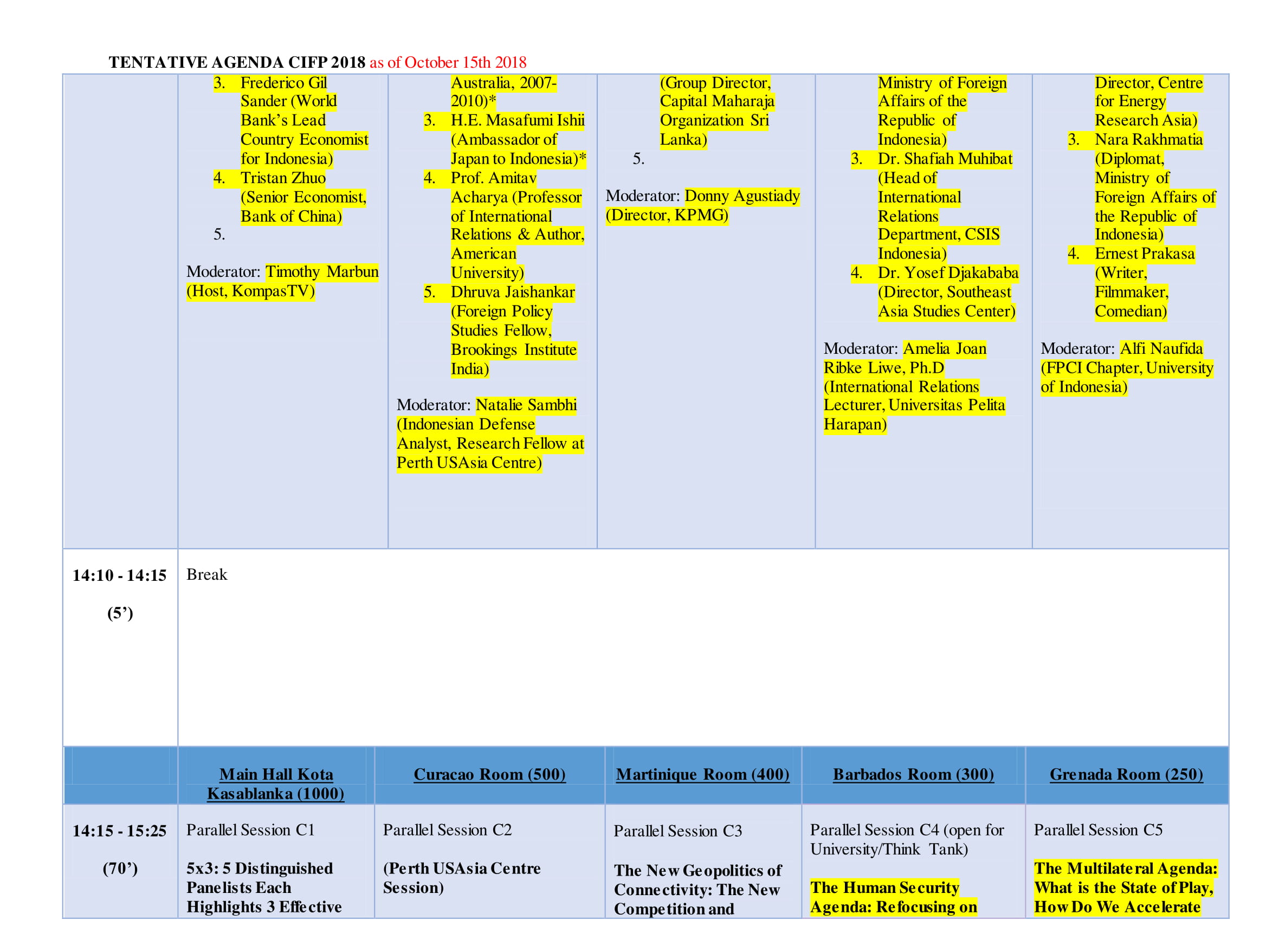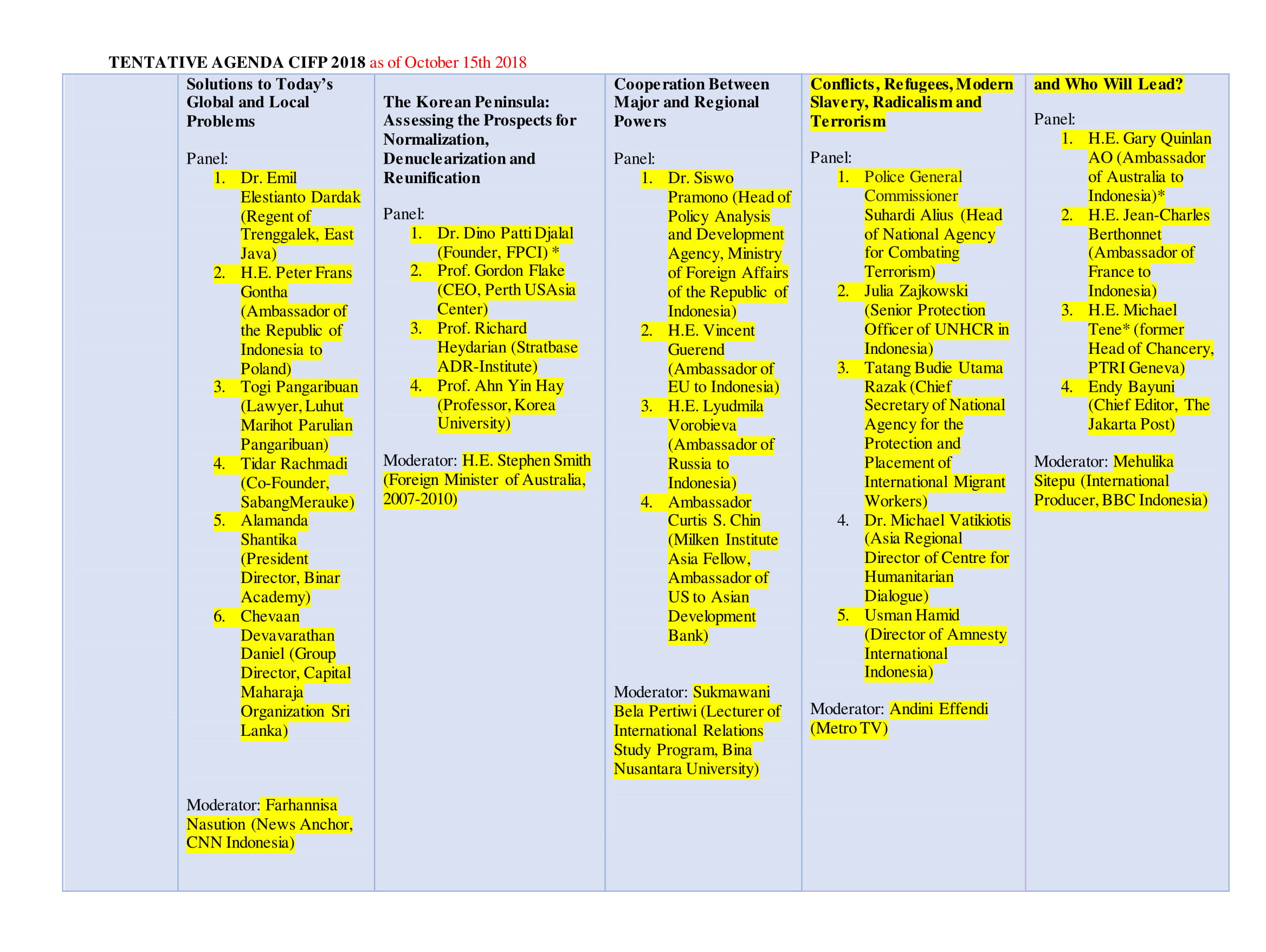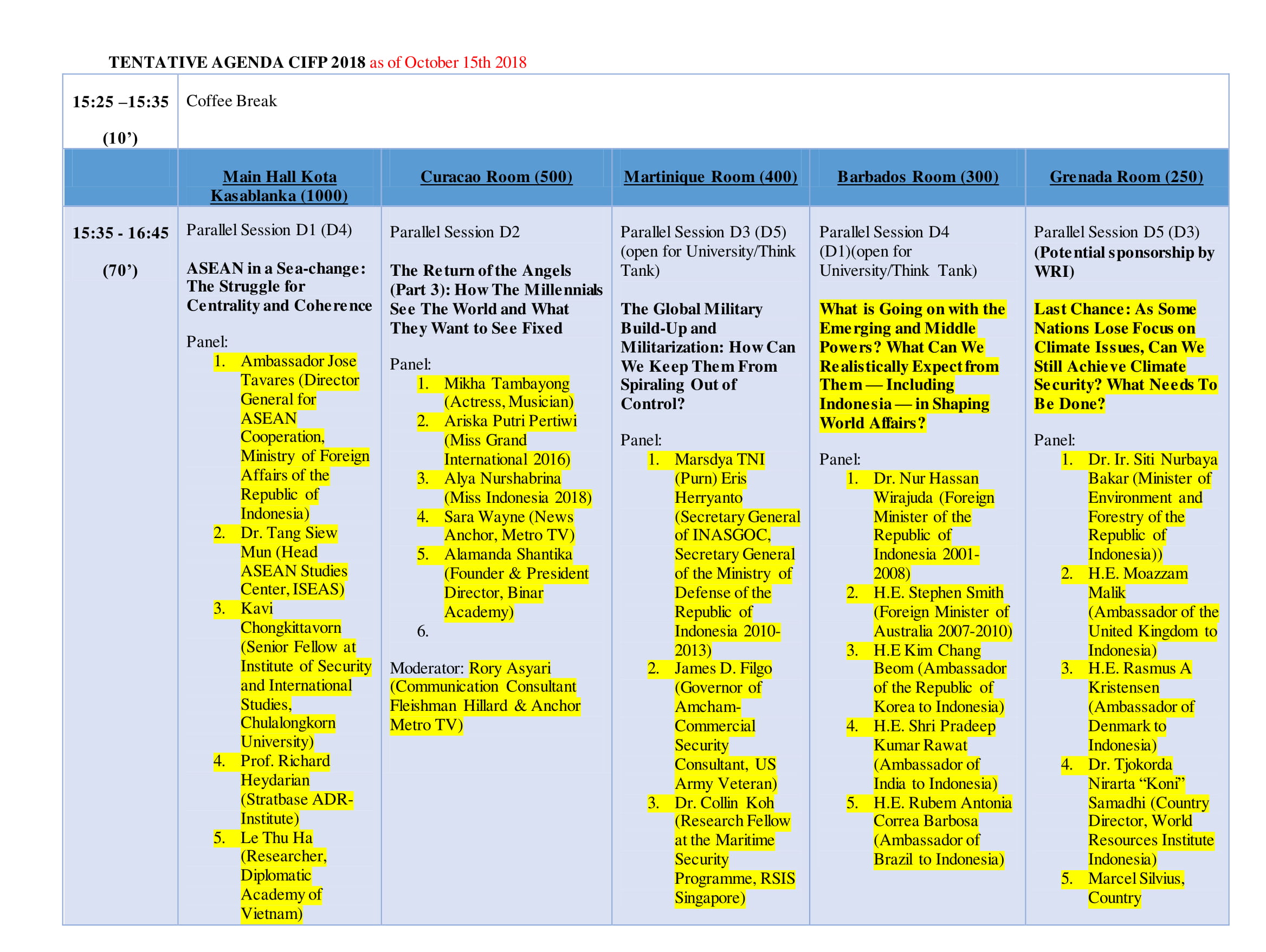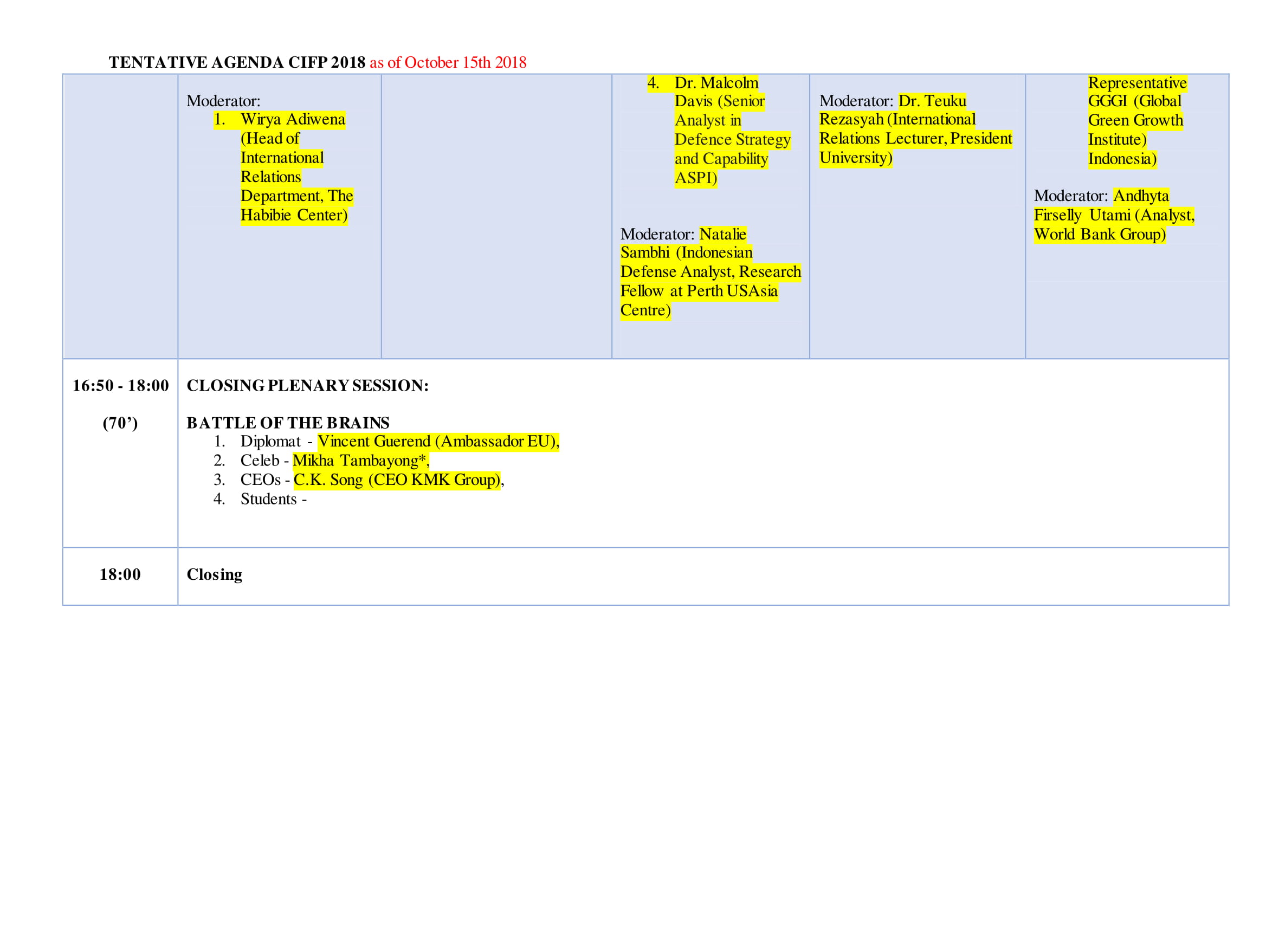 ---
Tentang CIFP
Conference on Indonesian Foreign Policy ( CIFP ) adalah forum terbuka, non-politik, non-partisan dan independen yang memfasilitasi diskusi publik mengenai hubungan Indonesia dengan dunia internasional dalam berbagai aspek : geopolitik, ekonomi dan bisnis, globalisasi, pertahanan dan keamanan, resolusi konflik, budaya, iptek, perubahan iklim dan lingkungan, generasi muda, dan lain – lain.
CIFP merupakan festival diplomasi yang mempertemukan pejabat, Duta besar, diplomat, politisi, selebriti, pengusaha, tokoh masyarakat, kalangan militer, intelijen, pakar, wartawan, pengamat, dosen, dan mahasiswa dan lain-lainnya.
CIFP adalah konferensi yang mutlak perlu dihadiri oleh praktisi, pemikir, dan peminat hubungan internasional yang ingin menambah wawasan dan mencari gagasan-gagasan baru. Sejumlah kampus bahkan mewajibkan mahasiswa mereka untuk menghadiri CIFP karena kontribusi yang besar dalam nilai-nilai edukasi agar mahasiswa lebih memahami dinamika dunia internasional.
Tempat CIFP 2018:
The Kasablanka, Kota Kasablanka Mall
Jl. Casablanca Raya Kav.88, Jakarta Selatan 12870 (dekat dengan The Park Lane Hotel, bersebelahan dengan Casa Grande Apartment)
Pendaftaran:
cifp2018.eventbrite.com

Terima kasih atas perhatiannya. See you at the Conference !

Salam,
Ambassador Dino Patti Djalal, Founder of FPCI
dan Tim CIFP 2018