Conference on Global Business, Economics, Finance & Social Sciences (GVC)
Description
20th Asia-Pacific Conference on Global Business, Economics,
Finance & Social Sciences


Conference Objectives!
The upcoming conference in Hong Kong intends to achieve the following objectives. The conference would
1) Offer an ideal platform for academicians, researchers and economists to share their research findings;
2) Identify the most efficient ways in which New Theories & New Knowledge could be implemented in the field of research;
3) Ensure that greater interaction among researchers lead to inter-disciplinary research ideas; and
4) Suggest suitable measures for the advancement of New Theories & New Knowledge.
OUR PRINCIPAL ACADEMIC PARTNER:
Shri Dharmasthala Manjunatheshwara Institute for Management Development (SDMIMD) Mysore, Karnataka
Shri Dharmasthala Manjunatheshwara Institute for Management Development (SDMIMD), ranked among the top Business Schools in India, is located at the foot of Chamundi Hills in the heritage city of Mysore, Karnataka. The campus has won many architectural and landscape awards and provides a great environment for learning and germination of managerial intellect. The institute has been conferred A** Rating at National Level by CRISIL.
The institute is promoted by the Shri Dharmasthala Manjunatheswara Educational Trust - a premier non-profit educational organisation functioning under the aegis of Shree Kshetra Dharmasthala, which is known for its unique embodiment of Dharma. Today, SDME Trust has more than 40 recognised educational institutions under its wings, imparting quality education from the primary level to the postgraduate level. Trust is known for the professional institutions in Medical, Dental, Engineering, Naturopathy, Ayurveda, Law, Business Management and Physiotherapy. The trust and all the associate institutions benefit from the visionary leadership of our Chairman, Padma Bhushan Dr. D. Veerendra Heggade, Dharmadhikari of Dharmasthala.
SDMIMD's AICTE approved PGDM programme, accredited by NBA, runs for six terms over two years with an impeccable track record of academic rigor. SDMIMD also has Student Exchange Programs with the MAYS School of Business, Texas A&M University, USA; Global Management Institute of Shanghai University, China; and British University in Dubai, Dubai. These student exchange programmes enable students to understand each other's cultures, business practices and traditions. This gives students an edge when it comes to international opportunities.
The SDMIMD's research unit - SDM Research Centre for Management Studies' (SDM RCSM), publications 'Cases in Management', 'Contemporary Research in Management', 'Excerpts of Select Summer Internship Reports', have come in for praise from the world of academics. The institute's journal 'SDMIMD Journal of Management' indexed in EBSCO and iScholar has evolved as a prestigious publication well known for the quality of the papers, therein.


AP18Hong Kong Aug Conference
Program Outline


Wednesday, August 1, 2018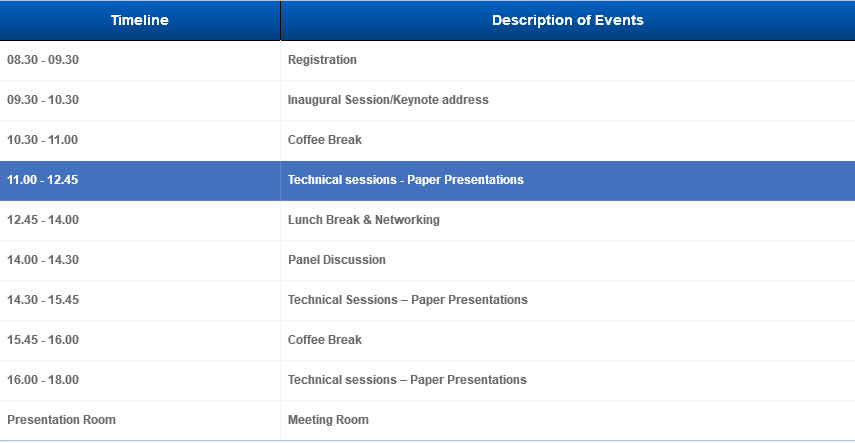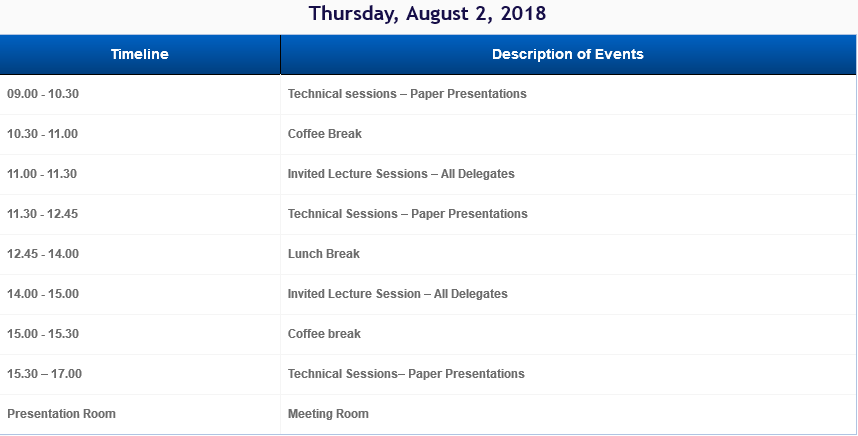 Scientific Advisory & Review Board.


Dr. Ana-Maria Bercu, Alexandru Ioan Cuza University of Iasi, Romania.
Dr. Bob Travica, University of Manitoba, Canada.
Dr. Chuck DuVal, Florida Southern College, USA.
Dr. Dogus Emin, Social Sciences University of Ankara, Turkey.
Dr. Francisca Beer, California State University, San Bernardino, USA.
Dr. Hana Medler Liraz, Academic College of Tel-Aviv-Yaffo, Israel.
Dr. Izabel Almeida, Estácio FARGS, Brazil.
Dr. Jilani ikbal, FSEG, Tunisia.
Prof.Dr. Jong-Rong Chen, National Central University, Taiwan.
Prof. Joon Hwan Choi, Gangneung-Wonju National University, Korea (south).
Prof. Keunock Lew, Seoul National University of Science & Technology, Korea (south).
Prof. Ming-Lei Chang, Chung Yuan Christian University, Taiwan.
Dr. Nasima M.H. Carrim, University of Pretoria, South Africa.
Dr. Phu Nguyen Huu, Duy Tan University, Vietnam.
Dr. Serhan Gurkan, Karabuk University, Turkey.
Dr. Tetyana Kholod, Shih Chien University, Taiwan.
Prof. Will Quilliam, Florida Southern College, USA.
Asst.Prof.Dr. Yavuz Selim ÖZDEMİR, Istanbul Arel University, Turkey.
Please contact the event manager Marilyn (marilyn.b.turner(at)nyeventslist.com ) below for:
- Multiple participant discounts
- Price quotations or visa invitation letters
- Payment by alternate channels (PayPal, check, Western Union, wire transfers etc)
- Event sponsorships

NO REFUNDS ALLOWED ON REGISTRATIONS
Service fees included in this listing.
-----------------------------------------------------------------
This event is brought to you by:
Greater Vision Conferences and Seminars - NewYorkEventsList
http://www.NyEventsList.com
http://www.BostonEventsList.com
http://www.SFBayEventsList.com
-----------------------------------------------------------------

MYL180312CEV