Location
WU (Wirtschaftsuniversität Wien)
Welthandelsplatz 1
Learning Center (LC), Festsaal 2
1020 Wien
Austria
Get your free ticket for the Big Finale of the Entrepreneurship Avenue 2022 on May 31st at WU!
About this event
GET READY FOR THE GRAND FINALE OF THE ENTREPRENEURSHIP AVENUE 2022!
Get ready for inspiring keynotes from speakers from the Austrian and international startup scene, pitch contests, startup and corporate fair, job chat, workshops and more!
We will prove it one last time: ENTREPRENEURSHIP truly is FOR EVERYONE!
So DARE TO CHANGE!
WHAT
At the Conference, renowned founders, investors, shakers and makers from various industries will come together to inspire, help and motivate students from diverse academic backgrounds to develop an entrepreneurial mindset and get active in the startup scene. They will share their experiences and insights during keynotes, panel discussions, breakout sessions and networking events.
WHO
Everyone interested, involved or completely new to the startup scene is welcome to join. We don't care about your age, profession, gender or background. Come and celebrate an amazing day with us! The program is 100 % free.
HOW TO REGISTER?
Register now via Eventbrite by selecting one of the ticket types that describes you best.Also, don't miss additional registrations for workshops, job chats and other exclusive conference formats. Find out more info on our instagram: @entrepreneurship.avenue.
Tickets are FREE!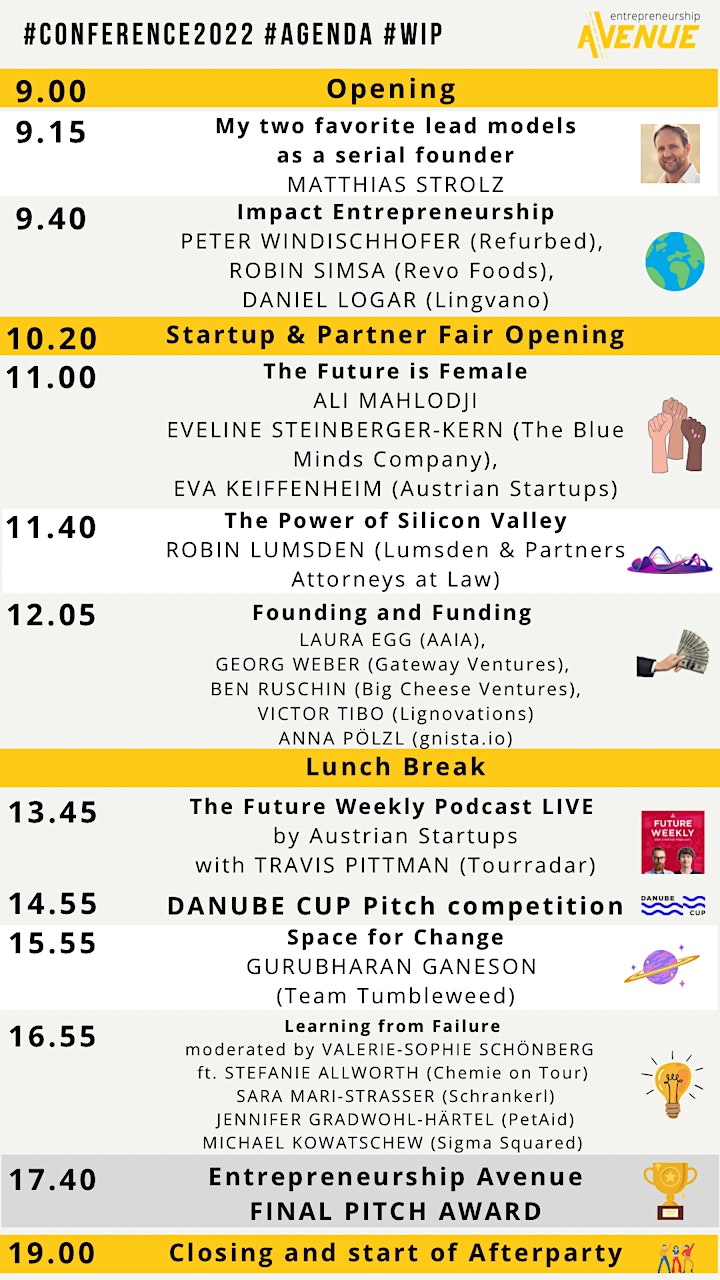 KEY FACTS
► Speakers from Europe & Local Heroes (see Agenda below)
► Startup Pitch Award - Final Pitches of the Lab Series
► Danube Cup - Pitch Contest
► Startup Fair
► Partner Fair
► Job Chat
► Avenue Afterparty at Monami (Theobaldgasse 9, 1060)
ENTREPRENEURSHIP AVENUE PITCH AWARD
The startup teams from our startup program - the Avenue LAB series - have their take off at the last stop of the EA roadshow: The Avenue Pitch Award!The startup teams get the chance to pitch their ideas in front of a renowned jury. Startups have 2 minutes to impress the jurors and the audience and have the chance to win up to 1.500€!
STARTUP FAIR
Have a look at our startups at the Startup Fair, especially selected for you, where they showcase their prototypes and beta versions. Get inspired by their stories and awesome products and see founders with different backgrounds to see again that entrepreneurship is for everyone!
PARTNER FAIR
Use the opportunity to connect and network with all of our experienced corporate and startup partners and discuss job opportunities and cooperations.
JOB CHAT
Apply with your CV only for exciting job opportunities within startups or big corporates on the spot - this could be the start of your career!
AFTERPARTY
The Conference will end with an amazing Avenue Afterparty, where we will celebrate all together and let the day end with a couple of drinks. Let us raise our toasts at Monami, Theobaldgasse 9, 1060 Vienna right after the grande finale!
Visit our website for more details:www.entrepreneurshipavenue.com
Not yet convinced? Check out the Aftermovie of previous Conferences:
THANK YOU to all our great sponsors making this event possible!
*Entrepreneurship Avenue (EA) reserves the right to use any photograph/video taken at any event sponsored by EA, without the expressed written permission of those included within the photograph/video. EA may use the photograph/video in publications. By participating in an EA event or by failing to notify EA, in writing, your desire to not have your photograph used by EA, you are agreeing to release, defend, hold harmless and indemnify EA from any and all claims involving the use of your picture or likeness.
The Entrepreneurship Avenue is organized by ECN (Entrepreneurship Center Network) and SIMC - Master in Strategy, Innovation, and Management Control.