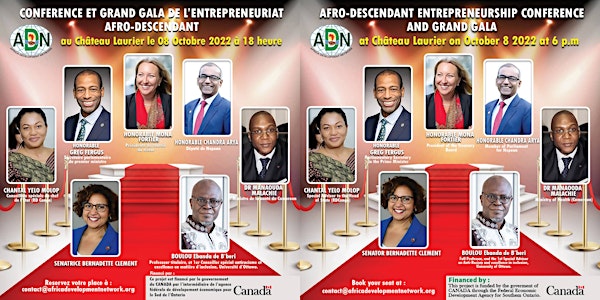 Conférence entrepreneuriale et Gala
Un évènement entrepreneurial afrodescendant à ne pas manquer! // A black entrepreneurship event that is not to be missed!
When and where
Location
Château Laurier 1 Rideau Street Ottawa, ON K1N 8S7 Canada
Refund Policy
Contact the organizer to request a refund.
Eventbrite's fee is nonrefundable.
About this event
Dans le cadre de son projet de sensibilisation et de promotion à l'entrepreneuriat, Africa Development Network (ADN) vous invite à son Gala entrepreneurial ce 8 Octobre au Fairmont Château Laurier, 1 Rideau St, Ottawa, ON K1N 8S7, à 18h. Cet évènement unira des leaders du Canada, de la diaspora et de l'Afrique.
Les invités d'honneurs attendus sont :
Madame Chantal Yelo Molop, Conseillère spéciale du Chef de l'État en RD Congo;
L'honorable Greg Furgus, Sécretaire parlementaire du Premier Minsitre;
L'honorable Mona Fortier, Présidente du Conseil du Trésor;
L'honorable Chandra Arya, Député de Nepean;
Dr Manaouda Malachie, Ministre de la santé du Cameroun;
Sénatrice Bernadette Clement;
Pr Ebanda de B'beri Boulou, Conseiller spécial antiracisme et excellence en matière d'inclusion à l'Université d'Ottawa.
Ce n'est pas tout ! Cette journée du 8 Octobre sera marquée par une conférence enrichissante autour du thème suivant:
les barrières liées à la recherche de financement chez les afrodescendants.
Des panélistes reconnus au niveau national et international nous feront l'honneur de partager leurs réflexions, analyses et recommandations sur les enjeux que rencontrent souvent les personnes noires et afro-descendantes dans leurs démarches entrepreneuriales.
Des enjeux liés au racisme, inégalités, barrières systémiques et institutionnelles, empowerment, diversité et inclusion seront abordés et si ceux-ci attisent votre esprit, alors ne manquez pas la date du 8 Octobre 2022 pour profiter de sessions d'informations éducatives et de sensibilisation à la cause de l'entrepreneuriat noir.
Parmi les invités spéciaux attendus, nous avons les partenaires d'ADN dont entre autres: Coopération et intégration Canada (CICAN); Elevation Afro-descendants; Forum des cultures et en dialogue (FOCUDIA); M9 Médias;Afro-Descents Media (ADM); Service de santé BEN'SS; Association Idée-Afrique; Global Cyber Market; Pan Afrincan Associates (investissements et consultations).
Sont aussi attendus des institutions financières, des groupes de gens d'affaires; des leaders communautaires et des entrepreneurs de tout secteur.
La soirée du Gala du gala se déroulera comme suit:
Tapis rouge et photos;
Cocktails et apéritifs servis avant le début de la soirée;
Déroulement du programme;
Souper offert par Le Fairmont Château Laurier;
Réseautage.
Ne manquez pas cette occasion de vous faire de belles rencontres.
Avis : Avec le code PREMIER50, les premiers 50 inscrits recevront une réduction de 15% sur leur billet !
Au plaisir de te rencontrer au gala de l'entrepreneuriat.
---
As part of its project to raise awareness and promote entrepreneurship, Africa Development Network (ADN) invites you to its Entrepreneurship Gala this October 8th at the Fairmont Chateau Laurier in Ottawa at 6 pm. This event will unite leaders from Canada, the Diaspora and Africa.
The expected guests of honor are :
Madame Chantal Yelo Molop, Special Advisor to the Head of State in DR Congo;
The Honourable Greg Furgus, Parliamentary Secretary to the Prime Minister;
The Honourable Mona Fortier, President of the Treasury Board;
The Honourable Chandra Arya, Member of Parliament for Nepean;
Dr. Manaouda Malachie, Minister of Health of Cameroon;
Senator Bernadette Clement;
Professor Ebanda de B'beri Boulou, Special Advisor on Anti-Racism and Excellence in Inclusion at the University of Ottawa.
And that's not all! October 8 will be marked by an interesting discussion around the following theme:
Barriers to accessing financing for afro-descendant.
Panellists recognized at the national and international level will honour us by sharing their thoughts, analyses and recommendations that black and afro-descendant people often face in their entrepreneurial endeavors.
Issues related to racism, inequalities, systemic and institutional barriers, empowerment, diversity and inclusion will be addressed and if these stir your mind, then don't miss the date of October 8, 2022 to enjoy educational information sessions and awareness for the cause of black entrepreneurship.
Among the special guests expected, we have ADN partners including: Cooperation and Integration Canada (CICAN); Elevation Afro-descendants; Forum of Cultures and Dialogue (FOCUDIA); M9 Media; Afro-Descents Media (ADM); BEN'SS Health Service; Association Idée-Afrique; Global Cyber Market; Pan African Associates (investments and consulting).
Also expected are financial institutions, business groups, community leaders and entrepreneurs from all sectors.
The evening of the Gala will be as follows:
Red carpet and photos;
Cocktails and appetizers served at entrance;
Program sequence;
Dinner hosted by the Fairmont Château Laurier;
Networking.
Don't miss this excellent opportunity to meet interesting people.
Notice: With the Promo Code PREMIER50, the first 50 registrants will receive a 15% discount on their ticket!
We look forward to seeing you at the Entrepreneurship Gala.