Event Information
Refund policy
Refunds up to 7 days before event
Eventbrite's fee is nonrefundable.
Experience 8 Conferences for one-low-price!
About this event
Welcome to Conference CUBE™ 2021.
8 Events for 1 Low Price.
Conference #1 - Wed. April 28 - 4 - 8 pm EST.
Lori A. McNeil's - Ignite Your Brain
Join Lori as she takes you on a deep-dive into the fascinating World of Brain enhancement. - Learn how to fire-up your brain to have more focus, memory & learning capabilities. - Discover how Nootrophics work and why they are the future of Business strategists everywhere. - Explore the hottest tech for erasing negative thoughts - and experience unlimited success!
Lori A. McNeil -International Educator, Speaker, and Business Coach -Lori focuses on the missing foundational tools organizations need for long-term success. Experienced in public and private sectors, Lori helps new businesses grow and established companies re-strategize. She has successfully grown grassroots programs from zero to millions which lead to National recognition. Website: lorimcneil.com
Special Guests:
Dr. Jesse Payne
Dr. Patrick Porter
Dr. Jeffery Fannin
Dr. Sandra Rose Michael
Dr. Staci Danford-Motely
Conference #2 - Thursday April 29 - 6 - 10 pm EST
Dela Fotoohi's - Love & Unity Conference
Dela Fotoohi is Talk Show Host, Award Winning and 5X Best Selling Author, Global Speaker, Entrepreneur, Wife, Mother and Coach. In 2017, through a family crisis Dela discovered her passion for change of attitude, recovery and wellness. Through her volunteer work as a facilitator and a presenter at the Canadian Mental Health Association, she is helping caregivers get informed, get help and find hope in their journey of coping with mental illness. She considers herself an advocate for Mental Health. Dela is starring in her own Talk Show, Dela's Voice where she introduces other people's superpowers and how they impact the world in a positive way. Dela is also the Host of The Magnetic Entrepreneur Podcast, Co-Host of the Butterfly Effect and Host of The Book Reveal. Dela's passion for impacting positive change in her birth country of Iran drove her to start a Talk Show in Iranian which is quickly gaining momentum.
Special Guests:
Shahryar Rumi : Born in Tehran, Iran and growing up in Sweden, Shahryar Rumi started playing the piano at the age of 11. Shahryar's love for the arts does not stop with music. His interest in architectural monuments resulted in him earning a degree in architectural design and business, yet he never took his eyes off of his inner passion for music. Known for his classy music and silky-strong voice, the once pop music artist has focused his attention on Rumi's philosophy and poetry. The Tale of Rumi concert series is written, directed and performed by Shahryar, featuring a 20 piece orchestra, where you will experience the immersion of Eastern spiritual philosophy merging with western fusion-style music. The Tale of Rumi concert series is inspired by the life of the great poet and philosopher Rumi. Shahryar's modern and westernized style of music delivers Rumi's message, which has touched the hearts of millions of people from all walks of life by spreading the message of love. To date, Shahryar has performed in most major cities from Paris to Los Angeles.
Maya Machawe, Topic : Love and Yoga. Yoga master with more than 30 years of experience in Iran and India, Maya Machawe was born in Ahmadabad India and grew up in a yoga family. Her achievements: Utilizing yoga in treatment of psychiatric patients in mental health clinics in Tehran (accompanying her husband Dr. Saed Ahmadi a renowned psychotherapist). Founding the new Cyclic Yoga style in teaching Hatta Yoga, in 1986. Founding and running "Payam-e-Mehr" international yoga center. Teaching Yama, Nyama, Asana, Pranayama, Pratiahara, and Dharana and also practicing Dhyana with her students. Teaching Ayurveda (old Indian Medicine) classes. Lectures on the famous book "Yoga Sutra of Patanjali" as a reliable reference for yoga philosophy. Publication and holding the position of the editor in chief of the first yoga journal in Farsi (Yoga Payam-e-Mehr magazine). Establishing Hasya Yoga (Laughter Meditation) in Iran. One of the founding members of the Iranian Yoga Association. Holding workshops on Yoga therapy especially for MS patients and achieving a very good reputation in treatment of neuromuscular and psychological symptoms of Multiple Sclerosis. Holding scientific gatherings on chakra meditation, Kriya Yoga and stress management by yoga, across the country. Lecturing in a number of Iranian universities and scientific seminars in different cities of Iran. The author of several books on Asana, Pranayama, Ayurveda and Yoga & MS as well as numerous articles on all aspects of 8 limb Ashtanga Yoga. Maya speaks Marathi, Hindi, Sanskrit, English and Farsi. Her message for all human beings where ever they live is "to live with love". She believes that the most important meaning of our lives is to love each other.
Mahsa Rahbari - Topic- The Persian Calendar: Lessons of Love & Unity Mahsa is a curious soul and a life-long learner. She has led a successful career in the Corporate World, but does not define herself by her professional achievements. She has been an avid meditator for over 15 years and a culture aficionado. She loves expanding her knowledge of ancestral wisdom, old literature, history and neuropsychology. She has a profound comprehension of the works of many Persian poets, namely, Rumi, Hafiz, Sa'di, Ferdowsi, Khayyam and knows many of them by heart. She has been studying various cultures and believes we can learn from, and extract the best parts of all cultures to conduct a mindful and holistic approach to life which is conducive to a healthier society that goes hand in hand with personal happiness. She considers herself a bridge and translator between Eastern and Western worlds. Her motto is "why be a part of the problem when you can be a part of the solution!" Mahsa is striving to lead by love and wisdom to bring harmony to the post-corona life!
Amir Behbahani - Performance Coach & Educator / Consultant / Event organizer and Professional Speaker Amir Behbahani has more than 35 years of diversified experience in engineering, management consulting, facilitation, coaching, development, sales and marketing. He is a much sought-after speaker, presenter and program architect and developer. Amir's hands on experience in international business, working with multinational corporations has made him highly aware of multicultural management. His community-based development methodology uses "Participation" and "Edutainment" as techniques to develop interest and practice in professional communities. Amir is an avid literary and a lifelong learning enthusiast, with a passion to facilitate organizational rebirth and empower individuals and communities to become better and perform sustainable for wellness by keeping balance & equilibrium between welfare, wellbeing. His joy for life is evident in his easygoing nature and fascination in discovering new horizons and exploring new adventures. On the secret to his youthful approach to life, he says: "I have lived my words, always loved my work and refused doing what I didn't love and last but not least, I married a wonderful woman". Amir Behbahani can be reached on Linked-In https://www.linkedin.com/in/amir-behbahani-56343669
Conference #3 - Friday April 30 - 7-10 pm EST.
Nutrition That Really Works™
Take a journey into food sciences, exciting healthy menu planning, delicious recipes & the secrets to loosing weight.
Brian Gangel - DHS, IMP, BOIM, WONM. - Natural HealthCare Leader and Educator, Business Coach / Professional Speaker/ Change-Management Specialist / Product Developer / Retail Analyst. Doctor of Humanitarian Service [HS], Integrative Medicine Practitioner, Co-Chair of the World Organization of Natural Medicine World Conference Division, International Diplomat of the Quantum Research Council, World Brand Ambassador for PRLabs™, CEO of Quantum Events Canada, Quantum Physics, Biochemistry, Biology, Food Sciences, Certified Herbalist, Iridologist, Quantum Reflex Analyst, Nutritionist, Health Coach, Master in Vastu Earth Sciences, Holistic Skin Care Specialist, Ordained Cleric, Registered Reverend (CMM), Proud supporter of: the Clinics for Humanity World Initiative. Member of the Royal Astronomical Society of Canada. Founder of Turning Point 2020 - "The largest on-line Wellness Conference in the World with 2.2 Million Attendees in 105 Countries"
Liana C. Di Marco, B.A., M.E.S., is a published multi-media artist, writer, teacher and Wellness Coach. Liana's art work is a collection to match her writing on various themes ranging from survival, free-speech, justice, faith and hope. Each piece is a window to a chapter in her life. IT is her hope that one day we will all achieve a state of true peace and love.
Paula Felicia De Candia HOM., HD,D.H.M.H.S,B.T,O.C.R, QRA Vice President of Ontario Homeopathic Medical Association Classical Homeopath Nutritional Live Cell Microscopist BodyTalk practitioner Reflexologist Intuitive heart base healer
Sandra Corrado, CHRL, FIS, PTS, ZIN, SYNC Integrative Wellness Coach Sound Wellness Practitioner Fitness & Zumba® & STRONG Nation Instructor Next Level Consulting
Conference #4 - Saturday May 1st - 11 am - 5 pm EST
Darrell Wolfe's The Brave Heart World Summit
Dr. Darrell Wolfe Ac. PhD. DNM. DHS. has 40 years of experience in natural medicine as a medical intuitive and is known as the 'Doc of Detox'. He is a Doctor of Natural Medicine (DNM) and Doctor of Humanitarian Services (DHS), certified with the Board of Integrative Medicine. Dr. Wolfe is a professor and the director of the prestigious International Training Institute of Health that offers unique breakthrough training and certification courses to all sectors of the public and professional health community. The International Training Institute of Health is a registered training institution under the World Organization of Natural Medicine. Contacts: Office: +1-855-900-4544 - WhatApp: +1-250-801-3162 - Skype: doc.of.detox - Web: Docofdetox.com ***use must use Dr. Darrell Wolfe's discount code in order to receive his special gift package.
Conference #5 - Sunday May 2nd - 12 noon - 4 pm EST.
TESLA Med-Fest
HOST: Karen Seegert: You have heard of the Tesla car but are you familiar with Tesla medicine? Nikola Tesla said "If you want to find the secrets of the universe, think in terms of energy, frequency and vibration." and I say, "The number one thing you need to be healthy is energy!" Tesla medicine IS the medicine of the future and I will reveal the secret behind frequency medicine and how you can regain your unique healthy resonance and optimize your well being! BIO: Karen Seegert is an Energy medicine educator, scar therapist, biofeedback technician, PEMF practitioner and Sanza specialist, founder of Cell Energy Therapy Inc, Cell Regeneration System Inc, and Innovation Therapy and Treatment Inc. Karen is on a mission to create awareness about energy medicine and the amazing "Sanza" technology which she explains is foundational in achieving an optimal state of well being. " www.sanza.info karen@sanza.info 416-486-5500 Free download, free consult, 10% rebate on Sanza products for ticket holders.
Bruce MacPherson BSc. HOW LIVING WATER WILL CHANGE YOUR LIFE FOREVER The easiest and tastiest way to heal your body and optimize your health - one glass at a time! He was challenged with two debilitating health conditions during his life, ulcerative colitis in his 30s and a severe concussion resulting in PTSD in his 40s. His Doctors told him he would be on medication for the rest of his life and that colitis was incurable. After 25 years of studying nutrition and using energetic & alternative therapies, he has healed both conditions and returned to vibrant health. He is an entrepreneur and coaches others to regain their health by supporting the body's own regenerative ability with LiVING WATER and energetic therapies. Paid ticket holders will receive the e-book "The Alkaline Body Balance" The benefits of using ERW in everyday life & A free Zoom water consultation Contacts Web: www.healthandhydration.ca or Phone: 416-712-4820 email:brucek.macpherson@gmail.com
Silky Polifka - Silky is a Doctor of Natural Medicine and of Psychotherapy in Germany since 1988. With a Master in Bioresonance and Electro-Acupuncture, she has worked since 1990 as the International Chief Instructor of Bio-resonance, Biofeedback and Electro-Acupuncture. She has trained MDs and other (holistic) therapists worldwide in Complementary Medicine. In 1994, Dr. Polifka received her Diploma of Holistic Energetic Medicine (Dipl.Hol.Energ.Med.) of the University Malta and in 1997, she opened her own clinic. Parallel to this, she founded "BEC - BioEnergetic Concepts -Academy of Energetic Medicine." Fascinated by the diagnostic aspect and therapy spectrum of the SCIO/EDUCTOR-System, Silky added this unit to her clinic and training/seminars in 2000. Later, she became a member of the Senior Academic Board of the I.M.U.N.E. University. BemerR and SANZA were integrated in 2006 as a holistic concept along with CosmergyR Liquid. From 2005 to present, she has been the owner of the german Company ScioSanR and later, ScioSanR International Inc. and Cosmergy LLC. which takes her travelling and teaching between Germany and the USA. polifca@polifca.com
Lina Razgaitis, Animal Communicator & Quantum Biofeedback Specialist QuantumEnergyPet.com Animals vibrate at a higher dimension than humans, so Lina interacts with them on a frequency level to restore homeostasis. She pairs technology with energywork. Technology is just a tool to interface with clients' innate healing capability, their spirit guides and healing masters. Quantum Biofeedback, an advanced system for reading and prioritizing the relevance of over 10,000 frequencies in 15 minutes, would have made Tesla, the father of frequency medicine proud. The system is capable of assessing energy and shifting it. So it can provide valuable information and encourage healing. Lina will be sharing her research on how we can all access Tesla energy to heal, as we ourselves are the greatest Quantum computers. Lina Razgaitis WhatReallyWorksForStress.com AkashicSoulReadings.com AnimalWhispers.ca linaraz@aol.com 416-879-4162
Dushica Dopsay – Speaker and Event representative of Zepter International Canada Inc. Dushica Dopsay has dedicated her life to bettering the health and well-being of individuals and professionals across Europe, the Middle East and North America. Being part of the initial team of experts who built the company's global branches from the ground up, she had an opportunity to learn multiple languages and explore different cultures and traditions. But throughout her journey, she always had one goal in mind -empowering people to make pro-active decisions regarding their health and career. She has impacted the lives of thousands by being their mentor and helping them find their purpose and achieve their highest potential. "The secret of happily and successfully being part of a company and community for over 30 years is the personal belief in that company's products and their benefits". She shares and uses her real-life personal experiences to motivate, inspire and support others to take steps toward taking responsibility for their health. Alongside being a successful businesswoman and health coach, Dushica is also an Aikido and Tai Chi master and the creator of the "Lady's Self Defense" program. This defense program was and still is, used by multiple female police forces globally. For her, winning was never about beating the competition but rather about listening to oneself and empowering your body, mind, and soul to solve the problem. Whether the attacker is a person or an illness, the same methodology and lessons can be applied to defend against it and rise victorious. She will take this opportunity to share her knowledge about the synergy between science, technology and nature, which gives us a solution to enhance the natural body healing potential. Zepter International Canada Inc. www.zepterinternational.ca , ddopsay@zepterinternational.ca, +1 647 748 1115
Brian Gangel - DHS, IMP, BOIM, WONM. - Natural HealthCare Leader and Educator, Business Coach / Professional Speaker/ Change-Management Specialist / Product Developer / Retail Analyst. Doctor of Humanitarian Service [HS], Integrative Medicine Practitioner, Co-Chair of the World Organization of Natural Medicine World Conference Division, International Diplomat of the Quantum Research Council, World Brand Ambassador for PRLabs™, CEO of Quantum Events Canada, Quantum Physics, Biochemistry, Biology, Food Sciences, Certified Herbalist, Iridologist, Quantum Reflex Analyst, Nutritionist, Health Coach, Master in Vastu Earth Sciences, Holistic Skin Care Specialist, Ordained Cleric, Registered Reverend (CMM), Proud supporter of: the Clinics for Humanity World Initiative. Member of the Royal Astronomical Society of Canada. Founder of Turning Point 2020 - "The largest on-line Wellness Conference in the World with 2.2 Million Attendees in 105 Countries"
Conference #6 - Monday May 3rd & Tuesday May 4th - 7 - 10 pm EST.
Integrative Health Coaching 'Try before you Buy' Intro Summit
Special Guests:
Dame Dr. Sheila McKenzie - RDH, PhD, IMD, DHMS, DHS - ​Educator, Author and HumanitarianAppointments: Dame Commander of the Sovereign Order of the Orthodox Knights Hospitallers. Dame Commander of the Order of Saint Paul-France (Commandery Ontario. Professor and head of the Department of Natural Medicine and Humanitarian Medicine of Saint Peter and Saint Paul Lutheran Institute (Lutheran University) ​Chancellor Canadian College of Humanitarian Medicine . President of the World Organization of Natural Medicine - WONM.ORG
Sir Dr. Gerald Smith, DNM, DSS, PhD is is a recognized international authority on craniomandibular somatic disorders with a focus on resolving chronic pain. He has a license to practice integrative medicine and is a member of the World organization of Natural Medicine. He is the author of a landmark textbook, Cranial-Dental-Sacral Complex and the first researcher in the world to radiographically document cranial bone movement by means of the Dental Orthogonal Radiographic Analysis System. Doctor Smith also developed and patented the world's first cranial motion precision attachment to permit cranial motion in fixed bridgework that crosses the maxillary midline. Doctor Smith is also the originator of the Occlusal Cranial Balancing Technique, the world's first occlusal system to balance cranial bone and spinal alignment. He has also contributed equally important books, Reversing Cancer, Headaches Aren't Forever, Alternative Treatments For Conquering Chronic Pain, Remove the "Splinters" and Watch the Body Heal, and Cancer Deconstructed. His books present a major paradigm shift by integrating osteopathic, chiropractic, dental, medical, physical therapy and nutritional concepts. Doctor Smith's 51 plus years of clinical research and practice has uncovered several of the major missing links for the cause of chronic pain, post-concussion syndrome, cancer, and many illnesses that have eluded conventional medicine. He was an invited speaker at Walter Reed Army Medical Hospital, Yonsi Memorial Hospital in Seoul Korea, Holistic Medical Association and other prestigious meetings. He was a past-president of the Holistic Dental Association and editor of its journal, and past president of the Pennsylvania Craniomandibular Society. He has a specialty practice in chronic pain, nutrition and dental orthopedics/orthodontics in Langhorne, Pennsylvania.
Dr. Jay Paul Vanden Heuvel PhD, IMD,DHS - Integrated Medicine, Doctorate in Humanitarian Services World Organization of Natural Medicine (WONM), Ph.D. Holistic Health Sciences, Ph.D. Traditional Naturopathy, B.O.I.M. (Board Certified in Orthomolecular and Integrative Medicine) W.O.N.M. (Board Certified in World), Recipient of the "Order of Excellence Integrative Medicine" University of Humanitarian Medicine Clinics for Humanity. Faculty WONM-University of Humanitarian Medicine Federation, Board Certified Holistic Health Practitioner American Association of Drugless Practitioners (A.A.D.P.) , U.S. National ARCB Certified Reflexologist Board certified by American Reflexology Certification Board, Surgical technologist/Nursing, Certified Flower Therapist, Certified Leader in Natural Health, Association Customer Service, Background in Quantum Physics 3 Book Author/Peer Reviewed Science paper ACTA co-author/100+ DVD's, 25 + yrs experience. Private practice +20,000 clients. International Lecturer 500,000 + www.naturesinstitute.com www.naturalselections.net
Sir Dr. Stanley Ngui -Ph.D., IMD. Chief Integrative Medicine Doctor, Grandmaster-level Chinese Medicine, Qigong and Gongfu . The knowledge of Chinese Medicine and holistic therapy that we provide has been passed down in our Ngui Family line for generations, each next generation inheriting the knowledge given to them by their parents. Only recently, have we begun to start teaching outside the family to non-blood students. Each person who practices is thoroughly trained for at least one year before becoming a full practitioner, in respect, empathy, Chinese Medicine, body mechanics, bio-medicine, and bio-energies. 165 East Beaver Creek Rd. Unit 24 Richmond Hill, ON. L4B 2N2 P. 905.597.5007 E. nguistyleimc@gmail.com Nguistyle.com.
Brian Gangel, DHS, IMP, BOIM, WONM. CEO Quantum Events Canada Holistic Practitioner / Educator / Business Coach, Awarded the ORDER of Excellence in Health Education. Diplomat Quantum Research Council, Brand Ambassador for PRLabs™.
Grace Sedstrem is a speaker, trainer and mentor. Igniting inspiration, perfecting poise and up leveling performance ~ is her specialty! Her charisma is second to none! An entrepreneur enthusiast she loves empowering people in business to make more money, get more sleep and have more time! Over 20 years as a Technical Trainer/Speaker both Nationally + Internationally her fiery enthusiasm inspires groups in entrepreneurial and corporate ventures.
Dr. Eugene Fung IMD DHS MBA(TQM) TCM FACBS CIM PhD SLEEPM International Director Doctor of Philosophy (Natural Medicine) Integrative Medicine Doctor Doctor of Humanitarian Services, Professor of World Organization of Natural Medicine University, Professor of University of Humanitarian Medicine, Faculty Member of Canadian College of Humanitarian Medicine, Ambassador-at-Large Asia Regio
Dr. George Grant, B.Sc.[Hons]; M.Sc., M.Ed., Ph.D., IMD, DHS, C.Chem., R.M., CBS - is known as The Caring Doctor, is considered the Canadian authority in Integrative/Functional Medicine and a global wellness ambassador. Dr. George Grant is an expert in biofeedback, stress, anti aging and natural pain management. He helped clients at Sunnybrook hospital in Toronto recover from clogged arteries as well as many thousands of clients World wide. Dr. Grant enjoys a stellar academic and a fascinating career in research. He is a scientist, professor, chemist, toxicologist, nutritionist, biofeedback, stress management and a pain specialist. Dr. Grant worked as a Senior Consultant for Health Canada, FDA and CDC as well as in private practice. Dr. George Grant has helped 9 Fortune 500 companies, 9 non profit organizations and 9 Olympic athletes along with 7500 clients worldwide. He has over 200 published articles, 400 papers reviews, hundreds of conference presentations, book reviews and 10 bestselling books. www.academyofwellness.com
Dr Troy Bennett - Doctor of Acupuncture , Doctor of Integrative Medicine , Doctor of Humanitarian Medicine, Register Naturothearpy Practitioner, Founder of the BAQ Center and Integrative Medicine Clinic, Qi Gong Master Instructor at the BAQ Center for Medical Qi Gong and Martial Arts.
Dr AW Martin - DC,PhD DNM DHS Graduated from Canadian Memorial Chiropractic College 1974 PhD in Clinical Nutrition in 1995 Doctor of Natural Medicine in 1999 Doctor of Humanitarian Medicine 2018 Consultant to Nutraceutical division of Henkel Corporation 1995-2000 Dr Martin is the author of over 20 books on Nutrition including best sellers 1) Chronic Fatigue Syndrome the Modern Woman's Curse 2) Serial Killers Two Hormones that want You Dead 3) Are you built for cancer 4) the Metabolic Reset The Diet Your Doctor Won't Share with You Dr Martin had a syndicated radio show the Doctor is in for 20 years Dr Martin now broadcasts the Dr is in Podcasts with over 2 million downloads - Dr Martin has lectured on nutrition in China ,Korea, France Ireland and all over North America Lectures at The University of Tennessee on Nutritional Psychology
Conference #7 - The Wonder WOMAN Syndrome with Grace Sedstrem
The Wonder Woman Syndrome. How to DO More, HAVE More, BE More (And STAY SANE)! How to DO MORE with LESS! Dancing Domestic Dynamics…Leveraging your "Home Team". Harnessing the power of NOW! Juggle Without Struggle. Possibility Thinking... RULE your head-space! grace@gracesedstrem.com http://wonderwomansyndromebook.com/
Conference #8 - RethinkFIT LIVE – Redefine, Reimagine, & Reset!
HOSTS: Jeffrey Kippel & Mindy Blackstien-
Discover how the fitness world is changing. Industry experts, along with pioneers Jeffrey & Mindy, are on a mission to wholistically transform what it means to be "FIT" – because it goes beyond appearance. Get inspired by real-life experiences from fitness celebrities who pivoted their thinking to focus on how to improve their mental, emotional, spiritual, social and functional health. Now they are truly happy! Get guidance from a panel of wellness professionals who share their journeys, insights, innovations and action steps. For everyone looking for true wellness, now is the time to Rethink FIT!
Jeffrey Kippel and Mindy Blackstien are influencers of influencers. That is because they founded the World Natural Sports Organization, the FAME World Tour, FAME Magazine, the FAME Agency, Fit Connections and the BodyPROUD movement. From this, they witnessed firsthand how looking like a superhero does not mean you feel like one. So Jeffrey and Mindy set there sights on improving that. For over a decade they researched ways to fill voids and course correct the elements they came to recognize were lacking. The result is a 10 year stint of strategic relationships, mentorship from some of the world's best, and a system to help people rethink FiT so that not only can they become an artist to their physique (for those who choose), they can also come to LOVE how they think, act and feel. https://rethinkfit.social/ https://www.unlockyourfame.com/copy-2-of-athletics-advisory-board
Lisa Meller, CMP, CITP, CED – CO-HOST
Co-Founder, RETHINK FIT Travel | Owner, Meller Performance Events Group
Lisa is an award-winning and professionally certified meeting, event and incentive travel expert with passions for living a life and for bringing out the best in people by bringing them together. She's also a certified springboard and platform diving coach and judge, a former NCAA Division 1 and US Senior National semifinalist, and an actively training Masters athlete. She holds Masters Diving National, Pan-AM, and World Champion titles as well as a FINA World Record. Formerly a Cancer Research Scientist, over the past 25 years she transformed her life, found a new path in professional event management, and rediscovered her love of diving. On and off the deck, as a speaker, coach, consultant, teammate and friend she shares her story and her expertise to motivate, inspire and support others. Lisa offers full-service third-party meeting, incentive, and event management support to groups, corporations and associations for events around the global and is the Owner and Managing Director of Meller Performance Events Group. In 2021 she co-founded a new company and endeavor, RETHINK FIT Travel, to support the wellness movement and loves providing best-in-class group travel experiences with a personal touch. LisaM@rethinkfittravel.com; LIsaM@mellerperformanceevents.com M: 949 413 6770 O: 949 522 5472
KEYNOTE FEATURES
Marco Pietrowski Pro Fitness Trainer – Never Giving Up: Marco's Inspirational Comeback Journey Seven years after being left a quadriplegic paralyzed by a devastating car accident, former bodybuilding model and Pro Fitness Trainer Marco Pietrowski has made his comeback on stage - and is on his way to walking again. In 2013, Marco was in the shape of his life after winning a South African bodybuilding title and earning Professional status, but his health was about to change in an instant. He was a passenger in a car crash in Camps Bay that left him wheelchair-bound as an incomplete quadriplegic. His amazing comeback story about his life, his journey, and his mission inspire audiences and motivate everyone he touches to rethink and to reframe our own thinking. Learn how he transformed his mindset from devastated and doubtful to dreaming and determined! https://www.iol.co.za/capeargus/sport/paralysed-fitness-trainer-marco-pietrowski-refuses-to-give-up-36395539
Marci Warhaft – Segment title "FIT vs FICTON" - About: Marci Warhaft is a recognized expert and author on body image and self-esteem and is a regular contributor to Optimyz Fitness magazine. She is named one of Canada's Top 100 health leaders for 2018, 2019, 2020 and 2021, and she has appeared on numerous television and radio programs across North America. After growing completely disillusioned with the mainstream fitness industry, she developed workshops to challenge fitness and beauty myths and to reframe approaches and conversations to embrace self-acceptance and a whole-health approach to longevity. She teaches parents, teachers and coaches how to spot potential signs of body image and eating disorders. A fitness instructor, Warhaft is author of The Body Image Survival Guide for Parents. She also published The Good Stripper (Sutherland House 2020), a memoir about coming to terms with dysfunction. marciwarhaft@rogers.com
Sara Pribis – Reimagining the Social Experience - Sarah Pribis is an actor and host, currently based in New York City. She made her Broadway debut in Les Miserables, and graduated from NYU's Tisch School of the Arts, with a double major in Theatre & Journalism. She has hosted for: HQ Trivia, Amazon, Walmart, Bowlero, Business Insider, and The Ellen Show. TV highlights include Bravo's Dirty John, CW's Two Sentence Horror Stories, USA's The Purge, CBS's The Bold & the Beautiful, TruTV's Hack My Life. Sarah's recent feature films include Clinton Road (Ice T, Vincent Pastore), Inside Game (Scott Wolf, Will Sasso), and Cicada (Cobie Smulders, Bowen Yang). Sarah has also been a professional fit model, and currently has a podcast, Living the Damn Dream, which serves to both tell authentic stories from the entertainment industry, as well as to act as a resource for those looking to pursue a career in media. It encompasses everything from how to create professional quality content, to how to stay grounded in intention and presence, and how to handle rejection and today's internet trolls. She is a sober woman in recovery, and her goal is to help others reimagine their social media experience so that it can be a positive and powerful tool.
Panelists
Ian Walling Owner, Bestlife Coaching - Ian Walling is a veteran expert of the fitness industry for over 35 years as a Pro Natural Bodybuilder, and Head Judge. He is one of the founding members of the World Natural Sports Organization (WNSO) and is also an Elite Trainer and a Nutrition and Wellness Specialist. Over the years he realized that physical fitness is only one part of the equation for lasting results and that true results come from balance on all three levels: physical, mental and emotional. Currently, he's a Health and Life Transformation Coach and a Life Strategist and Manifestation Coach. ian@bestlife-coaching.ca www.bestlife-coaching.ca
Lee Davy- Modern Way of Ascended Mastery Coach & Retreat Host Co-founder Connected Community Author: Leadership & Innovations for Global Health Transformation (LIGHT) Creator; True Self Activation & Breath is Life Faculty, NewEarth University Board member, Co-owner & member of the "House of Masters" Imiloa Institute www.lee-davy.com 416-807-5739 www.connectedcommunityliving.com http://www.imiloainstitute.com/ Lee is an inspirational author, creator, speaker, retreat host and leader in global health. He is the co-founder of Connected Community and co-owner of the Imoiloa Institute. Leveraging a life-long quest for self-discovery and personal growth, he has spent nearly three decades gathering tools and learning from leaders who have mastered mindful healing, thinking, transformation, metaphysics, energy work and other forms of Self-Mastery. His deep internal work, research and practice have allowed him to create his own content to share his journey of transformation and to teach what he has learned with others. "I wish only to share with you what I have learned over a lifetime of searching and studying health, consciousness and healing arts. I wish for you to gain the same benefits and outlook that comes from working with an mastering the mental, emotional, physical and spiritual mixture from which we are all made."
TONY PRIDDLE - Founder of We Transcend, Tony is a former professional rugby league player who's experience as an elite athlete has positioned him as an expert in the field of optimum performance. Once an elite pro-athlete for Australia on the international circuit for 7 years, he is now a highly regarded expert and speaker on the topic of high performance and mental health in sport. Recently he has worked with and consulted for Commonwealth Games Athletes, world ranking Crossfit Games Athletes, professional coaches, and athletes from various sports. Over the last 30 years Tony has honed a unique approach to combining mind, body and spirit work to reach ultimate mental and physical performance. His approach is cross modality and utilizes the best from NeuroScience, Epigenetics, Positive Psychology and Quantum Physics. Tony has a degree in Sports Science from the University of NSW, is a Master NLP Practitioner, Advanced Hypnotherapist, Memory Re-Mapping expert and is currently undertaking studies in the science of breathwork and cold water immersion therapy. Tony's life purpose is to: "Show people they are so much more than they think they are right now". He focuses on uncovering and developing the education and coaching required for people to achieve their best in whatever it is that they are choosing to do.
Matthew Belair Author, Athlete, Coach and Speaker - Matthew Belair is an author, athlete, coach and speaker who's on a mission to empower people to master their mind, body and spirit and make the world a better place. He hosts the Master Mind, Body and Spirit Show, which has reached #1 in iTunes in over 20 countries. He has interviewed hundreds of the world's foremost experts on consciousness, spirituality, and peak performance. He empowers his community with teachings and strategies that focus on helping expand your consciousness, find your purpose and achieve your highest potential. He is the best selling author of Zen Athlete: A Guide to Self Mastery and offers the Zen Athlete training program. Matt's mission is to make training for the mental game of sport go mainstream and empower future generations with critical knowledge around mindset, performance and personal empowerment. Matt Belair is a student, researcher and explorer. He has trained intensive meditation with Tibetan monks in Nepal, trained with professional MMA fighters in Thailand, and with 34th generation Shaolin monks in China. He has also trained and studied with Native American Elders and attended a trip to Egypt with the Resonance science foundation exploring both ancient civilizations and advanced technologies. Matt is a thought leader in consciousness, spirituality, mindfulness and peak performance. He has a global audience and has been featured on many top podcasts and magazines.
Alejandro (AJ) & Genevieve Quevedo Co-Founders & Owners, Healthjar Nutrition - A.J. and his Wife Genevieve have more than 30 years combined experience in peak performance health and longevity. Together they work with their clients to assist in breakthroughs in Health, Beauty, Fitness, and Longevity. Genevieve Burciaga has a Bachelor of Science in Nursing. Combining Nutrition, Ancient Wisdom, Spirituality and Modern Science supporting personal power in health and wellness. AJ is a Speaker, Longevity Consultant , Personal trainer and Fitness Model with a passion in facilitating Men and Fathers to become authentic leaders in their communities and families. Health jar lifestyle programs have transformed the lives of hundreds, helping them to become younger, from the inside out and take back their youthful radiance by supporting positive lifestyle changes, resulting in electrifying energy and natural joy. AJ is an avid mountain biker, Skater, snowboarder, and motorcycle rider while Genevieve loves playing in the dirt, looking up at the sky, attending retreats and researching the latest and greatest in Natural Medical Advancements.
Mindy Harley- Mindy Harley is a Spiritual Life Coach, Energy Healer, Social Media Business Consultant, owner of Social Empire, creator of The Unf**kwithable Academy, Motivational Speaker, Podcaster, Actress and plant medicine advocate. Her unique intuitive coaching approach using her signature Unf**kwithable Method has helped thought leaders, heart-led entrepreneurs, and small business owners alike break perceived limits and add exponential growth in both revenue and branding power that is true to their authentic voice.
Keisha Luke Digestive Educator - Anyone can cook food. Anyone can eat food. But few understand the chemical composition of food and their healing or harmful effects. Keisha Luck, a leading Culinary Nutritionist and Digestive Educator, understands the mind-gut-body connection and its key disruptors that lead to inflammation, compromised immunity, and other ailments. Having herself suffered as a child with severe digestive issues and repeat hospitalization, she dedicated her life to learning how to heal herself from the inside out. She now combines the best of the culinary with the nutritional world to help individuals eat fueling foods for life! She offers consultation, products, workshops, demonstrations and speaking engagements to individuals, families, groups and organizations. Her motto is "Health is Wealth!" www.keishaluke.com
Ed Harrold Breathwork Master - Ed Harrold is an author, inspirational leader, public speaker, coach and educator. Ed's mastery in the science of mindful breathing has guided him to apply conscious breathing practices in corporate health & performance coaching, fitness & athletic training, healthcare continuing education courses, stress reduction and overall health and well-being. Ed is the author of Life With Breath IQ + EQ = NEW YOU & BodyMindBusiness: The Business Of BE'ing Within. Ed blends the fields of neuroscience and the wisdom of contemplative traditions into effective strategies to improve health, well-being and performance. Ed's fluency in mindfulness-based strategies combined with the belief in the human potential gives him the depth and understanding to meet individuals and group needs across industries and platforms. Ed is a contributing health & wellness editor for Thrive Global, MindBodyGreen & PTOnTheNet, HuffingtonPost and more. In 2020, Ed partnered with The Goldie Hawn Foundation MindUP as their Breath Expert. Learn more about Ed at www.edharrold.com (609) 457-7909 www.edharrold.com Ed's NEW Book, BodyMindBusiness, AVAILABLE NOW Discover YOUR "Life With Breath"
Dr Shelly Persad & Kumar Persad- Dr. Shelly and Kumar, aka The Relationship Biohackers, are sacred sexuality coaches and plant medicine facilitators who help couples heal from abuse, traumas, wounds & sexual repression that are destroying their relationship and keeping their minds, bodies and souls disconnected, disembodied and dis-eased. Dr. Shelly Persad Plant Medicine Facilitator, Sexual Empowerment Coach & Chiropractor Healing Traumas & Wounds of the Psyche p: +52 1 322 348 6691w: www.drshellypersad.com Heart Warriors Sisterhood: bit.ly/yoniheartsoul
Sandra Saradesi International Teacher Gifted Healer & Intuitive Belvaspata Grand Master Grand Master of the Runes Yoga of Illumination Instructor Spiritual Coach & Mentor Radio Show Host Artist www.healingoftheheart.com WhatsApp & Telegram: 1.289.644.7199 sandra@healingoftheheart.com - Sandra is a Holistic Practitioner with 15 years of international experience. She is recognized as a Gifted Healer, Spiritual Coach, Intuitive, a Yoga of Illumination Instructor, a Grand Master of the Runes and the Angelic Modality of BelVasPata. As a close student of the Seer Almine since 2007 she has been spreading her teachings across Canada including Quebec and Alberta. Sandra is an accomplished speaker and corporate workshop facilitator with extensive experience hosting podcasts and radio shows. She shares her knowledge on transcending binding paradigms of the matrix, empowering and inspiring individuals through online workshops, group and private sessions. She has taught and led workshops and retreats in four languages throughout the USA, Canada, Nicaragua, Costa Rica, Holland, Denmark, Spain and Portugal. It is her true Passion and Joy to awaken and free others from their limiting belief systems so that they can ultimately achieve their dreams.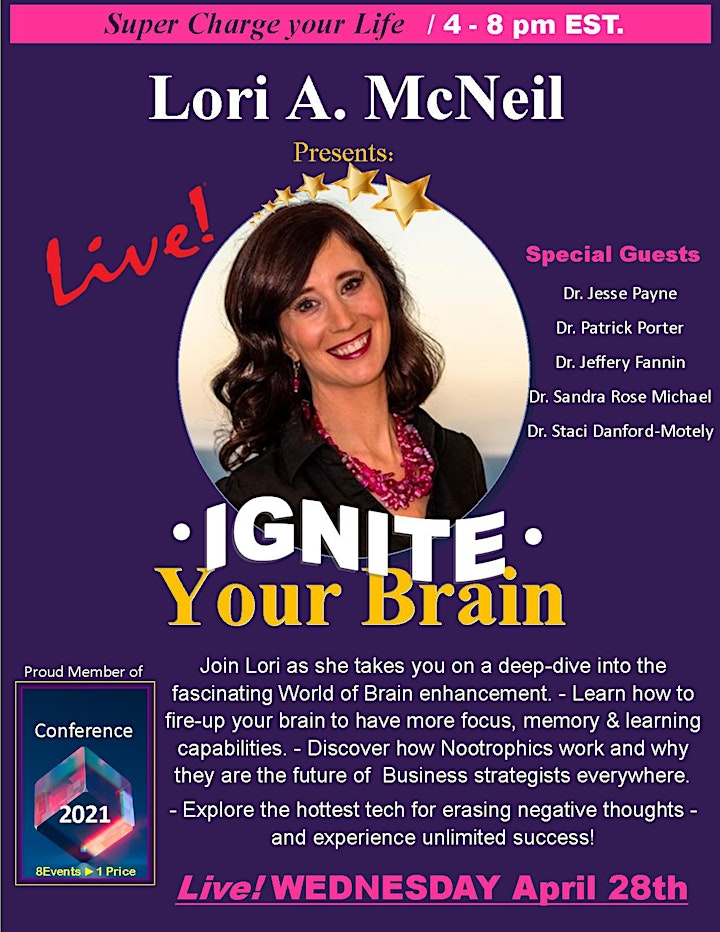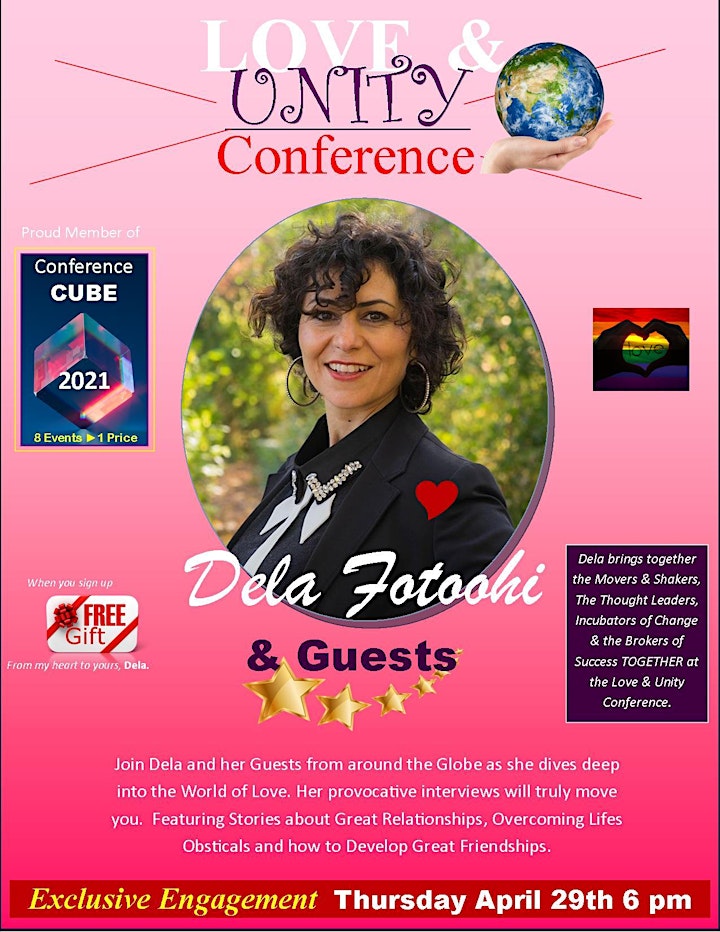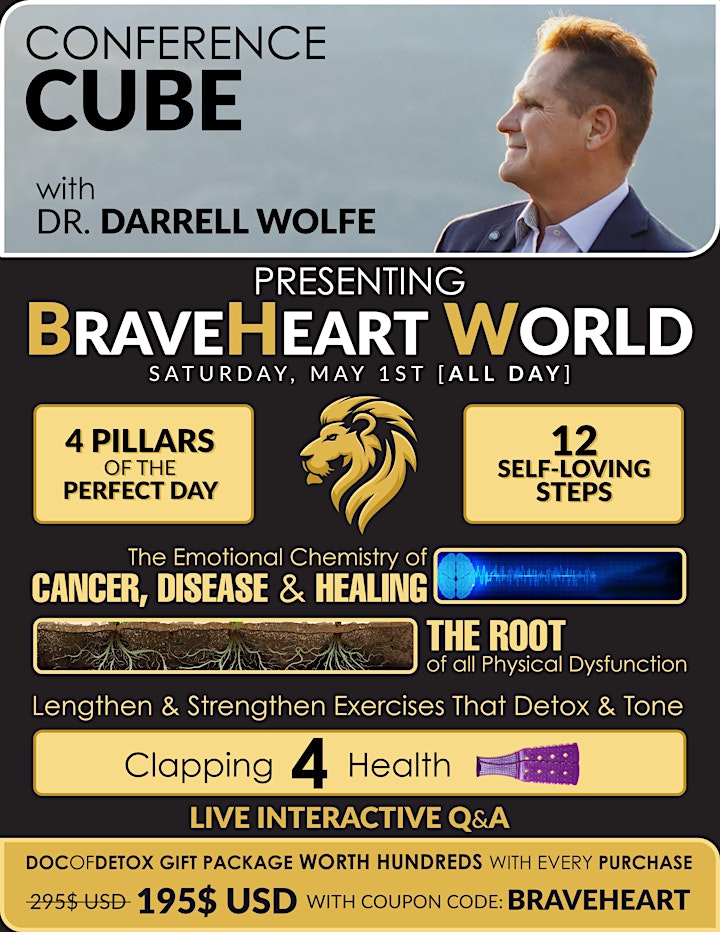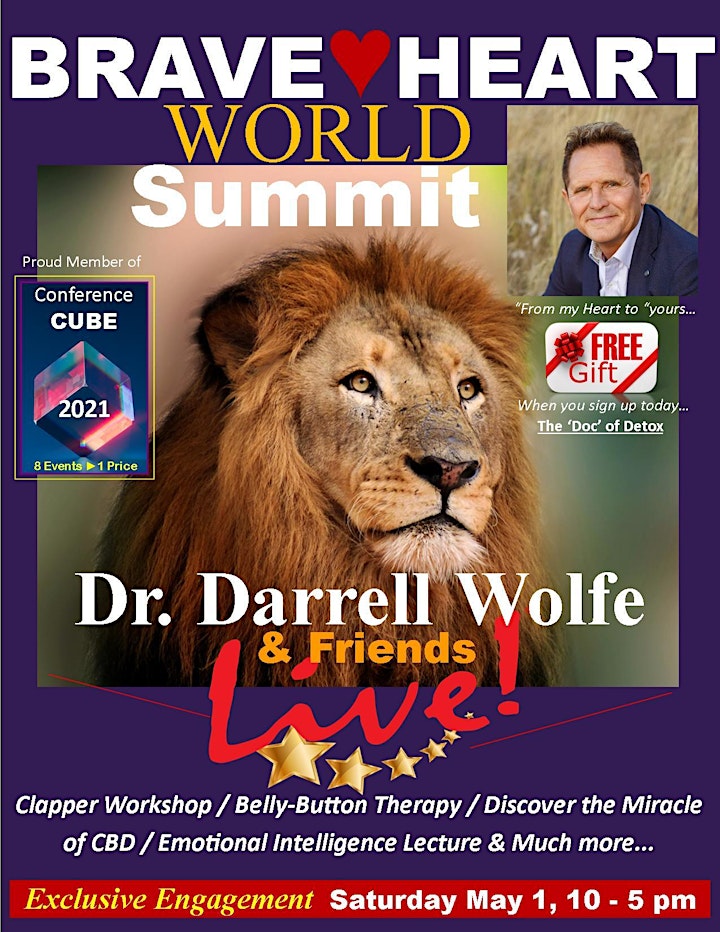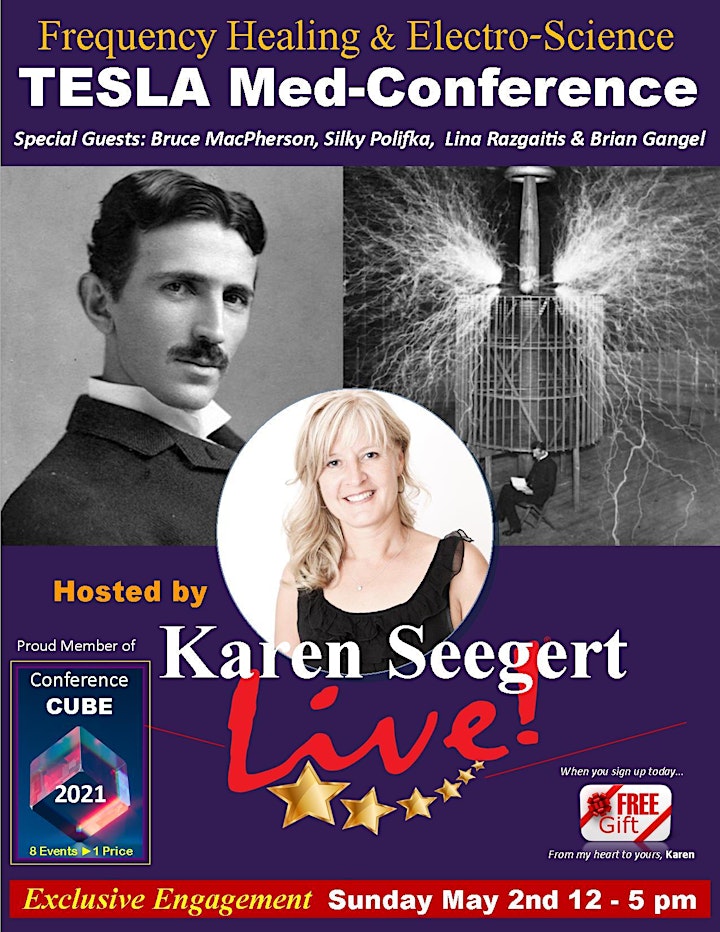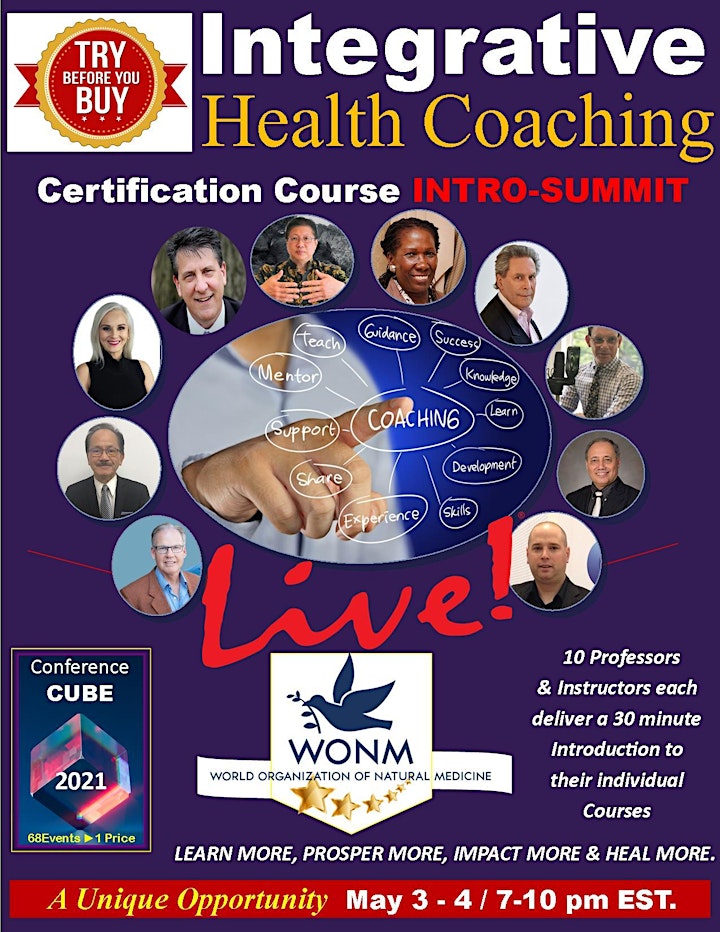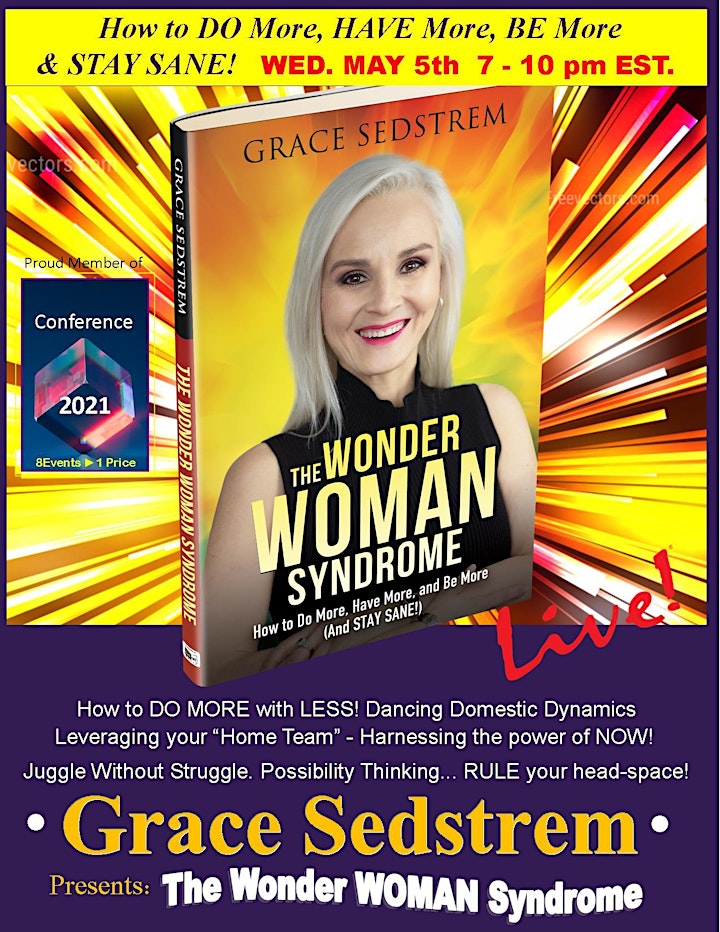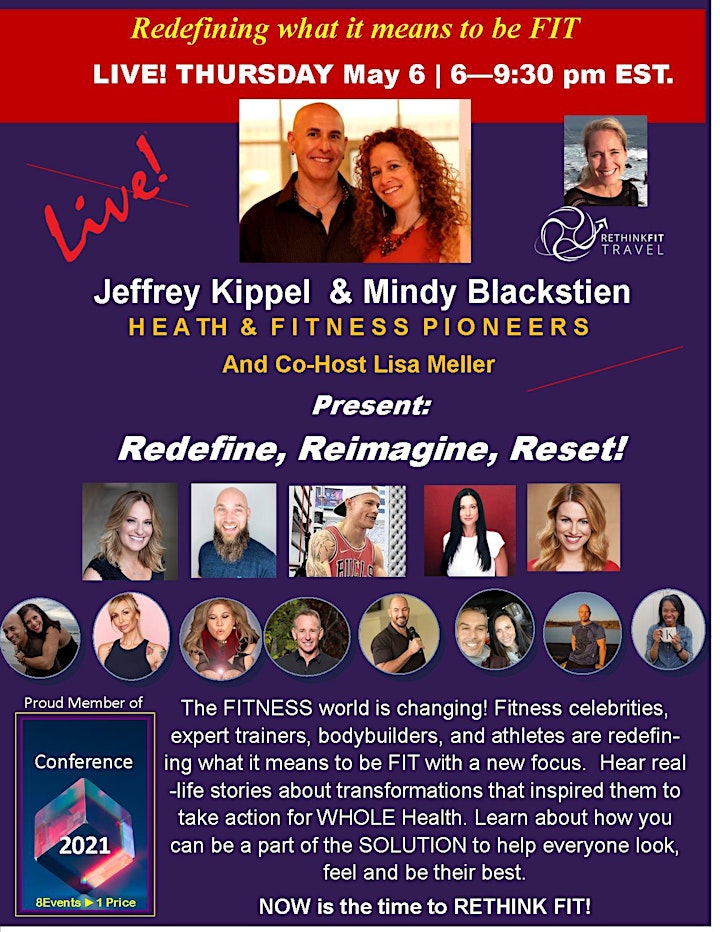 Date and time
Location
Refund policy
Refunds up to 7 days before event
Eventbrite's fee is nonrefundable.
Organizer of Conference CUBE™