Conference: Black & Proud to Be College Bound

Saturday, March 19, 2011 from 8:00 AM to 4:00 PM (PDT)
Event Details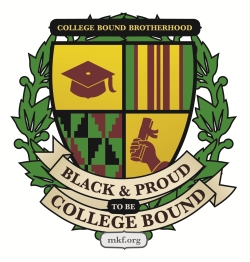 The College Bound Brotherhood is a Mitchell Kapor Foundation program focused on increasing the number of Bay Area black male youth who enroll in college.

Please join us at the Black & Proud to Be College Bound Conference, our* first convening for helping build college prep skills and a college-bound community for African American young men.

SATURDAY, MARCH  19, 2011
Seven Hills Conference Center
San Francisco State University
800 Font Blvd, San Francisco, CA
FREE ADMISSION TO REGISTERED YOUTH PARTICIPANTS
Parents/Guardians/Adult Admission: $15
Onsite Youth Admission: $10
CONFERENCE SCHEDULE**
Saturday, March 19, 2011
8:00am        
Registration/Breakfast  (Provided)

9:00am
Welcome & Kickoff
World Premiere of "Rebound: Get Yours"
Introduction of Brotherhood Leadership Advisory Council
Interactive Tech Exercise

10:15am
Session I Workshops

11:15am         
Session II Workshops

12:10pm        
Lunch (Provided)
            
1:00pm        
Session III Workshops

2:00pm        
Closing Inspiration & Entertainment

3:00pm        
Exhibit Hall            

SESSION WORKSHOPS**

-You CAN Afford to Go to College (financial aid)
-Never Too Late: Getting Back on Track for College
-Community College: Bridge to a Bachelor's Degree
-Black to the Future: Tech Tools to Help You Get Ready
-Why Should I Attend an Historically Black College?
-Beat the Test: SAT/ACT Test Tips
-The Reality of College (as told by college freshmen)
-Telling Your Story: Personal Statement Writing Workshop
-Get Paid: Five Careers of Tomorrow
-The Parent's Role in a Son's Education
*Planned in conjunction with youth and staff from 100 Black Men of the Bay Area, ASAP, Brothers on the Rise, Choose College Educational Foundation, College Access Foundation, College Track, East Oakland Youth Development Center, Greene Scholars Program, The Hannah Project, Juma Ventures, Summer Search, & Young Scholars Program.

**Scheduled but subject to change.
For college readiness programs in your area, see our online directory at www.collegeboundbros.org.
When & Where

Seven Hills Conference Center
800 Font Blvd.
San Francisco State University
San Francisco, CA 94132


Saturday, March 19, 2011 from 8:00 AM to 4:00 PM (PDT)
Add to my calendar