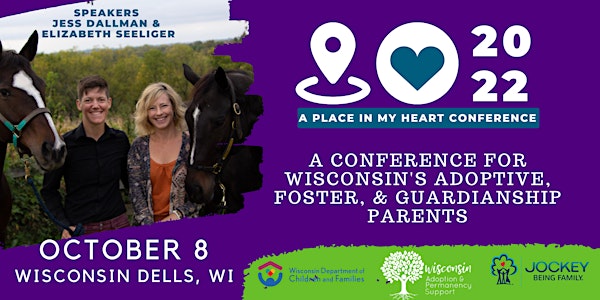 CONFERENCE-A Place In My Heart: Wisconsin Dells
Registration is required on Eventbrite for this in-person conference.
When and where
Location
Wilderness Resort 511 East Adams Street Wisconsin Dells, WI 53965
About this event
Join WISAPSP and Jockey Being Family for an in-person conference in Wisconsin Dells! Adults will enjoy a full day of learning and connecting, with breakfast and lunch included. Wisconsin Adoption & Permanency Support is again partnering with Jockey Being Family to be able to provide a limited number of families with reimbursement for ONE hotel night (1 room for 1 night per selected applicant family) for those attending the conference. Look for the link for this reimbursement application in your conference registration confirmation email. If you choose to bring along your family to enjoy the waterpark, please plan ahead to bring an adult caregiver along to supervise children during the day, as no childcare is provided through the conference.
SCHEDULE
8:15-9am Check In and Breakfast Buffet
9am-12pm Morning Session
12-12:45 Lunch
12:45-4pm Afternoon Session
5-6pm Jockey Being Family Pizza Party (optional - must RSVP within your conference registration)
Certificates of attendance will be provided at the end of the conference. On Saturday evening, starting at 5pm, a free (optional) Jockey Being Family pizza dinner will be provided in the same room the conference was held in. Please consider joining us!
CONFERENCE TITLE
Remembering Yourself: Integrating Nature and Body-Based Practices for Parents and Caregivers
CONFERENCE DESCRIPTION
In this full day session, you will join Elizabeth and Jess as they take you beyond self-care and into the nitty-gritty of finding harmony in relationships. They will integrate recent research with practical applications and hands-on activities that support self-awareness as a tool for supporting children. The experience of how we were parented and raised in society influences the way we connect (or struggle to connect) with the children in our lives. By re-centering and remembering the experiences and needs of parents/caregivers, we create new ways to support the social and emotional development of infants and children by rewiring the brain and reinforcing new patterns in our bodies. This is a session where your experiences inside the presentation inspire meaningful changes in your day-to-day life with kids. They will explore questions like, "How do early attachment and/or trauma impact relational patterns?, "What is the difference between leadership and control?", and "What is the relationship between shame and vulnerability?" Jess and Elizabeth look forward to sharing lived experience with adoption, and real-life body and nature-based strategies with you throughout the day.
HOTEL INFO
Continental breakfast and lunch will be included at the conference for all adult conference registrants. Please refrain from bringing children into the conference room as no childcare is provided.
Please note that since we are now past our room block release date, there is no longer a guarantee that rooms are available in order to take advantage of the Jockey Being Family room rate reimbursement for adoptive/foster/guardianship families. Please call the hotel at 1-800-867-9453 to ensure rooms are still available under room block #970371 prior to registering for the conference if your attendance is dependent on having a room.
ABOUT THE SPEAKERS
Elizabeth Seeliger is an adult adoptee and adoptive mother endorsed in Infant and Family Mental Health and Gestalt Equine Psychotherapy Coaching. Elizabeth weaves her lived experience, deep personal work, relational training and love of storytelling into presentations for diverse conference audiences. Elizabeth is also trained as a Doctor of Audiology and has worked in pediatric public health for the past twenty years.
Jess Dallman is a Licensed Professional Counselor and co-parent of an international adoptee. Professionally, Jess specializes in issues of attachment and relationships, regardless of whether working with individuals, couples, families, or groups, and is endorsed in Infant Mental Health. They primarily offer equine therapy, nature-based therapy, and EMDR sessions, and also spend time facilitating workshops and programs for caregivers and professionals. Personally, Jess has two horses, enjoys reading and audiobooks, and loves to continuously learn more about the interpersonal neurobiology of trauma and attachment.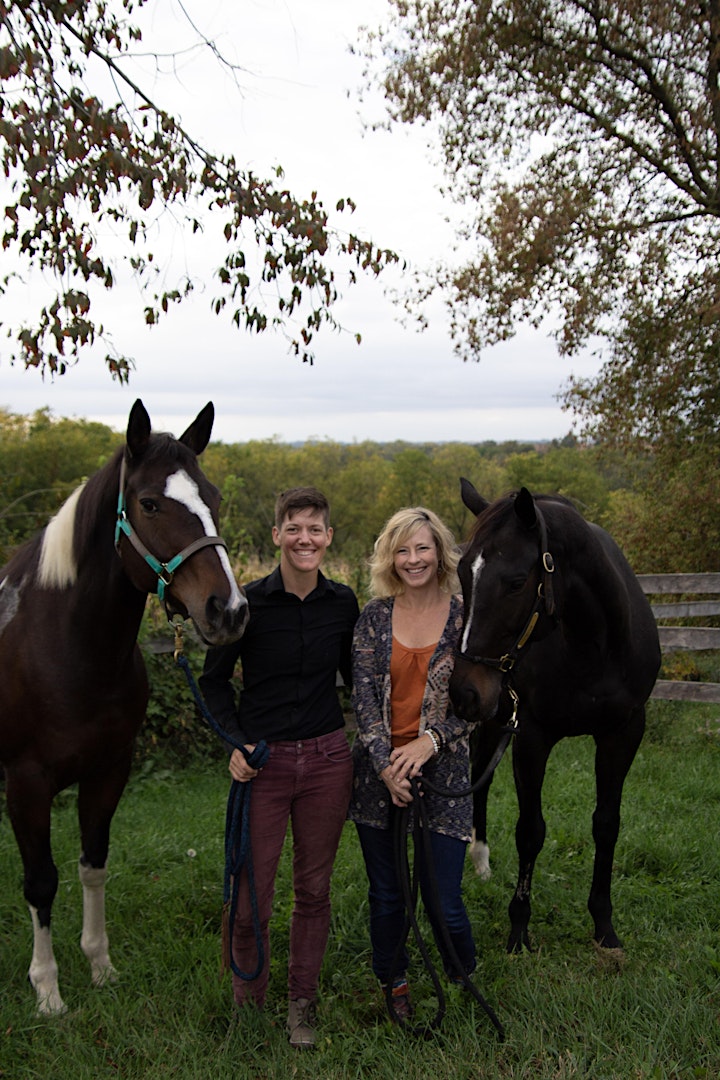 REMINDERS
This conference is in-person only - there will not be an online option this year.
Please do NOT attend an event if you or anyone in your household is experiencing symptoms of COVID-19 (which include fever, cough, and shortness of breath, etc). If you have been exposed, the CDC recommends that you wear a mask around others.
Regarding COVID-19, please follow CDC guidelines, as well as specific county, city and location guidelines.