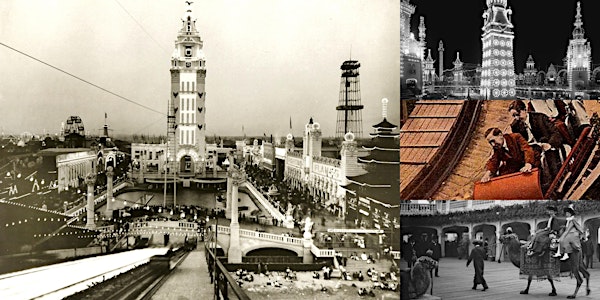 'Coney Island, Part I: The Heyday of the Amusement Age' Webinar
Can't make it live? Register and get access to the replay for one week after the series finale! New York Adventure Club | AdventureClub.com
About this event
***Register for the entire Coney Island series by clicking here. All webinars in this series will remain active for one week after the series finale***
"It is blatant, it is cheap, it is the apotheosis of the ridiculous. But it is something more; it is like Niagara Falls or the Grand Canyon or Yellowstone Park; it is a national playground, and not to have seen it is not to have seen your own country." - Reginald Wright Kauffman, 1909
Even before the famous boardwalk, Wonder Wheel, and subway arrived on the scene, Coney Island in Brooklyn, NY was the greatest amusement zone the world had ever seen. But how did a somewhat remote beach neighborhood become the capital of thrills and entertainment? It's time to step right up and uncover the incredible inventions that contributed to Coney Island's legacy for generations to come.
Join New York Adventure Club for the first of a two-part series that explores the astonishing and transformational history of Coney Island as both a geographical zone and amusement area, with a focus on three amusement parks.
Led by veteran Brooklyn tour guide and Coney Island enthusiast Norman Oder, Part I of our virtual showcase — which will focus on Coney Island up to the 1920s — will include:
Coney's geography and early identity as both a resort for the rich and "Sodom by the Sea"
How the World's Fairs and P.T. Barnum had an influence on Coney
The wondrous rides, fantastic architecture, and inventive philosophies behind the three great early amusement parks — Steeplechase, Luna Park, and Dreamland
Main attractions of the day, from dazzling "spectacles" that recreated disasters and simulated fire; to the sideshow display of animals, "freaks," and "exotic" peoples; to the beach, entertainment, music, and food
Afterward, we'll have a Q&A with Norman — any and all questions about Coney Island during this period are welcomed and encouraged!
Can't make it live? Don't worry, you'll have access to the full replay for one week after the entire series concludes!
See you there, virtually!
*Immediately upon registering, you will receive a separate, automated email containing the link to join this webinar
**For the best possible viewing experience, please ensure you're using the latest version of your internet browser — Google Chrome is the most compatible. Exact technical requirements and a webinar user guide will be shared in the automated confirmation email upon registration.
***A full replay of the experience will be available to all registered guests for up to a week after the series finale
About Norman
Norman Oder, tour guide and journalist, has led tours of Brooklyn neighborhoods, including Coney Island, since 2000. He's long visited Coney, but has during the pandemic delved deep into the archives to develop a virtual tour of its astounding history.
Coney Island Series
Part I: The Heyday of the Amusement Age
Part II: From the Nickel Empire to the 21st Century
Testimonials
"Fantastic slideshow with the most images I ever saw on a webinar. Norman great orator of history." -Barry
"Talk was very well-organized, with a fantastic array of photos, postcards and press clips." -Linda
"Great stories & postcards. Really gave the flavor of the time & era. Kind presenter - humble & honest, even if he didn't have an answer." -Sharon
"Host was great. Info was very interesting. The imagery was perfect!" -Ann
"Many things were enjoyable, but most important is the delivery of the webinar. He has a nice speaking manner." -Irene
"Speaker very knowledgeable and well informed and excellent presentation with excellent photos." -Helen
"Content, pace of narrative, depth of information. Speaker had a pleasant voice." -Liz
"Moved along well. He didn't rush the videos too much. Pacing was fast but interesting. Covered a lot of ground." -Paul
"I liked the videos. great interesting content. seeing the old maps" -Noelle
"Norman and his photos, drawings and videos." -Howard
"Loved reminiscing about growing up around there and going to Steeplechase often." -Jim
"Loved all the visuals, and Norm's knowledge and affection for Coney Island" -Sherry
"The guide was excellent. The presentation was well organized, interesting. A lot of work was put into it." -Cheryl
"It covered a wide variety of topics, ranging from food to personalities of the era." -Charles
"Sooo informative. Speaker packed so much info into 80+ minutes. Videos were also great. So many great photos, postcards, memorabilia!!" -Suzanne
"I liked the speaker, his thoroughness, use of media such as pictures and videos, and especially his sensitivity to being politically correct with material that was less than PC in today's world." -Jen
"It was well researched and presented. There was so much information from news articles, magazines, vintage videos, advertisements and postcards." -Eric
"Real research went into the presentation. i know a fair amount about the subject and learned a number of new things" -Russell
"Excellent presenter-Norman O did a wonderful overview filled with great photos & knowledge." -Susanne
"I knew nothing about the early days of Coney Island - I know quite a bit more now. Excellent presentation!" -Philip
"Great collection of photos and stories. Presenter had a great depth of knowledge on the subject." -Richard
"Presenter well prepared, knowledgeable and was engaging." -Joanne
"Norman was an excellent tour guide with a plethora of good information. " -Lori
"He was so passionate, knowledgeable and interesting. His artifacts were amazing!" -Helaine
"Very well organized. Excellent audio visual. Good speaker. Lots of good information" -Jan
"Great on all levels - information, visuals, videos." -Robin
"A very personable and highly knowledgeable lecturer, with superb photos and videos. I especially appreciated the yellow highlighting of texts." -Harold
"The presenter was soooooo knowledgeable!!" -Carole
"Very comprehensive and well organized many little known facts of the early history and influence on other fairs and parks." -Robert
"Presenter was knowledgeable and interesting. Covered a variety of topics." -Jill
"Loved how he dug into the origins of Coney Island and it's influence elsewhere. Also really great how he used different media to show different aspects of Coney Island and highlighted and used arrows to point out the most important or interesting facts." -Jennifer
"The information given was interesting and the photos were fascinating." -Donna
"Nice images , speaker told nice stories and was interesting." -Joel
"The subject was clearly well researched in detail, and presented with attention to glamorous as well as the unsavory/problematic elements such as animal cruelty, cultural appropriation, racism, etc, which are often swept under the rug." -Annabelle
"Broad range of knowledge of presenter, and the variety of topics covered." -Brian
"Lots of information, fascinating visuals, depth of knowledge, good pacing." -Fergus
"Knowledgeable, friendly instructor. Good pacing. A lot of interesting info in a reasonably short amount of time!" -Todd
"The presenter was excellent - very knowledgeable and engaged. He spoke in a conversational manner, which created the feeling of sharing rather than lecturing. Material was clearly deeply researched and well developed for the presentation." -Carol
"Many new facts about the early history of Coney Island - excellent use of multimedia - knowledgeable speaker." -Michael
"Loved the amount of information, the excellent presentation, the presenter's enthusiasm and gift for pointing out fun little details or hilarious lines from old newspaper articles - great all around!" -Hilary
"I liked the event but was hoping more for a documentary type event. Although it was a power point presentation it did have many interesting photos and a videos." -Catherine
"Historical perspective I didn't have despite living near Coney Island in the 50s and 60s." -Mark
"Even though I grew up in NY, I only knew about Coney and the amusement park rides. He was so knowledgeable, great presenter and I liked his speaking voice." -Pam
"Loads of information, Norm is a great speaker!" -David
"Norman is an excellent speaker who presented TONS of information in a short period. Very entertaining and thorough." -Bonnie
"Everything, I loved the photos, I had no idea it was so big and grand." -Jane
"Norman had done excellent research and found so many articles, photos and videos, it brought Coney Island to life." -Ralph
"Having grown up in Brighton Beach and spent a lot of time in Coney Island in the 60s-70s, it was wonderful to see all the photographs and information about the origins of CI." -Eileen
"A fast paced but comprehensive overview of a broad topic." -Lynn
"The photos were fascinating and I particularly liked the videos. Made it all seem so much more real." -Virginia
"Norman was very knowledgeable." -Lisa
"I love the videos of many rides." -Lydia
"Retelling of the history. We knew very little ahead of time." -Joel
"Way informative. And loved the short videos within the presentation." -Susan
"Variety of info and pictorial info." -Jennifer
Disclaimer
By attending a New York Adventure Club experience, you accept our terms of service.
Categories: Virtual, Neighborhoods