Coney Island History Project Walking Tour - Nov - Dec 2013

Weekly Event - Every Saturday & Sunday: 1:00 PM to 2:30 PM (EDT)
Event Details
Take a stroll through Coney Island's amusement district--past, present and future--with the Coney Island History Project. Our unique walking tours are based on History Project Director Charles Denson's award-winning book "Coney Island: Lost and Found," the interviews from CIHP's Oral History Archive, and other primary sources.
Walking tours are led by historian Charles Denson or poet/teaching artist Amanda Deutch, who have over 100 years of family history in Coney Island! All tours begin with a private visit to the History Project's newly expanded exhibition center under the Wonder Wheel's iconic entrance sign on Denos D. Vourderis Place (West 12th Street), just a few steps off the Boardwalk. The 1-1/2 hour tour includes a talk on the exhibits and objects on display in the history center.
The walking tour is approximately 1 mile in length and is wheelchair accessible. Tickets are $20. Tours are limited to approximately 12 people and are expected to fill up early.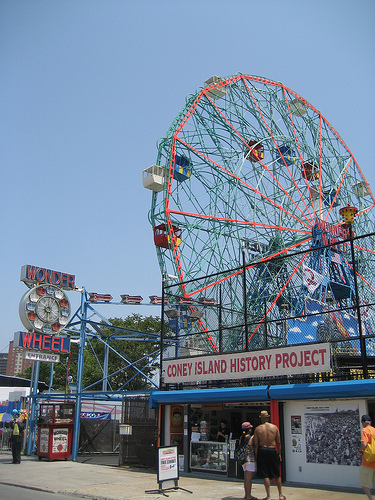 Spring, Fall and Winter Walking Tours
From April 14 through May 19, and September 7 through October 27, Coney Island History Project Walking Tours are offered on Saturdays and Sundays at 2:00 pm by advance reservation only. Winter Walking Tours, November 2 through February 23, start an hour earlier, at 1pm, and are also by advance reservation and weather permitting. There are some mild, sunny winter days on the boardwalk, but if a tour has to be cancelled due to a forecast of cold, blustery weather, tickets will be refunded. Advance purchase of tickets online through our eventbrite page is required for the spring, fall and winter series. If registration for a date is closed or you would like to schedule a private tour, please email coneyislandhistory@gmail.com for availability.
Summer Walking Tours
From Memorial Day Weekend through Labor Day Weekend, when our exhibit center is open for the season, Coney Island History Project Walking tours are offered on Saturdays and Sundays at 2:00 pm. If a tour has not sold out online, the remaining tickets will be available for cash purchase on the day of the tour when the History Project opens at 12 noon.
Throughout the year, individuals and groups may schedule a private visit to the History Project exhibit center and walking tour on a weekend or weekday. Please email events@coneyislandhistory.org for additional info.
Tour Guides
Charles Denson is executive director of the nonprofit Coney Island History Project, which has created an oral history archive and sponsors educational exhibits, school programs and performances. He is the author of three books: "Wild Ride: A Coney Island Roller Coaster Family," "Coney Island and Astroland," and "Coney Island: Lost and Found," named 2002 New York Book of the Year by the New York Society Library. Mr. Denson grew up in Coney Island and began documenting his neighborhood as a boy, a passion that continues to this day. A writer, photographer and art director, he began his career in 1971 as a photographer for New York magazine and has since worked as art director for numerous publications. In 1999 he was awarded a Chronicle journalism fellowship at the Graduate School of Journalism at the University of California, Berkeley.
Amanda Deutch is a native New Yorker, whose mother and grandparents lived in Coney Island. She has worked with the Coney Island History Project for five years and is also a teaching artist and poet. Her poetry is published in dozens of literary journals and her poem "30,000 City Windows" was nominated for a Pushcart Prize. In 2009, she founded the Parachute Festival in Coney Island, a two day literary festival that took place in the New York Aquarium's Alien Stingers exhibit. Her passions include impressing bystanders with her Skee-Ball skills and riding the Wonder Wheel.
FAQs about the Coney Island History Project Walking Tours
Walking tours are held rain or shine. After purchasing a ticket, you will receive an email confirmation which will include the phone number you can call on the morning of the tour in case of inclement weather. We reserve the right to cancel tours in the event of potentially dangerous weather.

If you have a question not addressed in the FAQs or to arrange a group tour, please e-mail events@coneyislandhistory.org
Where

Coney Island History Project
3059 West 12th Street (off the Boardwalk)
at Deno's Wonder Wheel Park
Brooklyn, NY 11224


Weekly Event - Every Saturday & Sunday: 1:00 PM to 2:30 PM (EDT)
Add to my calendar
Organizer
The Coney Island History Project, founded in 2004, is a 501(c)(3) not-for-profit  organization that aims to increase awareness of Coney Island's legendary and colorful past and to encourage appreciation of the Coney Island neighborhood of today. Our mission is to record, archive and share oral history interviews; provide access to historical artifacts and documentary material through educational exhibits, events and a website; and honor community leaders and amusement pioneers through our Coney Island Hall of Fame.
Emphasizing community involvement, the History Project teaches young people about local history and develops programs in conjunction with local schools, museums, and other organizations.