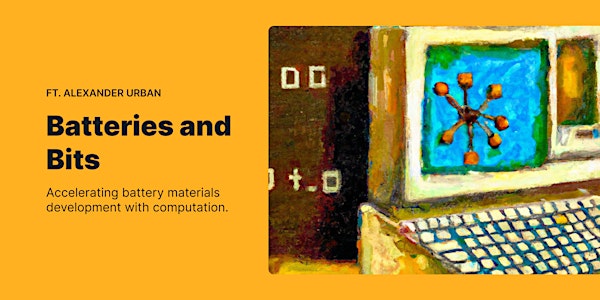 Conductivity Lecture ft. Alexander Urban (Batteries and Bits)
A Conductivity talk with Alexander Urban, assistant prof. at Columbia University.
About this event
Welcome to the Conductivity Lectures, an event series on the future of battery research.
Our guest for Friday, September 9 is Alexander Urban, assistant professor of chemical engineering at Columbia University. Alexander Urban is a computational materials chemist. His research is focused on materials for batteries and fuel cells.
On Friday, we'll discuss how computation accelerates the development of better batteries materials and how the field of computational materials science and discovery could develop in the future.
- Registration is first come first serve
No tickets left? Join the waitlist and subscribe to our list to get early access to upcoming events.
Any questions? Contact: gbbinbum at gmail dot com