Conducting Suicide Risk Assessments: Trauma-Informed Clinical Training Conf...
Description
Learn how to effectively communicate about suicide and self-harm and assess your clients for suicide risk at this day-long Trauma-Informed Clinical Training Conference, offered in December 2019 and June 2020.
Dates Offered:
Tuesday, December 3, 2019 | 8:30 a.m. – 3:30 p.m. | Wilder Center Auditorium A & B
Tuesday, June 30, 2020 | 8:30 a.m. – 3:30 p.m. | Wilder Center Auditorium A & B
Registration Cost:
Includes 5.5-6.5 Continuing Education Units, light breakfast and lunch.
Standard: $95
Group: $85, minimum of 4 people
Student/Nonprofit: $85
CEUs Approved:
Board of Psychology - 5.5 hours

Board of Social Work - 5.5 hours
Board of BBHT - 5.5 hours

*Pending CEUs:*
Here's what we know (according to the CDC and the National Institute of Mental Health): Suicide represents a significant public health problem in the United States, with approximately 9.3 million adults reporting suicidal thoughts in the past year. 18% of high school students in a recent survey indicated that they had seriously considered attempting suicide in the previous 12 months, and almost 1 in 10 had actually made an attempt in the previous year. Even among elementary-aged children, suicide is a top 10 cause of death.
For professionals working in health, social and human services, assessing a client's risk of suicide can be fraught with fear of doing or saying the wrong thing. However, knowing how to talk to children, adolescents, teens and adults and recognizing when they may be at risk can avoid making the situation worse. Join Wilder's Community Mental Health and Wellness team for a full day Trauma-Informed Clinical Training Conference focused on helping you help your clients who may be at risk of suicide. Attend the morning session and then choose one of two afternoon sessions.
Morning Session | 9:00 a.m. – 12:00 p.m.
Suicide Risk: Communication, Identification and Assessment
Effectively communicate with clients about suicide and self-harm.

Identify risk and protective factors related to suicide.

Conduct and document a suicide risk assessment using a whole-family, trauma-informed approach.

Respond to suicidal and self-harm thoughts and behaviors using cultural considerations.

Manage risk factors (safety planning) and when to refer to a higher level of care.

Recognize when to send a client to the hospital for further evaluation.
Afternoon Session | 1:00 p.m. – 3:30 p.m. | Workshop 1 OR Workshop 2
Workshop #1: Self-Harm and Chronic Suicidality in Adults and Adolescents Age 8 and Over
Trainer: Sara Nelson, MSW, LICSW
Participants will learn:
Strategies for responding to self-harm behaviors

Safety planning with adolescents and adults who are chronically suicidal


Workshop #2: Suicidal Behavior and Ideation in Young Children Age 7 and Under
Trainers: Serena Vruno, MSW, LICSW and Christine Hensgens, MSW, LICSW
Participants will learn:
Suicide risk factors

How suicidal ideation occurs

Strategies for responding to suicidal ideation

Safety planning with parents and professionals


This Trauma-Informed Clinical Training Conference is perfect for entry to mid-level:
Therapists, mental health practitioners, children's therapeutic services and supports (CTSS) workers and adult rehabilitative mental health services (ARMHS) workers, youth workers, case managers, behavioral health aides, social workers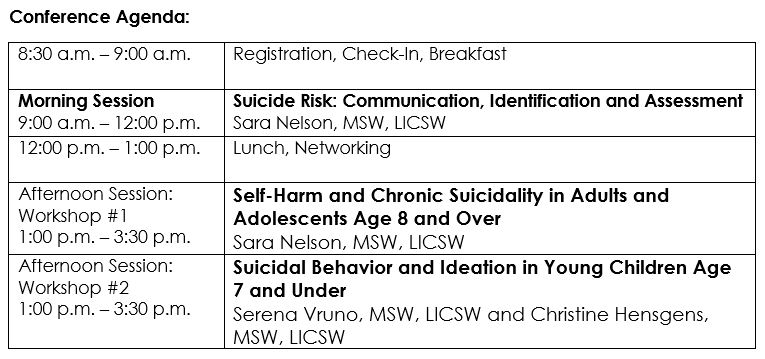 Wilder Center directions, parking and accessibility information:
Directions: Find Wilder Center on Google Maps (Exit 239B off of I-94 for Lexington Parkway)
Public Transportation: Metro Transit Green Line | Lexington Parkway Station | Bus Routes 16 and 83

Parking: Free in Wilder Center Parking Ramp (includes 5 levels, accessible parking on each level, elevator, stairs, ramps, bike racks and electric charging stations)

Accessibility: Wilder Center is fully accessible. Gold Standard in Leadership in Energy and Environmental Design (LEED) Green Building. Elevator, stairs and unisex bathrooms available.
Meet Wilder's Community Mental Health & Wellness Trainers:
Sara Nelson, MSW, LICSW, is the Assessment and Triage clinical supervisor at Wilder Foundation's Community Mental Health Services, focusing on the areas of mental health triage and crisis stabilization. She has over 10 years' experience working with children, adolescents, adults, and families in community and hospital-based settings. She has provided crisis response and assessment to children and adults experiencing suicidal ideation and self-harm behaviors, as well as worked with individuals and families experiencing trauma, abuse, neglect, and medical complications or emergencies. She has served as a liaison to medical staff striving to provide trauma-informed care to patients and families and has trained medical providers on how to respond to escalated behaviors or mental health emergencies. She is trained in Motivational Interviewing, Dialectical-Behavioral Therapy (DBT), Managing and Adapting Practice (MAP), Baptiste Yoga and Mindfulness for Youth, and Trauma-Informed Care.
Christine Hensgens, MSW, LICSW, EPT-D, RPT-S, started her career as a preschool teacher and a parent educator in the home after earning a bachelor's degree in Child Psychology. Since receiving her Masters in Social Work, Christine has worked in multiple settings and roles including non-profit organizations, Ramsey County, the school system and in private practice. She was trained by Bryon Norton in Experiential Play Therapy in 2009 and continues to consult with him 5 times a year. She obtained her Registered Play Therapist – Supervisor (RPT-S) certification in 2013, and in 2016, was certified as an Experiential Play Therapy Diplomate (EPT-D).

Serena Vruno, MSW, LICSW, has a Master's in Clinical Social Work from the University of St. Thomas, and is licensed as a clinical social worker in the state of Minnesota. Additionally, she has a certificate in Infant and Early Childhood Mental Health from the University of Minnesota. Serena has extensive experience working with children and families who have been impacted by trauma, anxiety, depression and disruptions in family, marriage or attachment. She also has experience working with children who present concerns such as behavioral, social and emotional disruptions in multiple settings. She believes experiences are shaped by several factors including biological, psychological, environmental and cultural influences and healing occurs through taking a systemic and holistic approach when working with children and families. Serena provides a sense of calmness and trust when building the foundation for a dyadic relationship.


Photographs and/or video will be taken at this workshop:
By taking part in this event at Wilder, you grant the organizers full rights to use any images or recordings for publicity, fundraising, or other purposes to achieve the group's mission. If you do not wish to be photographed please inform Wilder staff.


Contact us for more information, questions and/or concerns about this workshop, please contact:
Sara Nelson | 651-280-2310 | sara.nelson@wilder.org
Training and Consulting Services, Wilder Center for Learning & Excellence™:
Houa Lor | 651-280-2207 | consulting@wilder.org
This Trauma-Informed Clinical Training Conference is offered through the Wilder Center for Learning and Excellence™ that provides educational training and consulting services that connect you to the decades of experience and community wisdom that we've generated from helping people and organizations develop new skills and ideas, address vital community issues and reach their full potential. We are practitioners grounded in research, learning from the community, and accelerating what works through continued education!