Description
The September 2019 Luncheon is hosted by the ASCE Norfolk Branch.
Concrete Mix – Not As Simple As It Appears!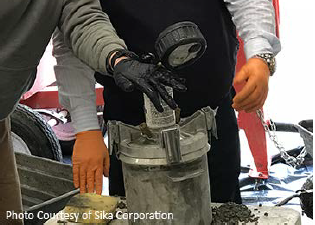 Please join the Norfolk Branch of the American Society of Civil Engineers as we welcome Mr. William B. (Bill) Denison, Jr. CCPf., the construction materials testing department manager at Engineering Consulting Services (ECS), as he gives a presentation on the pre-production testing of trial concrete mix designs for the CBBT Precast Tunnel Segmental Liners. The nature of this project requires that the concrete be designed for a 300-year-service life cycle. One of the features of this very special concrete design includes having 2¼-inch steel fibers embedded in the mix for reinforcement. The concrete is also designed to handle various conditions or constraints for a bored tunnel liner system. The specialty concrete designed by Mr. Denison will be used on the new 'bored' tunnel being constructed for the Chesapeake Bay Bridge Tunnel Thimble Shoals Crossing in Virginia.
1 PDH/CEC will be given for this presentation.
The luncheon will include approval of nominations of ASCE Norfolk Branch board of directors and committee chair members, budget, and amended Norfolk by-laws.
Lunch Menu _______________________________________________________________
Lunch choices: Chicken Dish or Vegetarian Option served with Salad, vegetables, rolls and dessert. Your beverage choices include: Coffee, Tea and water.
Time and Location ________________________________________________________
The luncheon will be held Tuesday September 24, 2019 at Holiday Inn Virginia Beach 5655 Greenwich Road, Virginia Beach, VA 23462.
Check-in begins at 11:30am
Presentation and Lunch begin at 12:00pm
Event ends at 1:00pm
For any questions, please contact Sherif Daghash 757-631-5477 or email: sherif.daghash@mbakerintl.com