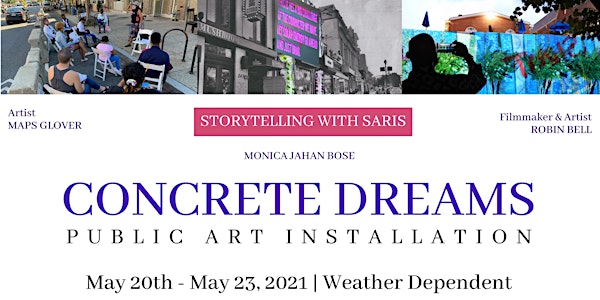 CONCRETE DREAMS Public Art Installation: Visit with Artist
Join us to see the Concrete Dreams public art project, including a poetry slam and projections.
About this event
Location: DC Arts Center (exterior/sidewalk), 2438 18th Street, NW, Washington DC, 20009.
Viewing hours: May 20, 2021 from 6-10 pm, May 21, 2021 from 6 -10 pm, May 22, 2021 from 2-10 pm, May 23, 2021 from 2-6 pm.
Poetry Slam: May 22, 2021 at 7 pm, followed by projections.
Projections: May 20-22, 2021 from sunset to 10 pm
Closing day: May 23, 2021 from 2- 6 pm, visit with artist Monica Jahan Bose
All dates weather dependent.
In honor of AAPI Heritage month, CONCRETE DREAMS links communities in solidarity from DC to Asia. CONCRETE DREAMS is a temporary public art project that involves the public in Washington DC and Katakhali Village, Bangladesh. CONCRETE DREAMS is led by Monica Jahan Bose in collaboration with light artist Robin Bell and will drape cotton saris and project images and poetry on the facade of the DC Arts Center, 2438 18th Street, NW, Washington DC. The duration of the installation will be four days in May 2021. There will also be small movable sculptures or "steles" on the sidewalk with poetry phrases written on them. The public has been engaged in zoom and outdoor workshops led by Monica Jahan Bose and co-facilitated by artist Maps Glover to compose poetry and art on themes of the pandemic and the intersection of race, gender, and climate injustice. These poems will be placed on the saris, used in projections, and in the sculptures.
CONCRETE DREAMS is funded by the DC Commission on the Arts and Humanities' Public Art Building Communities Grant Program. It is part of the ongoing STORYTELLING WITH SARIS climate justice art project.
About Monica Jahan Bose: Monica Jahan Bose's work spans painting, printmaking, film, performance and public art. Her socially engaged work highlights the intersection of climate, racial, gender, and economic injustice through co-created workshops, art actions, and temporary public art installations and performances. She is the creator of STORYTELLING WITH SARIS, a longterm art and advocacy project with her ancestral village of Katakhali, Bangladesh. Her work has appeared in the Miami Herald, the Washington Post, Art Asia Pacific, the Milwaukee Sentinel, the Honolulu Star Advertiser, the Japan Times, and all major newspapers in Bangladesh. She has been featured several times on the podcast Climate Daily for her commitment to climate justice work. She has a BA in the Practice of Art (Painting) from Wesleyan University, a post-graduate Diploma in Art from Santiniketan, India, and a JD from Columbia Law School.
About Robin Bell: Founder of Bell Visuals, Bell is an award-winning editor, video journalist, and multimedia artist based in Washington DC. Bell works on a range of creative, political and public interest projects. Building upon his formal training as a classical printmaker, Bell developed a unique style of live video collage which he has performed at The Kennedy Center, 9:30 Club, The Phillips Collection, Central Park Summer Stage, and The Hollywood Bowl. His incisive 2017 projection, Emoluments Welcome, garnered media attention from the BBC, CNN,New York Times, L.A. Times, Huffington Post and Hyperallergic, among others.
About Maps Glover: A millennial artist, Maps Glover's multi-disciplinary art practice spans painting, illustration, murals, and performance. His work has been featured in the The Washington Informer Bridge, Artsy magazine, Hello Mr, and Relapse Magazine. He is a renowned performance artist, performing at the Kennedy Center, National Portrait Gallery, AfroPunk, and Torpedo factory. Glover co-facilitated the DC workshops for CONCRETE DREAMS.
Concrete poem below by Demetria Willis.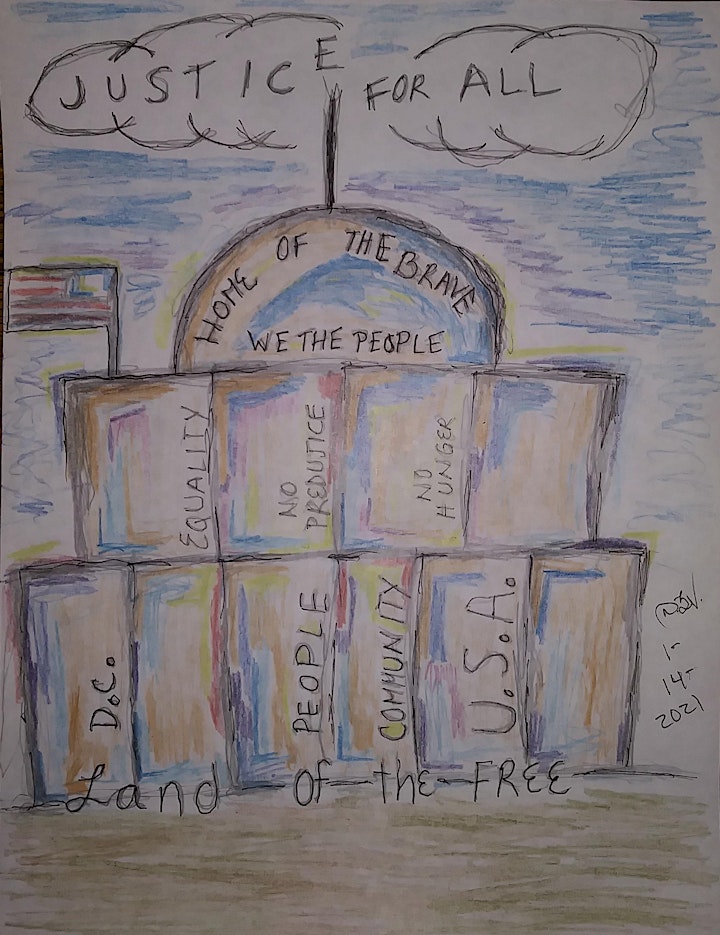 Organizer of CONCRETE DREAMS Public Art Installation: Visit with Artist
Storytelling with Saris is a collaborative art , advocacy and climate justice project. It uses woodblock prints on 18-foot-long saris, writing, oral history, performance, installation, and film to empower communities in North America and Europe to address climate change in solidarity with the women of Katakhali Village, an island community in Bangladesh on the frontlines of this crisis. Artist and activist Monica Jahan Bose, whose maternal roots are in Katakhali, collaborates with 12 women from Katakhali who have recently acquired literacy and climate adaptation skills and are valiantly fighting climate change. Through performance art, film, books, exhibitions, and advocacy workshops in Bangladesh, North America, and Europe, communities are inspired to take action in solidarity with our planet.
The project commenced in 2012 with conversations via mobile phone and research and planning. In January 2013, Monica went to the island to start work with the Katakhali women. The project continues with further writing in journals, sari printing, performances using the saris, events around the world. It includes research and community education on climate change and adaptation, and continued advocacy for and documentation of this community.
Katakhali Village and other islands and low lying areas may well disappear unless urgent global action is taken. Funded in part by the D.C. Commission on the Arts and Humanities, an agency supported in part by the National Endowment for the Arts. Website:  Storytelling with Saris Twitter @saristory Instagram: @mjbose @storywithsari