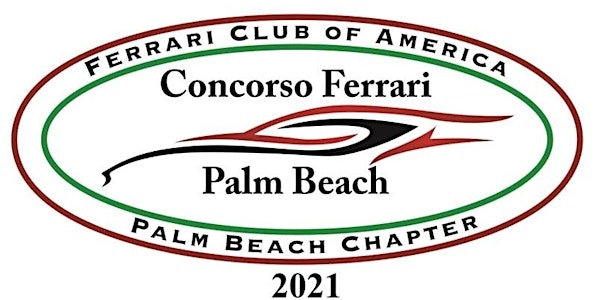 Concorso Ferrari Palm Beach 2021
Come celebrate the beauty, speed, history and art of the Ferrari marque. Concorso Ferrari 2021 Palm Beach.
By Ferrari Club of America, Palm Beach Chapter
Date and time
Sunday, December 5, 2021 · 10am - 3pm EST
Location
National Croquet Center 700 Florida Mango Road West Palm Beach, FL 33406
About this event
Calling all Ferrari Owners!
FCA Members AND Non-FCA Members alike,
Registration is now open for the Concorso Ferrari Palm Beach 2021!
This Ferrari Club of America Palm Beach Chapter event will be held on Sunday, December 5, 2021, at the National Croquet Center in West Palm Beach, Florida.
The Concorso welcomes all FCA members to enter their Ferrari. The registration fee for both judged and display-only cars is $50 each. Register now, as the field is limited to the first 55 cars registered. Entrants will be judged by seasoned FCA judges to IAC/PFA standards and awards will be presented (must be an FCA member to receive an award). (There are parking accommodations for car haulers)
This year's Concorso honors the Pediatric Oncology Support Team (POST) headquartered at St. Mary's Medical Center in West Palm Beach, FL.
This event is open for viewing from 10 AM to 3 PM and is free for all Ferrari Club of America members. (There is a $10 entry fee for the general public that is collected by POST and is tax-deductible)
An event commemorative poster is available for $10 with the registration of your Ferrari. (Poster cost will be higher on the day of the event)
Feel free to forward this announcement to ANY Ferrari Owner that would be interested in entering their Ferrari in the event and who may also be interested in joining the Ferrari Club of America. (Non-FCA Members can enter 'GUEST' under the required FCA Member Number Field when registering)
Day of the event:
The Concorso field will open at 8 AM and all cars must be in position no later than 9:30 AM. The event will conclude with our signature "Enzo Ferrari Start-Up Salute" at 3:00 pm.
Lunch will be available in the National Croquet Center Clubhouse and at the Maranello Café located near the display field.
Questions? Contact CD Butte: ConcorsoFerrariPalmBeach@gmail.com
NOTE: The Concorso Committee reserves the right to select the entries.
About the organizer
The Ferrari Club of America ("FCA") has been around for more than 50 years. The Palm Beach Chapter is little more than seven years old and has quickly become one of the largest chapters in the nation!  
We are very active and the level of interest within our chapter has been nothing short of exceptional.  We have over 200 active members and lots of interesting events and activities happening throughout the year.
Our chapter website, www.fca-pbc.com, is also a great resource for current club information.  In addition, we are also active on social media with Facebook and Instagram pages which also include event info, photos, and much more.