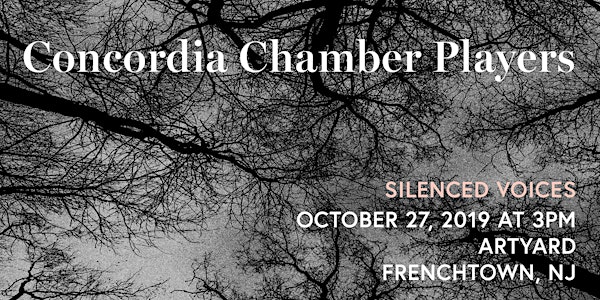 Concordia Chamber Players @ ArtYard: Sunday, October 27, 2019
When and where
Location
ArtYard 62 A Trenton Ave. Frenchtown, NJ 08825
Description
The October Concordia Chamber Music program is title "Silenced Voices" is an homage of music, with a visual element, to all those in the art and literary world who have been banned for political or religious reasons. Featuring works by composers Sibinga, Hermann, Krasa, Shostakovich and Meyerbeer, all of whom were silenced by the political powers of their eras.
Much of Sibinga's music was lost during his internment in the Dutch East Indies. In spite of a stellar career as a young cellist and composer, Hermann, who was Jewish, was sent to the interment camp of Darncy. Hans Krasa was put to death at Auschwitz soon after completing his string trio Tanec. Meyerbeer's delightful clarinet Quintet was banned during WWII due to his Jewish roots. Shostokovich was twice formally denounced by the government for the "western influences" in his music and ultimately his music was also banned for a time. His String Quartet is dedicated to "the victims of Fascism and war."
With the exception of the Shostakovich String Quartet these compositions have rarely been enjoyed live and deserve to be heard and performed in honor of the many voices who have been silenced. Concordia is proud to present this music to the public.
Website: concordiaplayers.org
Program:
String Quartet in C Major (selections) - Theo Smit Sibinga
Grand Duo for violin and cello (selections) - Paul Hermann
Dance for string trio - Hans Krasa
String Quartet No. 8 - Dmitri Shostakovich
Clarinet Quintet - Giacomo Meyerbeer
Artists:
Sibbi Bernhardsson - violin
Alexi Kenney - violin
Richard O'Neill - viola
Michelle Djokic - cello
Romie de Guise-Langlois - clarinet