Concord, NH Family History Conference

Saturday, October 19, 2013 from 8:45 AM to 1:00 PM (EDT)

Concord, NH
Who's Going
Loading your connections...
Event Details
 

About the Conference
REGISTRATION HAS CLOSED FOR THIS EVENT.  PLEASE REGISTER AT THE DOOR STARTING AT 8:00am DAY OF THE EVENT!
"Update Your Family History Toolbox"
Your invited to the 6th Annual Concord, NH Family History Conference
Saturday, October 19, 2013
8:45am-1:00pm
This free, community event brings knowledgeable speakers from all over New England to help you find your family's history.
For this year's conference, we are excited to bring you the latest news on where to find information on your ancestors as well as big, new changes to Internet research sites. 
Also this year, we have a line-up of additional new speakers and some amazing new topics! 
The conference will offer four class sessions, 50 minutes each.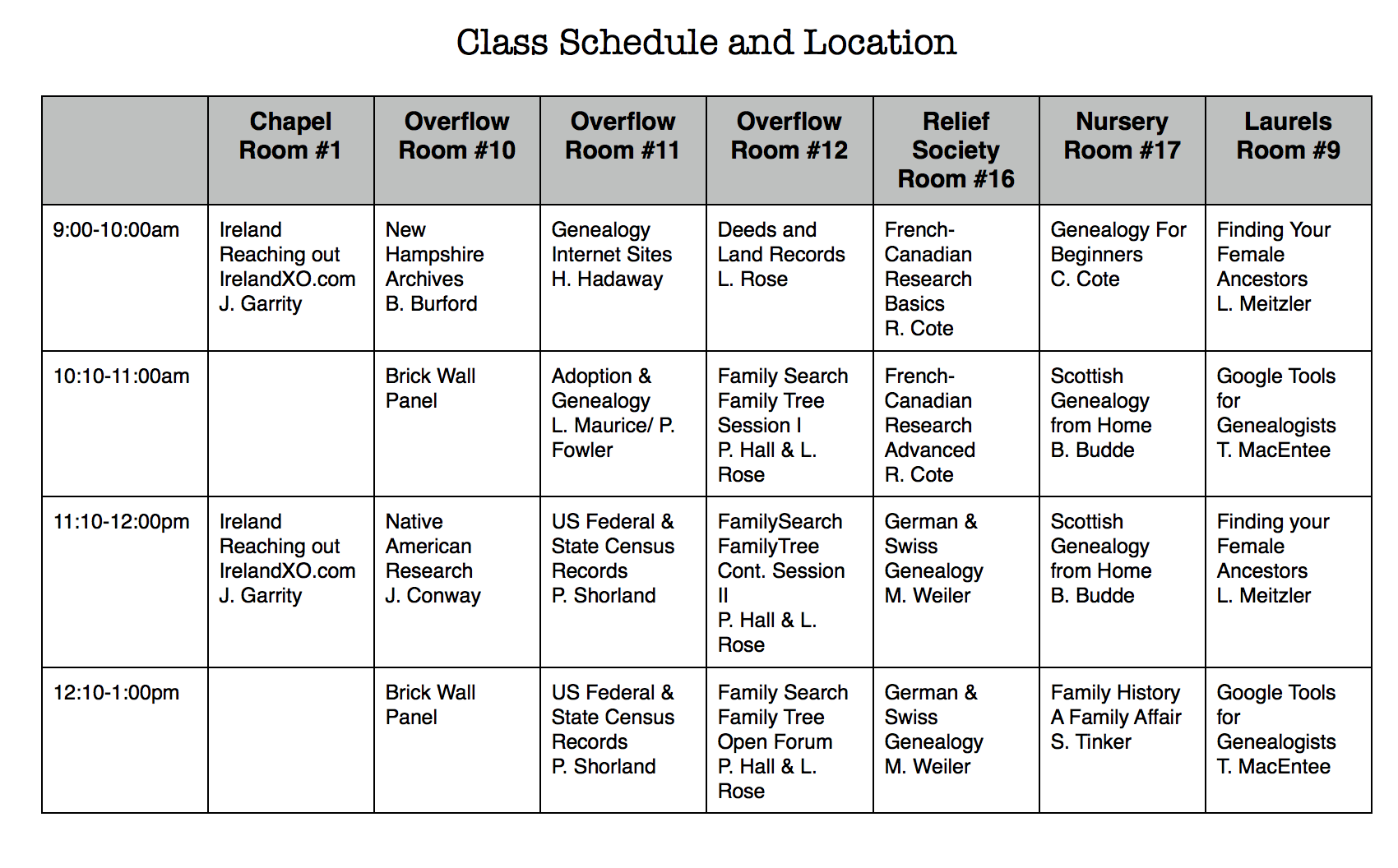 Genealogy Merit Badge (Scouts Only) First two sessions
One-on-one help in the Family History Center
Snacks available in rooms 14 & 15
CLASS DESCRIPTIONS & PRESENTOR BIOGRAPHIES
Genealogy for Beginners—Cynthia Cote
In this class you will learn the basics of genealogy research: getting organized, using resources readily available to you and other family members, and recording what you learn.
Cynthia Cote was born in Concord, Massachusetts.  She graduated from Interlakes High School and has an associate's degree from NH Vocational-Technical College.  She is of French, Irish and Danish ancestry.  She served with her husband, Richard, as a missionary for The Church of Jesus Christ of Latter-day Saints at the Family History Library in Salt Lake City, Utah from 2011-2012.  She personally assisted hundreds of patrons in searching for and finding their ancestors.

Genealogy Internet Sites—Harry Hadaway
The Internet has millions of data pertaining to family history.  Some of the most useful sites are actually free!  This class will introduce you to search engines and websites that will help you get the job done!
Harry Hadaway of Bow, NH has been researching his genealogy for about 27 years.  Born in Plymouth, Massachusetts, and knowing that his great great-grandmother was Hannah Barns Bradford, he decided to find out if he had any other Mayflower passenger ancestors besides Gov. William Bradford.  This curiosity has led to finding approximately 5,000 of his ancestors including 21 passengers on the Mayflower.   Harry is a member of the NH Chapter of the Mayflower Society and the Nickerson Family Association.  He has a desire to share his experience and the techniques he has acquired as he has searched out his family history.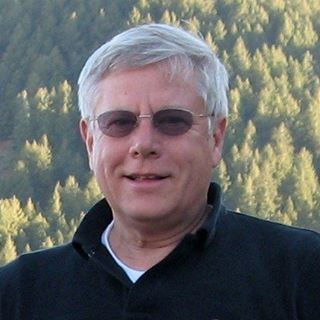 Family Search/Family Tree—Pam Hall and Linda Rose
This class will get you hooked on using FamilySearch/Family Tree to preserve your family information.  Learn how to find, keep, and share sources defining the details of your family.  See how FamilySearch/Family Tree can help you preserve your family's life happenings including pictures, stories and vital records.  Sourcing can also help minimize or eliminate some of the past, present, or future disputes concerning vital information on your family tree.
Pam Hall has been working on her family history for 46 years.  She started the process in California, moved to Hobbs, NM where she was a Family History Center Trainer for the staff for many years and then moved to Gorham, NH and has been the Family History Center Director in the Randolph Branch for more than 13 years.  She has done family history from writing letters for information to using microfilm to computers and now the Internet.  She has watched and been part of the amazing process of Family History being something one can now do at home in your pjs.  Pam has, also, done years of extraction and indexing.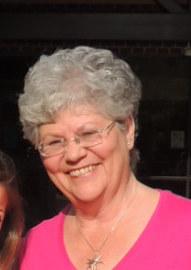 Linda Rose was born in Boise, Idaho and grew up mostly in Utah.  At a young age she developed a deep appreciation for her heritage.  While a young mother she stayed active in genealogy and designed a game called the "Pedigree Puzzle" for her children.  She has served in Family History Centers.  In 1996 when her family settled in Goffstown, New Hampshire, Linda began to discover more about her New England ancestors.  Since many of her 300 immigrant ancestors settled in colonial New England, including some from the Mayflower, she has felt like a true Yankee come home.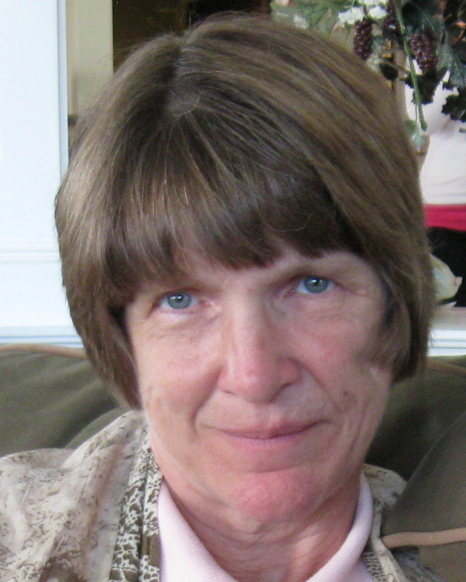 New Hampshire Archives—Brian Burford
While most genealogists know that the NH Division of Vital Records has birth, death and marital records from all parts of the state, not all genealogists are familiar with the fact that Vital Records shares the research room with the NH State Archives, or what the State Archives hold.  The NH State Archives focuses on gathering, preserving and making accessible the records of state government.  There are many types of records which could document family ties. This class will go over different collections such as land records, probate records, naturalization records, pauper records, petitions, and name changes.
Brian Burford graduated from Keene State College with a BA in History.  After an attempt at graduate school, he returned to New Hampshire as a land surveyor specializing in historical and legal research relating to land.  In 1995, he joined the staff of the NH State Archives as State Records Manager, and in September 2010 he was appointed the State Archivist and director of the Division of Archives & Records Manager.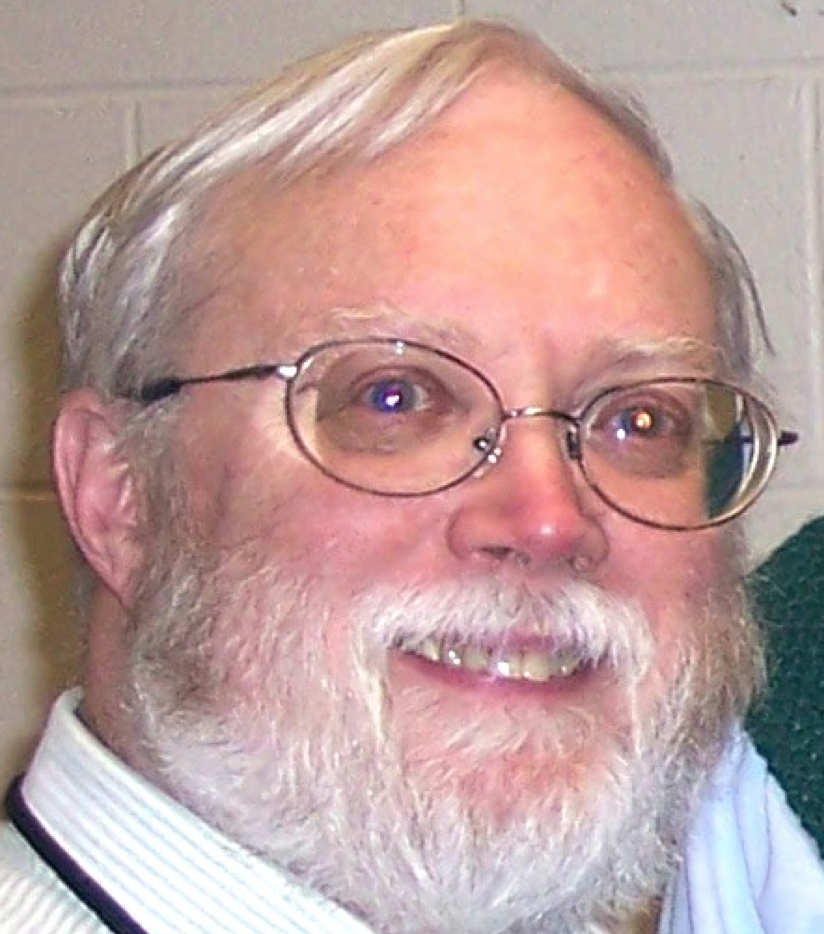 Fundamentals of French-Canadian Research—Richard Cote
Session I:  Basic understanding of the French records and extraction of key data from baptismal, marriage and burial records.
Session II:  Advance research including Familysearch.org vs. ancestry.com, difficult handwriting, maiden names, Canadian census records, etc.
Richard Cote was born in the French-Canadian community of Berlin, NH to immigrants of Quebec, Canada.  His ancestors are exclusively "Quebecois".  He has submitted hundreds of names to the FamilySearch.org, Family Tree along with over 700 sources supporting his findings.  He and his wife, Cindi, served a mission in 2011-2012 for The Church of Jesus Christ of Latter-day Saints, helping patrons in the Family History Library in Salt Lake City, Utah.  They are the parents of four daughters and eight grandchildren.

Scottish Genealogy from Home: Before you go to Edinburgh—Bill Budde
There is a lot of research you can do on your Scottish connection before you leave home.  This seminar will present some of the more widely known online resources, and some you might not think of, to help you plan your Scottish research.
Bill Budde is a genealogist and curator of the Russell Vermontiana Collection in Arlington, Vermont, and has extensive experience in local and New England genealogy research.  Experience includes work at the Bennington Museum; instructor for Introduction to Genealogy with the Community College of Vermont and Bennington County (VT) CDC; an instructor at the Campbell Center for Historic Preservation, Mt. Carroll, IL, where he teaches a two-day course on Reading Early American Handwriting, 1600-1840; and is coordinator and presenter of the annual New Hampshire Highland Games Scottish Genealogy, History, and Culture Seminars.  He has an extensive background in Scottish research and other areas of family history.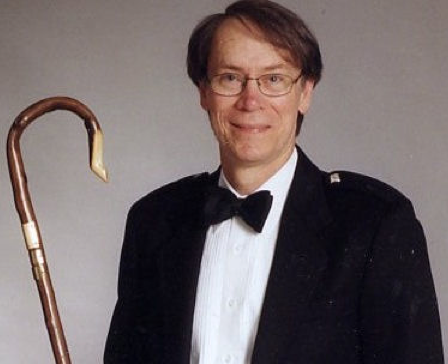 Ireland Reaching Out (IrelandXO.com)—Jim Garrity
The Ireland Reaching Out (IrelandXO) program is based on a simple idea; instead of waiting for people of Irish descent to trace their roots, we go the other way.  Working through voluntary effort at a townland, village and parish level in Ireland we identify who left those areas, and trace them and their descendants worldwide.  IrelandXO offers a free service and is a non- profit organization.
If your ancestors came from Ireland and you would like to find out more about them, we in the IrelandXO program will endeavor to help you as part of your research.  This reverse genealogy entails the tracing and recording of all the people who left Ireland and seeking out their living descendants worldwide.  Those identified or recognized as persons of Irish heritage or affiliation are invited to become part of a new extended Irish society. 
Jim Garrity of Atkinson, NH is a local IrelandXO volunteer in New Hampshire.  He uses grass roots efforts to spread the word about IrelandXO.  His paternal ancestors come from County Galway.  He will share his successful experiences tracing his roots back to the farm in Galway East from which his grandfather emigrated, and the discovery of cousins he never knew about living in Ireland and America.  He will also tell about his September-October 2013 reunion with relatives in his ancestral townland in Ireland, a reunion coordinated by local IrelandXO parish volunteers in Ireland.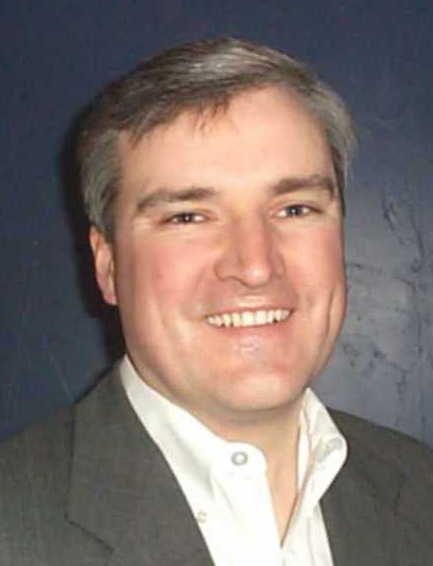 German and Swiss Genealogy:  Introduction and Solutions to Problems—Margaret Weiler
This class will be an introduction to the basics of Germanic genealogy with the depth to be expanded depending on the interests of the participants.  Examples will be given of solutions to problems such as determining the village of origin of a Germanic immigrant, alternatives to missing records, and the problem of duplicate names.  Participants will be encouraged to share their genealogical successes and problems.
Margaret Weiler is a semi-retired physicist and space systems consultant.  She started doing genealogy nearly 40 years ago, working on her New England ancestry.  It wasn't until after her retirement in 2004 that she began making progress on her grandmother's German-speaking ancestors and,  also, those of her husband's father.  In addition to research using microfilmed church records at the LDS Family History Center in Concord, she has visited Salt Lake City 7 times and made 6 trips to visit their ancestral villages in Germany and Switzerland.  She has written several genealogical articles including ones on her Hildebrand and Neubauer ancestors.  She is Treasurer of Palatines to America.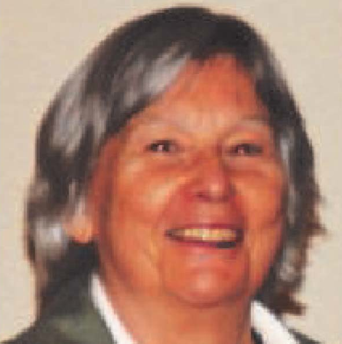 Native American and First Nation Research—Janice Conway
This class is a brief synopsis on how to locate information on your relatives with Indian heritage.  Janice will try to cover where and what to look for as you search the listings of the various rolls that may have the White or Native names of your people.  Also, how they would be assimilated into the census records and where to locate them in the recent census records.
Janice Conway has done genealogical research since 1970 in all parts of the US.  Her specialty is military records, in particular, WW I and WW II.  She is very familiar with New York and the Five Boroughs as well as northern Florida, Alabama and Southern research in general.  She has spoken to several groups on how to organize material, document resources, and search for military records.  Janice has several Native American connections in her family tree.
United States Federal & State Census Records—Patty Shorland
This class will cover historical background, census accuracy and the factors that affect it, how to analyze and use census data, finding online sources and how to search them.  In addition to the Federal census records that most people are familiar with we will talk about the various federal "non- population" census records, census substitutes as well as state census records.
Patty Shorland has been researching her family for nearly 40 years.  Her fascination with genealogy began when she was about ten and a great aunt showed her a small book on her family history.  Living in New England since 2004, has given her a chance to visit the places her colonial ancestors lived and to do research in archives from New York to Maryland.  She has worked in Family History Centers wherever she has lived and is currently a co-director in Exeter, NH.  Patty enjoys sharing her passion for family history and helping people learn how to trace their own roots.  She has a BA and MA from the University of Denver, manages a family business and has 6 children spread throughout the US and South America.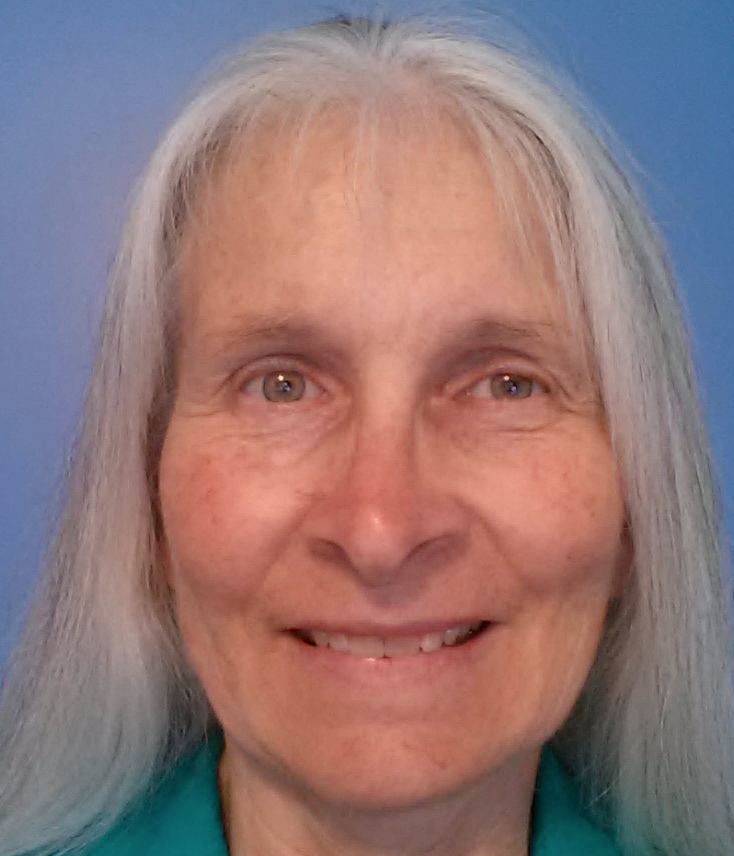 Deeds and Land Records—Linda Rose
When vital records fail you because they do not exist open the secret passageway of deeds and follow the connecting paths to your ancestor.  Discover a sibling you could never prove before.  Find a wife or a child.  Learn who the neighbors were; check possible relationships with them.  Deeds may just be the source you have hoped for and not found—yet.
Linda Rose was born in Boise, Idaho and grew up mostly in Utah.  At a young age she developed a deep appreciation for her heritage.  While a young mother she stayed active in genealogy and designed a game called the "Pedigree Puzzle" for her children.  She has served in Family History Centers.  In 1996 when her family settled in Goffstown, New Hampshire, Linda began to discover more about her New England ancestors.  Since many of her 300 immigrant ancestors settled in colonial New England, including some from the Mayflower, she has felt like a true Yankee come home.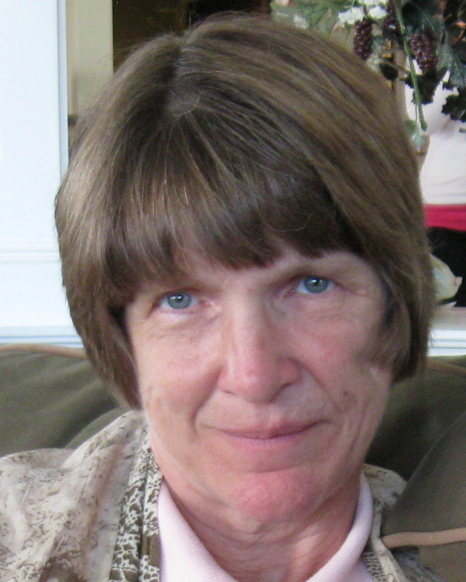 Family History-A Family Affair—Shirley Tinker
Some think that family history and genealogy are for 'older folks' only, but learning about one's heritage is valuable at any age.  In fact, family history can be an activity that involves the entire family, including and especially children.
If you have an interest in encouraging your children to enjoy discovering their heritage, join us.  In this session we will discuss activities for children of all ages and ability and share available resources.
Adoption and Genealogy—Larry Maurice and Patti Fowler
This class is intended to cover some of the specifics of searching, including getting started, some tools and interpreting the data.  There will be some hands on examples and, if time permits, question and answer period.  Free one-on-one consultations can be arranged after class time.
Larry Maurice began helping adoptees search for their biological families in 1992.  He has now reunited hundreds of families, helped get legislation passed to allow adult adoptees obtain their original birth records, and conducted classes on how to search.  He is also a volunteer in the Genealogy Room for the New Hampshire Department of Vital Records in Concord, NH, a member of the American Canadian Genealogical Society, and a member of the New Hampshire Society of Genealogists.  He has been married for 41 years and has two children and two grandsons.
Brick Wall Panel Discussion—Daniel Anderson-Moderator, Janice Conway, Harry Hadaway, Theresa Hills
Experts as well as novices run into "brick walls" while researching their family roots.  Our assembled panel of expert genealogists will attempt to assist you in getting through your brick wall.
WEBINAR—Google for Genealogists—Thomas MacEntee
Most genealogists are only using 10% or less of the resources behind Google when it comes to genealogy research.  Learn from professional genealogist, Thomas MacEntee, about the other 90% and how these Google components can be leveraged for better search results.
WEBINAR Presenter:  Thomas MacEntee is a professional genealogist specializing in the use of technology and social media to improve genealogical research as a means of interacting with others in the family history community.  Utilizing over 25 years of experience in the information technology field, Thomas writes and lectures on the many ways in which blogs, Facebook and Twitter can be leveraged to add new dimensions to the genealogy experience.  As the creator of GeneaBloggers.com he has organized and engaged the community of over 1,300 bloggers to document their own journeys in the search for ancestors.
WEBINAR—Chasing Women-Finding Your Female Ancestors—Leland K. Meitzler
Locating the names of our female ancestors can be difficult.  There are two major search areas that we deal with in locating women's names-the first being the search for their maiden names and secondly, the search for their married names.  Leland K. Meitzler will give details on a wide variety of sources.
WEBINAR Presenter:  Leland K. Meitzler founded Heritage Quest in 1985, and has worked as Managing Editor of both Heritage Quest Magazine and The Genealogical Helper.  He currently operates Family Roots Publishing Company, writes daily at GenealogyBlog.com and speaks nationally, having given over 2,000 lectures since 1983.
Genealogy Merit Badge (Prerequisites for this Merit Badge)—Virginia Chesley Burke
Bring all the following to the workshop:
Interview a family member by phone, e-mail, letter or in person and ask them about events in their life and where they happened.   Record the information you learn.

Complete a pedigree chart.  This can be handwritten.  List yourself and two additional generations.

Complete two family group sheets; one listing your parents and all the children in your family, the other listing one of your grandparents and their children.

Bring the name of one of your ancestors or a relative who was alive in 1940. 

If you have a laptop computer please bring it with you.
For any questions contact Sister Burke at 603-569-2074 or vaburke@hotmail.com   
The merit badge workbook is on line at http://www.troop042.com/meritbadges/Workbooks/Genealogy.pdf
Virginia Chesley  Burke of Tuftonboro, NH has been dabbling in Family History for many years.  Most of her ancestors come from NH, Massachusetts and Maine.  One of her favorite genealogy comments is, "It's okay to be a name dropper.  Who knows, you may have a cousin sitting in the audience."  [Any Chesleys out there?]  She has been involved with Boy Scouts since 1982 and looks forward to working on the genealogy merit badge at the family history conference.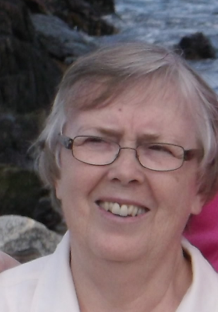 Where is the Conference?
The conference is located at The Church of Jesus Christ of Latter-day Saints,
90 Clinton Street
Concord, NH 03301
Who sponsors the event?
The Church of Jesus Christ of Latter-day Saints, Concord, NH Stake
Are there ID requirements or an age limit to enter the event?
We recommend 12 and over for the event.
Invite your Teens
We know that young adults (teenagers) and up will certainly benefit from the conference and are pros on the computer. Get your whole family involved.
Can I bring babies?
The conference does not have facilities for childcare, so we hope you'll make your own arrangements for babysitting.
Do we serve lunch?
The conference is free and a lunch will NOT be provided. But light snacks will be available. You are welcome to bring your own lunch to pack and carry.
What are my transport/parking options getting to the event?
We have plenty of parking in our lot and handicap parking and facilities are available.
What can/can't I bring to the event?
You are welcome to bring a lunch to the event. 
Where can I contact the organizer with any questions?
Martha Methot  603-668-2958
Is my registration/ticket transferrable?
No your registration is non transferrable.  Please register a new person directly.
Can I update my registration information?
Please update your registration on on eventbright page.
Do I have to bring my printed ticket to the event?
No you don't... but it makes registration in the morning go quicker!
How do I get my name tag?
When you arrive at the conference, you'll be able go to a special table called "Pre-Registration" and they'll have your name tags ready just for you!
The name on the registration/ticket doesn't match the attendee. Is that okay?
We match name badges to registration. Please register the name you would like to be called.
Is there Pre-registration at the door?
yes- Pre-registration is from 8:00am-8:45pm.
When & Where


10/19/2013
90 Clinton Street


Concord

,

NH

03301

Saturday, October 19, 2013 from 8:45 AM to 1:00 PM (EDT)
Add to my calendar
Organizer
The Church of Jesus Christ of Latter-day Saints
The Church of Jesus Christ of Latter-day Saints 
New England Public Affairs
Angela Hughes- Director of Public Affairs
newenglanddpa@gmail.com
603 860 3274