CONCETTA ANTICO ART SHOW - MAGICKAL MUSE HUES!

Saturday, December 14, 2019 from 6:00 PM to 9:00 PM (PST)
Event Details
What separates the Color Queen from every other artist you've ever heard of?
Concetta Antico is a tetrachromat, meaning she can see 100 million MORE colors than the normal person due to a ultra rare 4th channel in her eye that processes color. She is endowed with super vision and uses it to create brilliant masterpieces with color combinations you would never dream of seeing.
Get ready to see the world in 100 million MORE colors through her eyes at her art show in San Diego, California! She will be hosting a collection of her Tetrachromatic style art, a technique she has created herself!
She will be hosting a plethora of paintings in San Diego on December 14th that you cannot miss! She will also be painting live so you can see the trail blazer at work.  Food and drinks will be hosted by the lovely Color Queen, we invite you to a beautiful evening of food, drinks, and art! If you love oil paintings, art, or want to see the world in a different light, this art show is a CANT MISS!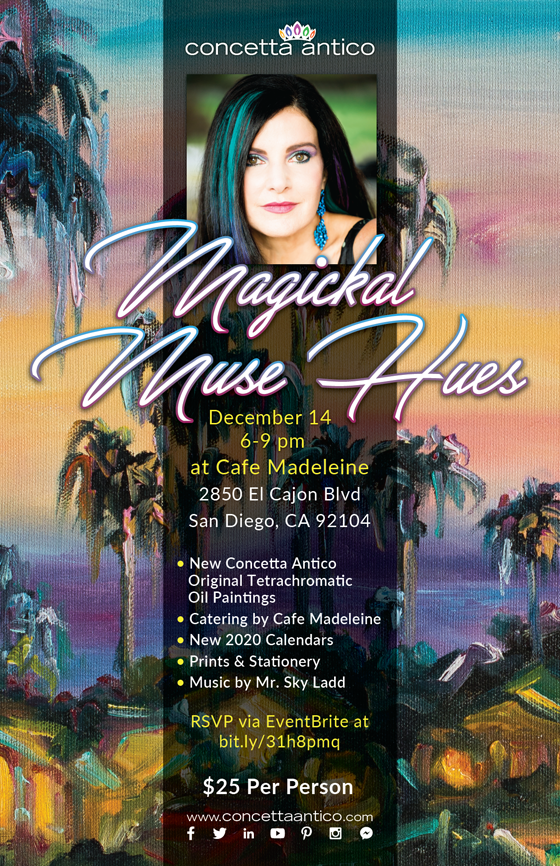 Bring a date, a spouse, a friend, any art enthusiast, to enjoy exquisite paintings and free food and drinks! Come see the Super Woman Concetta Antico use her magic powers for good and not evil! We will also have live music, it's a great place to mingle and meet like minded individuals who love the explorative world of art.
There will be paintings available for purchase, but we invite you to come and revel in the magic of Concetta.  Open your eyes to a brand new style of painting and art that Concetta has created, called Tetrachromatic.
Save This Event
When & Where

CAFE MADELEINE
2850 El Cajon Boulevard
San Diego, CA 92104


Saturday, December 14, 2019 from 6:00 PM to 9:00 PM (PST)
Add to my calendar
Organizer
CONCETTA ANTICO is venerated worldwide as "The Color Queen". Attributed to her scientifically endorsed " Perfect Storm" for functioning Tetrachromacy,
Concetta can resolve 100 million more colours than others. This gift
 illuminates the truth of the world's beauty through her hyper-coloured oil on canvas masterpieces...her paintings are windows to colours only her eyes can perceive.
Concetta consistently garners avid media attention making her work highly collectible.
Over 1000 original works are held in public and private collections worldwide.
Come to her event and see her paint LIVE for your enjoyment!