Queen Nation – A Tribute to the Music of Queen
July 28
|

5:30 PM - All Concerts on the Green are FREE to attend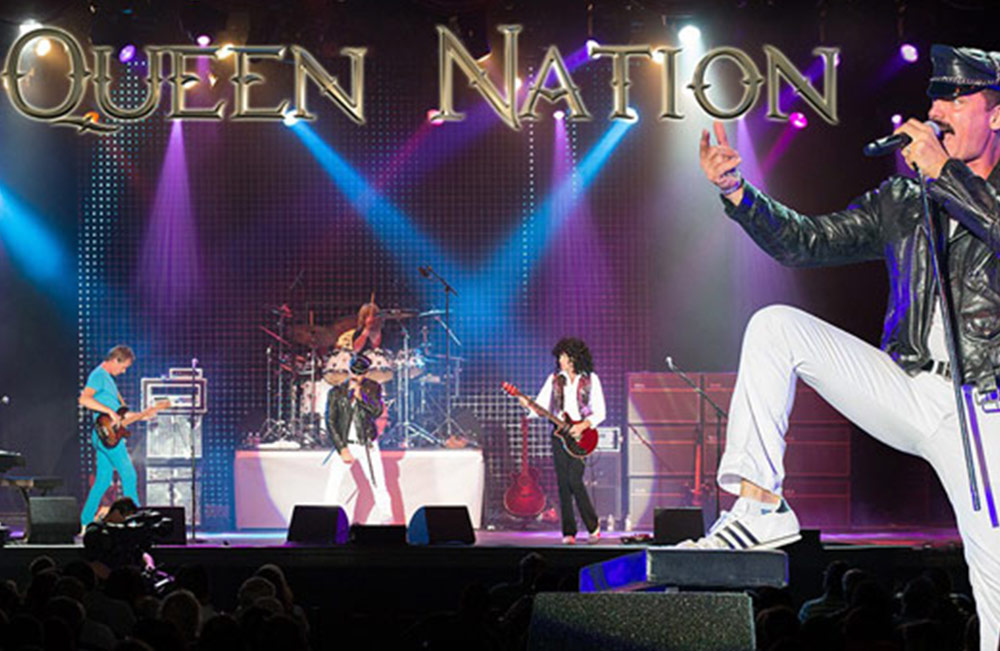 There is little doubt among the pure rock community that the legendary band Queen and lead performer Freddie Mercury earn high ranks as one of the most powerful and iconic groups in rock history. Upon his death in 1991, a huge void was left in the rock concert world, which to this day has not yet been matched.
Queen Nation, a Tribute to Queen, was formed in 2004. Queen Nation consists of: Gregory Finsley on vocals & keyboards as Freddie Mercury, Mike McManus on guitar as Brian May, Pete Burke on drums as Roger Taylor, and ParkerCombs on bass as John Deacon. The mission of the show is to carry on the musical torch and pay homage to the golden age of vintage Queen concerts. In 2013 Queen Nation was recognized as The World's Greatest Queen Tribute by Mark Cuban, Ryan Seacrest and their cutting edge network AXS TV. Queen Nation was given a 1hr LIVE national broadcast from the Roxy in Hollywood, to 40 million viewers. Most recently, Queen Nation was selected by The Los Angeles Angels of Anaheim baseball team to perform on the infield of Angel Stadium as part of their Flashback Weekend.
Audiences are amazed at the accuracy of Queen Nation's live retrospective journey through such Queen songs as We Will Rock You – We Are The Champions – Bohemian Rhapsody – Crazy Little Thing Called Love – You're My Best Friend – Another One Bites The Dust – Under Pressure and many more.


EMERGING ARTIST SHOWCASE
Prussia
Prussia is a 4 piece funk powerhouse based out of North Hollywood, California. Fronted by a dynamic female vocalist and grooving rhythm section, they are known for their electric live performances and unique blend of blues, funk, and soul. Described as "West Coast Funk," each member of the band hails from different parts of the world (Venezuela, Georgia, Pennsylvania, Los Angeles) but met while studying music in Hollywood.
Prussia released their first EP Glory Days in 2016 and will be releasing new singles later this year.
The band has won 2 Downbeat Student Awards for Outstanding Performance in the Pop/Rock/Blues category.