Description
Hollywood U2
June 23
|

5:30 PM - All Concerts on the Green are FREE to attend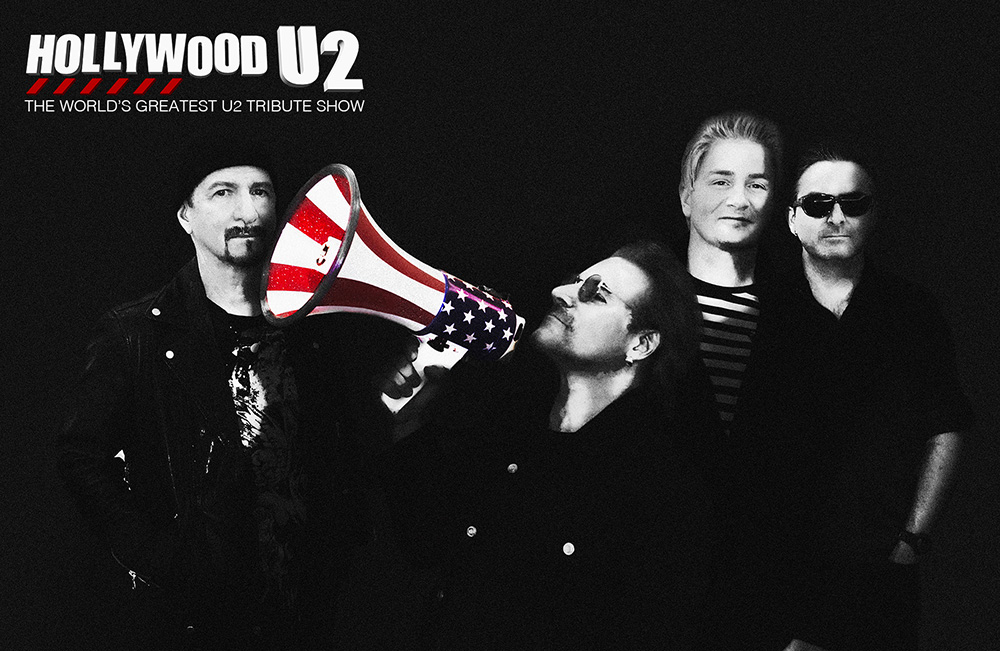 Based in Los Angeles, Hollywood U2 was founded by lead singer Joe Hier (aka Hollywood Bono who is originally from Boston) in 2003. The band has toured the world performing to sold out crowds in such countries as United States, Singapore, Costa Rica, Dominican Republic, France, Mexico, to name a few and they recently performed for the US Marines in Japan. Their vast experience has taken them around the world, captivating crowds of 10,000 plus.
In 2016 Hollywood U2 received the Hollywood FAME Producers Choice Award for Outstanding U2 Tribute and were nominated as "Best Tribute Band" at the LA Music Awards.
Bono invited the lead singer Joe Hier up on stage to sing "The Sweetest Thing" with him and U2 during their Innocence and Experience Tour and this performance made headlines around the world.
Hollywood U2 were chosen to perform on Mark Cuban's TV show "The World's Greatest Tribute Bands", and are the only U2 tribute band to-date of the TV shows 5 seasons to be officially selected.
They were invited by NAMM 2018 to open the show with an impromptu surprise rooftop performance for attendees. As they performed "Where The Streets Have No Name" up on the Anaheim Convention Center Rooftop balcony, many thought it was U2 and this caused a big stir on Social Media.
Hollywood U2 is an entertainment favorite with clients such as, Microsoft, Google, Harley Davidson, California Wineries, Country Clubs, Visa, MGM, Caesar's Palace to A-List Celebrities and many more.
As U2 fans, they take pride, care and detail in performing a U2 tribute show that pays tribute to the many great tours and music of U2. Performing the songs with heart, passion and accuracy. They perform U2 tribute shows from using just one look to multiple looks incorporating ZOO TV, Elevation, Vertigo, Joshua Tree 2017 to U2's current look. As U2 continue to reinvent themselves Hollywood U2 take great joy in presenting a show that honors U2's past as well as their present. Their goal is to bring the heart and message of U2's music to lovers of great music everywhere. As Lead Singer Joe Hier points out in all of his live shows, "We're very big U2 fans and the message we're bringing to you is Love. The word love is in almost every U2 song. That's really something. That's the message".
EMERGING ARTIST SHOWCASE
Melissa Gottlieb
Los Angeles native

Melissa Gottlieb

masterfully blends country, pop, and rock. With a rich, sultry voice, she weaves the influences of her youth into a current soulful sound. Her songs are chock full of smart lyrics, catchy melodies, and strong hooks. Melissa is often compared to powerhouse singers like Pink, Carrie Underwood, and Grace Potter.
CONCERTS ON THE GREEN – Help Spread the Word