Concerts at the College presents Akropolis Reed Quintet
Description
Concerts at the College presents
Akropolis Reed Quintet



One night only: The Akropolis Reed Quintet, hailed for their "imagination, infallible musicality, and huge vitality" (Fanfare Magazine), adds The College of Physicians of Philadelphia to their repertoire of global venues. Experience this infectious and energetic musical adventure that is suitable for the whole family.
The concert begins promptly at 7:00PM with one 15-minute intermission. Seating is first come, first served.
Reception to follow the concert from 9:00PM-10:00PM, including complimentary beer, wine, and light food. The Mütter Museum will not be open during this event.


REPERTOIRE: "Under the Influence"
Marc Mellits (1966)
Splinter (2014)
Scarlet Oak

Sugar Maple

Linden

Black Ash

Cherry

River Birch

Weeping Willow

Red Pine
Nico Muhly (1981)
Look for Me (2015)
Leonard Bernstein (1918-1990)
Prelude, Fugue, and Riffs (1949) arr. John Romano
David Biedenbender (1984)
Refraction (2015)
Death Metal Chicken

Kyrie for Machaut and Pӓrt

Goat Rodeo
George Gershwin (1898-1937)
An American in Paris (1928) arr. Raaf Hekkema
ABOUT "Under the Influence":
In "Under the Influence", Akropolis presents classical music bearing a wide array of influences, from rock and electronic music to jazz, chant, and folk songs. Each work absorbs the characteristics of a different genre, style, or era, and then creates fresh, relevant music, reflecting upon the original and looking forward. Akropolis also explores their own influences as a reed quintet (their first concert given in 2009), as they build their ensemble's repertoire and re-visit their personal and collective inspirations by which they have forged their genre-bending identity.
The 8 movements of Splinter (which emulate the form of a Baroque suite) are a contemporary example of economy of space both vertically and horizontally in music. Mellits describes his music as containing "driving rhythms, soaring lyricism, and colorful orchestrations", which might seem difficult to capture all at once. In the case of his first work for reed quintet--formed in short miniatures like most of Mellits' music--the listener experiences repetitious motives which, through subtle changes, create elongated phrases and broader musical structures. Even among the identical openings of movements 1 and 6 (as well as a few bars of directly transplanted content in movements 5 and 8), the listener gets a broader sense of the greater architecture in the work, even as motives continue to drive, repeat, and subtlety evolve. Mellits' musical upbringing was varied, including rock and electronic music influences, which became a part of his musical instincts until and after his formal composition training began at age 18.
Nico Muhly's Look for Me buries the melody of "Mother in the Graveyard", a folk song created in the Vermont Appalachia, inside destabilizing, modernized textures and interjections. The resulting sound is as if we are hearing an original field recording, but the wax has been distorted, and we are listening to the original singer as he or she jumps through and is warped by the time travel to today. Through the well-planted organization of these textures and interjections, Muhly re-establishes the beauty of the original, simple field song in a modern context. The composer of the folk song, "Mother in the Graveyard", is Margaret MacArthur, a renowned performer and archivist of American folk melodies. Originally a city-goer, she and her husband moved to a 200 year-old farmhouse in Marlboro, VT in 1951, where she preserved instruments and field recordings, living without electricity or running water for the first 6 years in the home. Here are two verses of "Mother in the Graveyard":
Mother in the graveyard and I'm on the land
Look for me
Mother in the graveyard and I'm on the land
And I want God's bosom to be my pillow
Hide me over in the rocks of ages
Look for me
Drive the chariot to my door
Look for me
Drive the chariot to my door
And I want God's bosom to be my pillow
Hide me over in the rocks of ages
Look for me
Closing the first half is Leonard Bernstein's Prelude, Fugue, and Riffs. In the title alone, Bernstein points to a unification of jazz and classical styles, the Prelude and Fugue being classical music forms, and Riffs referring to Jazz improvisations, which in this piece, Bernstein has written out, rather than them being improvised. This work was originally written for Woody Herman's big band, but ultimately became re-scored for a small pit-style orchestra, and then arranged recently by John Romano for reed quintet.
The second set opens with David Biedenbender's boisterous new work, Refraction. "Refraction" refers to the absorption and then splitting of music influences, as well as to the type of assembly the composer uses in this piece. Sounds are almost taped and glued together, and at times they seem to pour out from the central texture of the piece. The composition melds several genres, including death metal and Gregorian chant, but never fully boxes them in. "Death Metal Chicken" is inspired by a popular YouTube video of a howling rooster with death metal music being played in the background. The "Kyrie" shimmers with ancient qualities. The final movement, "Goat Rodeo", refers directly to a chaotic situation that might come to a resolution, but not willingly so. Biedenbender not only re-purposes various genres and combines them with brilliant colorations; he creates a fully-formed, new object which could never be as brilliant without the tatters and shreds which seem to be falling from it.
In conclusion, Akropolis presents a work inspired not only by the popular music of the early 20th century, but marked by a special moment in music composition in which the concept of "acceptable" art music was beginning to rapidly evolve. In An American in Paris, Gershwin aimed to create one of his more serious works despite his natural affinity for frivolity. He consulted Ravel about this conundrum, who wisely instructed that if Gershwin was making more money than Ravel (which he was), he shouldn't change how he writes his music. He sought advice from Nadia Boulanger, the great teacher of Aaron Copland and others. She also wisely suggested to Gershwin try to be nobody but Gershwin. And so, using complex motivic development which is constantly modulating and changing form, Gershwin manages to create his most accessible, but simultaneously most complex piece of music. Among the challenges Dutch saxophonist Raaf Hekkema faced in arranging the work were how to convey these ideas with only 5 instruments. The listener might find Gershwin's ideas even easier to deduce in the chamber music format, and Hekkema brilliantly manages to maintain Gershwin's lush orchestrations by having all 5 members performing for nearly all of the arrangement. The continually repeating and evolving motives make for a challenging but thrilling performance which Akropolis is delighted to bring to the stage.
ABOUT the Ensemble:
The Akropolis Reed Quintet was founded in 2009 at the University of Michigan and is the first ever ensemble of its makeup to win a Fischoff Gold Medal (2014), Grand Prize at the Plowman and MTNA national competitions, and 6 national chamber music prizes in total. Hailed by Fanfare for its "imagination, infallible musicality, and huge vitality", Akropolis has performed from Juneau to Abu Dhabi and has showcased at five national conferences, including as a participant in APAP's prestigious Young Performers Career Advancement Program (YPCA). Winner of the 2015 Fischoff Educator Award, Akropolis conducts extensive educational residencies and impacts thousands of children each year. A maverick of new wind music, Akropolis has commissioned over 25 reed quintet works and recorded three albums, including its 2017 release, The Space Between Us, which the San Francisco Chronicle calls, "pure gold". Akropolis has received grants from the Michigan Council for Arts and Cultural Affairs & Chamber Music America for its community programming in Detroit, MI, as well as operating support from the Aaron Copland for Music.
The Mütter Museum will not be open during this event.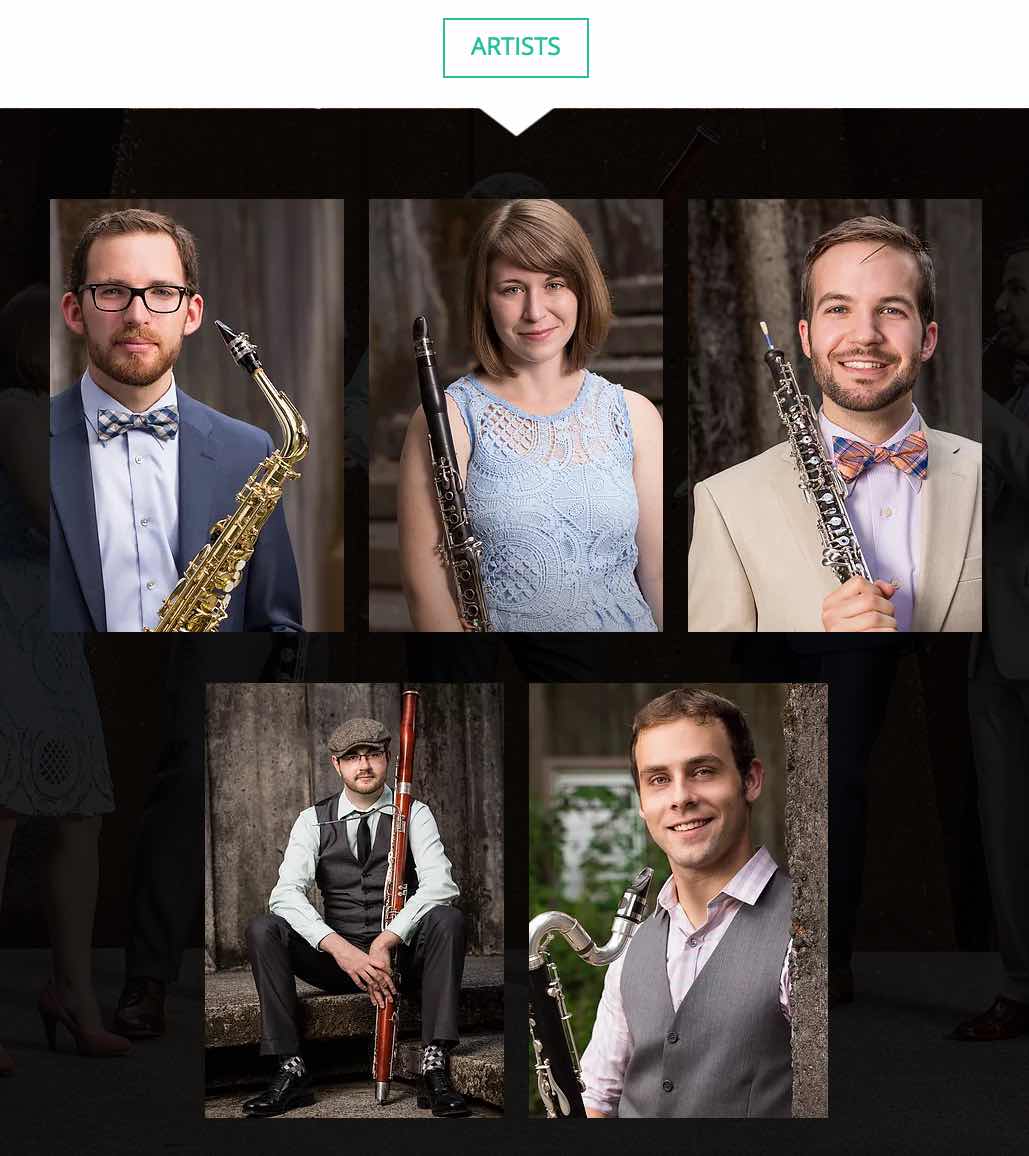 Register for additional upcoming Concerts at the College here:
11/20/17 Philadelphia Orchestra Musicians Chamber Concert
February 26, 2018 Philadelphia Orchestra Musicians Chamber Concert
April 11, 2018 Philadelphia Orchestra Musicians Chamber Concert
Questions? Please email events@collegeofphysicians.org or call (215) 399-2342
Event registration is non-refundable, but is transferable.
This event is sponsored by The College of Physicians of Philadelphia, home of the Mütter Museum.
Date and Time
Location
The College of Physicians of Philadelphia
19 South 22nd Street
Philadelphia, PA 19103
Refund Policy