Concert: The Andrea Beaton Trio from Cape Breton, November 16, 4:00 PM

Sunday, November 16, 2014 from 4:00 PM to 6:00 PM (EST)
Event Details
The Andrea Beaton Trio from Cape Breton in Concert!
Andrea Beaton, Dick Hensold, Tyson Chen

Sunday, November 16th, 4:00 PM - 6:00 PM
A "Harvest Home Concert" ~ Music of Traditional Cultures
Harvest Home is a monthly series of concerts performed by musicians who have immersed themselves in traditional music and achieved acclaim and recognition as 'Tradition Bearers' in their respective fields. This series of Traditional Music is sponsored by George Balderose of the Balmoral School of Piping and Drumming and, with much appreciation, is hosted by The Four Directions - A Center for the Arts and Healing. Please also see our other concerts in the Harvest Home Series! Tickets are available in advance only, limited to the first 46 people on a  first-come basis. Please order your tickets early! BYOB and Pot-Luck Munchies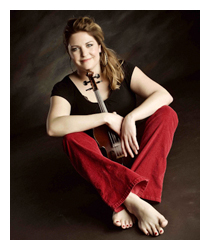 Andrea Beaton, "a powerful Cape Breton fiddler, composer and stepdancer", is one of the most accomplished and well-known fiddlers from the newest crop of Cape Breton musicians. Andrea Beaton comes from a long line of musicians, composers and dancers. She is an award-winning fiddler, tune composer and recording artist who is known for her powerful bow, the drive and swing of her timing and the crispness of her attack. She tours and teaches internationally and is in great demand as a teacher at music camps and fiddling/dancing workshops.
She has released 5 solo albums, one duo album with her father, Kinnon Beaton, and a book of her original tunes. she also recorded an album with her family "The Beaton family of Mabou" in 2007 for the Smithsonian Institute. Most of her solo albums were nominated for awards, and her 2010 CD, 'Branches' won the Canadian East Coast Music Awards (ECMA) "Instrumental Recording of the Year"
Andrea travels the globe, sharing her culture as well as exploring and writing contemporary tunes. Her music, dance and comical stories are sure to delight any audience. She learned her tradition from her family, but her music is at once her own, deeply rooted in the tradition of Cape Breton's Mabou Coal Mines.
"…Andrea Beaton is a force to be reckoned with, a powerful player with great technique and tremendous passion."
_ The Guardian, Charlottetown, Prince Edward Island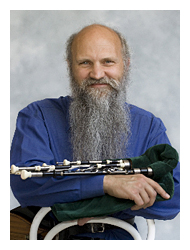 Dick Hensold will play Northumbrian smallpipes, reel pipes, and whistles (none of the bagpipes used in this concert are very loud). The leading Northumbrian smallpiper in North America, for the past 20 years Dick Hensold has performed and taught in England, Scotland, Japan, Canada, and across the United States. His solo CD Big Music for Northumbrian Smallpipes was released in 2007.
Although Dick Hensold has played a number of musical styles over the years, his first passion was early music. He got a Recorder major from Oberlin Conservatory, and worked with the Chicago Early Music Consort for a few years before he moved to Minnesota in 1984. There he played with the Lyra Concert Baroque Orchestra, performing about 15 different recorder concertos. He also played with Ex Machina, Circle of Sound, and did a few ad hoc programs on the St. Paul Early Music Series, the two most memorable of which were a program of lute and recorder music with lutenist Dirk Freymuth, and a baroque hurdy-gurdy program with masters of the 18th-century French hurdy-gurdy Claude Tailhades and Bob Green. He has also worked on a number of projects at the Children's Theater Company, The Guthrie, Theatre de la Jeune Lune, and others, on several of which he served as music director. One project, Ruth MacKenzie's Kalevala, released a CD on Northside Records in 1998.
Dick states that "Cape Breton fiddle tunes are really fun to play on Northumbrian smallpipes, since their style is inherently crisp and rhythmic, with similarities to the Northumbrian staccato style". His interest in the music of Cape Breton Island goes back 10 years or more, and At Celtfest 2005 (in British Columbia), he met Troy and Kenda MacGillivray from Antigonish, Nova Scotia, and was inspired both by their deep, effortless, and spirited virtuosity, and their comments and encouragement. Troy MacGillivray recorded one of his compositions later that year on his solo album.
He also had an opportunity to study with violinist David Greenberg and Highland piper John MacLean in Halifax (2005-present). In 2006 he received the highest honor awarded to independent artists in the upper Midwest region, the Bush Artist Fellowship, in the Traditional and Folk Arts category (the fellowship is from the [Archibald] Bush Foundation in St Paul; no relation to America's presidential dynasty). He used the grant for study and research, and for travel to Scotland, England, and Cape Breton Island, Nova Scotia. And also for buying more bagpipes!
"Dick Hensold is a master piper with an exquisite touch."
_ City Pages, Minneapolis, MN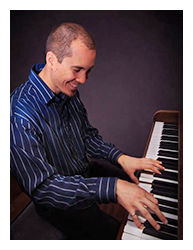 Joining Andrea and Dick will be Pianist Tyson Chen. Tyson is a freelance pianist, accompanist, and piano teacher based in Ottawa, Ontario and Cape Breton, Nova Scotia.
 
Tyson currently performs an eclectic mix of musical styles including Celtic, popular, classical, and jazz. He complements his performances by teaching workshops and private lessons with a focus on Cape Breton piano accompaniment. Audiences, musicians, and students are drawn to his vibrant piano performances, engaging personality, and professionalism.
 
He started playing classical piano at a young age, soon embracing many other solo and accompaniment piano styles, and studied classical and popular music in Ottawa, where he grew up, and at The Royal Conservatory of Music. Living in Mabou, Cape Breton In recent years, he has lived and breathed Celtic music in the heart of Cape Breton where he has become a popular piano accompanist among fiddlers. He is in demand at ceilidhs and dances all over the island due to his mastery of of the driving, intricate Cape Breton piano style.
 
His performances range from high-energy stage productions to intimate musical gatherings. He has played for international festivals, musical theatre, and cruise ships as well as square dances and ceilidhs, and community events.
Recent Performance Highlights 2012–2014

• American Folk Festival — Bangor ME
• Cape Breton Ceilidh, Square Dance, Workshops — Ottawa ON
• Celtic Colours International Festival — Cape Breton NS
• Canada & New England Cruise — Holland America Cruise Lines
• "The Weddin Dance" musical — Strathspey Place, Mabou NS
• "John Archie & Nellie" musical — Strathspey Place, Mabou NS
• "Ten Hands" concert — Strathspey Place, Mabou NS
• "Fiddles & Feet" concert — Strathspey Place, Mabou NS
• West Mabou & Glencoe Square Dances — Mabou NS
• Cape Breton Fiddle and Accompaniment Workshop — McDonalds Corners ON


______________________________________________________


Cape Breton Island, at the Eastern end of the Canadian maritime province of Nova Scotia, was settled about 200 years ago by some 50,000 Gaelic-speaking Scottish Highlanders. Because of the Highlanders' isolation, Cape Breton is believed to authentically preserve many aspects of 18th-century Highland Scots Gaelic culture, particularly its music and dance.

When & Where

The Four Directions - A Center for the Arts and Healing
3930 Dickey Road
Gibsonia, PA 15044


Sunday, November 16, 2014 from 4:00 PM to 6:00 PM (EST)
Add to my calendar
Organizer
The Four Directions, a 501c3 nonprofit Corporation, dedicated to the Arts, Creativity, Spirituality, Healing and Nature, is located in Gibsonia, Pennyvania, a 40 minute drive North from Pittsburgh. Situated on ten rural acres of terraced hillsides, it has three lovely spring-fed ponds and a blend of scenic woodlands, floriferous gardens and wild native pastures with historic and modern buildings and outdoor structures and ceremony places. The grounds are a tranquil place to walk, explore, meditate or converse whie attendin the Center's diverse offerings.

We offer a fascinating mix of creative experiences, self-discovery programs, art exhibits, participatory demonstrations, music and dance performances, meditative retreats, modalities in the healing arts, special events and ceremonies, deep interactive connections with nature and much more. Programs are led by remarkable artists and creators, healers, wisdom keepers, and personal growth guides, who inspire through a shared sense of playfulness and visionary ideas
Join our mailing list and download our brochure at our website:www.thefourdirections.org