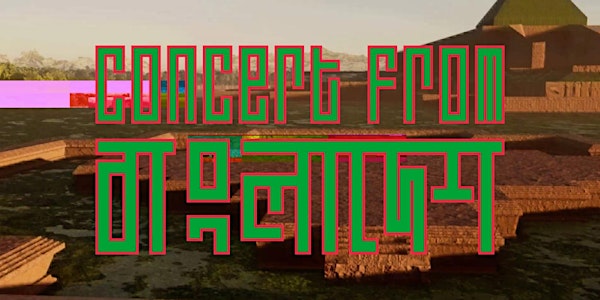 Concert from Bangladesh
UBIK Productions and The Samdani Art Foundation (SAF)
Concert from Bangladesh is a mixed reality music concert using cutting edge technology to take audiences on a virtual audio-visual journey.
About this event
Concert from Bangladesh is a mixed reality music concert using cutting edge technology to take audiences on a virtual audio-visual journey through Bangladesh past and present, encompassing mystical Baul singers from rural Kushtia, experimental electronics, and hip hop from the streets of Dhaka.
For this groundbreaking digital collaboration, UBIK Productions (London) and Samdani Art Foundation (Dhaka) have commissioned acclaimed British-South Asian artist Shezad Dawood to imagine a virtual reality stage for a concert expanding on the 50-year legacy of Concert For Bangladesh–the original charity concert initiated by Ravi Shankar and George Harrison of Beatles' fame, in aid of the relief effort and refugee crisis during the Bangladesh Liberation War of 1971.
Co-curated by Campbell with Bangladeshi music producer and artist Enayet Kabir, together with assistant curators Ruxmini Choudhury and Shoummo Saha, Concert From Bangladesh updates the 1971 concert to showcase a wealth of talent across Bangladeshi musical traditions, while revisiting the history of solidarity embedded in the original concert.
All proceeds raised through donations, merchandise purchases, and digital album downloads will be equally distributed between the performing musicians and Bangladeshi charity organization Friendship, which provides healthcare for climate change refugees and promotes women's rights in Bangladesh.
The concert takes viewers on an expansive three-act sonic journey beginning with renowned Baul singer Arif Baul accompanied by instrumental virtuosos Nazrul Islam, Saidur Rahman, and Sohel. This is followed by a piece composed by Enayet and Nishit Dey exploring the shared musical language between Nazrul sangeet, classical raga and 90s jungle, by blending cutting edge electronic production and arrangements by Enayet, Provhat Rahman and Adittya Arzu aka Siaminium, with classical raga and Nazrul sangeet vocals by Meerashri Arshee and Moumita Haque, Bansuri flute by Jawaad Mustakim Al Muballig and sitar performance by Nishit Dey. The final act is by Bangladeshi hip hop duo Tabib Mahmud and 12-year-old Gully Boy Rana, whose socially engaged lyrics highlight some of the pressing issues the concert aims to fundraise for.
Musicians perform against shifting virtual sets that will immerse audiences in vibrant Dhaka streets, transport them to the riverbanks of Gorai River Kushtia via mangrove ecosystems and the 8th century AD Somapura Mahavihara monastery, culminating with a performance in the iconic Beauty Boarding, a historical literary hub in Dhaka and a meeting place for intellectuals to this day.
The concert is touring to Yorkshire Sculpture Park (Wakefield, UK), Pioneer Works (New York City, USA), Chisenhale Gallery (London, UK), Leeds City Varieties Music Hall (Leeds, UK) and Srihatta Samdani Art Centre and Sculpture Park (Sylhet, BD). These institutions are located in significant diasporic or rural Bangladeshi areas and will further decenter and democratize the project's reach, amplifying the experience to diverse Bangladeshi and international communities.
About Co-Producers
UBIK Productions is an immersive film and digital arts production company based in London. It focuses on feature length and short experimental film production as well as cutting-edge digital animation, artworks using algorithm technologies and VR development for theatrical, festival and institutional distribution. www.ubikproductions.comThe Samdani Art Foundation (SAF) is a private arts trust based in Dhaka, Bangladesh founded in 2011 by collectors Nadia and Rajeeb Samdani to support the work of the country's contemporary artists and architects. Led by Artistic Director and Curator Diana Campbell, SAF seeks to expand the audience engaging with contemporary art across Bangladesh and increase international exposure for the country's artists and architects. www.samdani.com.bd
About Shezad Dawood
Shezad Dawood works across the disciplines of painting, film, neon, sculpture, performance, virtual reality and other digital media. His practice often involves collaboration and knowledge exchange, mapping across multiple audiences and communities. Dawood's work has been shown internationally at institutions including Tate (London), MoMA (NYC), Guggenheim (NYC), WIELS (Brussels), MOCA (Toronto), Manifesta, Venice Biennale and the Taipei, Toronto and Gwangju Biennials.
Concert From Bangladesh is a project by UBIK Productions and Samdani Art Foundation in collaboration with Shezad Dawood and in partnership with Pioneer Works, Yorkshire Sculpture International, Chisenhale Gallery and Friendship. It is supported by the British Council Digital Collaboration Fund, which supports UK and overseas cultural partnerships to develop digitally innovative ways of collaborating.
With additional support from EMK Center.
With thanks to our Media Partners, The Face, Art Review, and Dhaka Tribune.