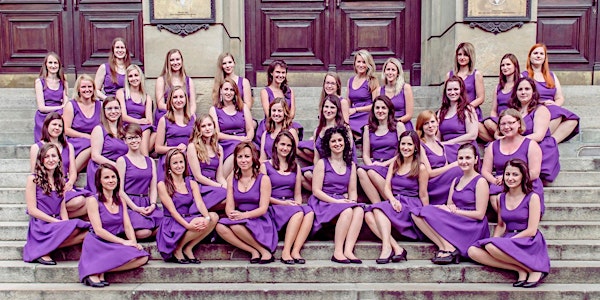 Concert: Cancioneta Praga
The Cancioneta Praga choir will perform an array of classical and popular songs for an unforgettable night at the Czech Embassy!
By Embassy of the Czech Republic
When and where
Date and time
Wednesday, February 22 · 6 - 8pm EST
Location
Embassy of Czechia 3900 Spring of Freedom Street Northwest Washington, DC 20008
About this event
Concert: Cancioneta Praga
The Embassy of the Czech Republic presents the Czech choir Cancioneta Praga, led by choirmaster Lukáš Jindřich, for a special concert on February 22, 2023, at 6 pm. Their program features such classical selections as Dvořák's Largo from the New World Symphony and Novák's Gloria, followed by popular film music including Dancing Queen (Mamma Mia!), and Oh Happy Day (Sister Act), and concludes with a range of international folk songs. Sit back and relax while enjoying this talented choir from Prague in the heart of Washington, DC.
Event Details:
Date/Time: February 22, 2023, at 6 pm
Location: Embassy of the Czech Republic 3900 Spring of Freedom Street, NW Washington, DC 20008
RSVP required
Admission is free.
CANCIONETA PRAGA
Cancioneta Praga is a choir, founded in 2010 by choirmaster Lukáš Jindřich. Members of the choir stem from various renowned choirs from Prague (Bambini di Praga, Radost Praha and others).
The choir's repertoire includes classical compositions, music of the 20th century, carols from around the world and the Czech Republic, a selection of Czech and international folk songs, and popular film music.
Apart from its own concerts, Cancioneta Praga cooperates with notable Czech choirs, orchestras and musicians (e.g. PKF - Prague Philharmonia, Prague Chamber Orchestra, Musica Bohemica, Orchestra of the Czech Armed Forces, harp player Jana Boušková, guitar virtuoso Lubomír Brabec, conductors Marek Šedivý, Jan Kučera, Vojtěch Spurný, Jakub Martinec, famous Czech group Chinaski and singer Petr Bende). Cancioneta Praga has produced two CDs – Enchanting Christmas and The Gospel Train Is Coming.
The choir has won two international festivals, brought home the "audience's most favorite choir award" and the trophy for absolute victory from Malgrat de Mar, Spain in 2010. In 2012, the choir garnered champion of the festival of contemporary choir music, Canti Veris Praga. The choir has been on several concert tours abroad (Germany 2011, 2014, 2018, Hungary 2015, Republic of South Africa 2016).
Embassy Policy:
By registering, you are acknowledging that an inherent risk of exposure to COVID-19 exists by attending this event on the premises of the Embassy of the Czech Republic. You and any family members and guests voluntarily assume all risks related to exposure to COVID-19 and agree not to hold the Ministry of Foreign Affairs of the Czech Republic and the Embassy of the Czech Republic or any of their diplomats, staff, contractors, affiliates, employees, agents, or volunteers liable for any illness, injury, or death. The Embassy of the Czech Republic disclaims and excludes any and all liability for any loss, injury, or damage, alleged to have been suffered by or as a result of or otherwise on its premises.
Masks are recommended. At its discretion, the Embassy may take your temperature upon arrival. No large bags are allowed. Small purses may be checked as you pass through security for entrance. RSVP confirmation and photo ID required.