About this Event
Parking & Check In
There is no parking available at Three Caves.
Parking is located at Huntsville Hospital lots at Adams Street & Lowell Drive. Free shuttle service will begin at 5:30 PM.
If you use a ride-share service (Uber/Lyft) or taxi, please have them pull into the Mountain Springs Pool parking lot. That is the designated drop off and pick up location.
Attendees will check-in before boarding the shuttle or at Three Caves for walk-ups. You do not need to bring a printed copy of your ticket.
Food & Drink
No outside food or drink please.
An on-site caterer will provide a menu of dinner options available for purchase.
A variety of beer and wine options will be available to purchase at the bar. Drink tickets can be purchased at the event. Each ticket equals one drink (beer or wine). No charge for bottled water.
Tips and Reminders
Shuttle starts at 5:30 PM. Opening act begins at 7 PM. Headliner starts around 8:30 PM.
Closed toe shoes recommended due to gravel. The temperature at Three Caves is usually a few degrees cooler due to cool air coming from the cave openings.
No pets. No children under 12.
No bag chairs or tables. Reserved Seating is provided with your ticket.
If the concert must be cancelled due to inclement weather or other circumstances beyond Land Trust control, ticket purchases will be considered a tax-deductible donation to the Land Trust of North Alabama. Please check landtrustnal.org/concerts for cancellation announcements.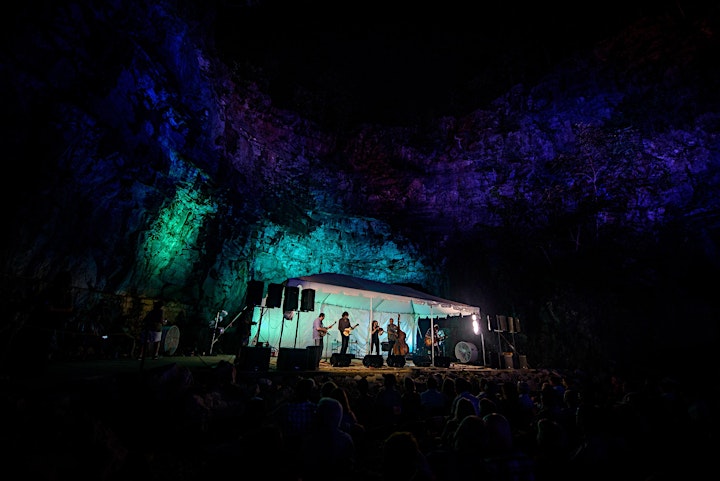 Venue
Three Caves is located within the Land Trust's Monte Sano Nature Preserve and has become one of the most unique event venues in North Alabama. For the past 12 years, Concerts at Three Caves has played host to such award winning entertainers as Delta Rae, Moon Taxi, Tom Braxton, The SteelDrivers, Claire Lynch, and Muscle Shoals Review. The "not so secret" outdoor venue is a former limestone quarry conveniently located just two miles from downtown Huntsville and gets its name from the three cave openings that accentuate and surround the venue. Events are held in the "bowl" outside the mine's three large openings, which offers a comfortable ~55°F temperature year-round. The stage, surrounded on three sides by limestone rock walls, provides an unforgettable backdrop and a one-of-a-kind experience for concert-goers. As the sunset sets and the lights begin to accentuate the interior of the three caves and the exterior of the bowl, one gets the true sense that they are in store for a truly magical musical experience. Proceeds from events held at Three Caves help the Land Trust to further their goals of conservation in North Alabama.
Performers
Date and Time
Location
Refund Policy