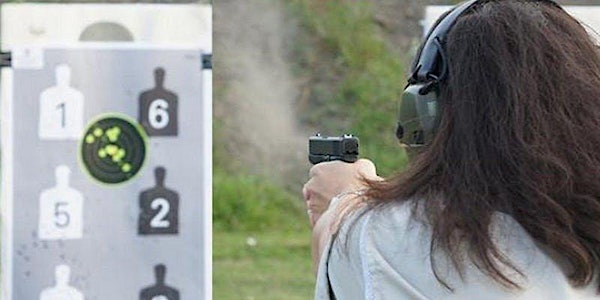 Concealed Carry (CCW) License Class
When and where
Location
In-Gauge of Polk County 6039 Cypress Gardens Blvd. Winter Haven, FL 33884
Refund Policy
Contact the organizer to request a refund.
Description
Concealed Carry License Training Class - Winter Haven, Florida.
This class is required for applying for a Florida concealed carry weapons license and exceeds the State of Florida's training requirements.

This class teaches the actual handling, use, firing and storage of a handgun, while also covering the regulations for the carrying of a concealed weapon in the State of Florida, as established in Florida Statute 790.06.
In addition, indepth instruction is provided on the purchasing considerations of a handgun, as well as, the selection of ammunition and ammunition safety.
You will not find another concealed carry training class of this caliber offered elsewhere locally. We also offer a

100%

student satisfaction guarantee. We absolutely, positively guarantee you will not be disappointed. We do not mind if you shop around. Please do. But, keep in mind if you want incomparable handgun training, come back to us. There is definitely a difference.
Further information and reservations can be obtained by sending an email to: info.ingauge@gmail.com or by calling: 863-206-1996.
Then click on "Register For A Class".
Refund Policy . . . Although there are no refunds for cancellations or your inability to attend a class, you are permitted to re-register for another class up to 2 occassions, if you unable to attend your originally scheduled class, with out penalty.
FAQs
Is an ID required or is there a minimum age for participation?
No. The recommended minimum age is 18.
Do I need to be 21 years of age to take this class?
No. There is no minimum age requirement for firearms training. However, you will not be able to apply for a Florida concealed carry weapons license until you are 21 years of age.
Will this class qualify me for applying for a Florida concealed carry (CCW) license?
Yes. The training provided in this class exceeds the State of Florida's training requirment for concealed carry license application.
Will I receive a certificate of training after completing this class?
Yes. A certificate of training, recognized by the State of Florida for the application of a concealed carry weapons license, will be issued upon the successful completion of the class.
Does the training certificate expire?
No. There is no expiration date or expiration of training certificates. You can submit you certificate of training to the State at any time in the future. There is no time frame for application or an expiration of your training.
Will I actually fire a handgun during this class?
Yes. You will be provided with at least 1 hour of supervised, live-fire range training. You will be expected to fire 50 rounds of ammunition during the live-fire training session.
Will I be taught how to use my handgun?
Yes. This class is more than just a sit-in-the-class concealed carry class. This class is a real firearms training class. You will be taught the correct and safe way to handle, fire, load, unload and store your firearm.
What do I bring into the class?
1. Your personal handgun and 50 rounds of ammunition appropriate for your firearm.
2. Hearing and eye protection
We absolutely require that all firearms be UNLOAD and that NO ammunition be brought into the building.
How can I contact the organizer with any questions?
Send an email inquiry to: info.ingauge@gmail.com or call: 206-1996
Do I have to bring my printed ticket to the event?
Yes, please. Pre-registration is required. Walk-ins will not be permitted.
Is it ok if the name on my ticket or registration doesn't match the person who attends?
No. Tickets must be purchased in the name of the person attending the class.