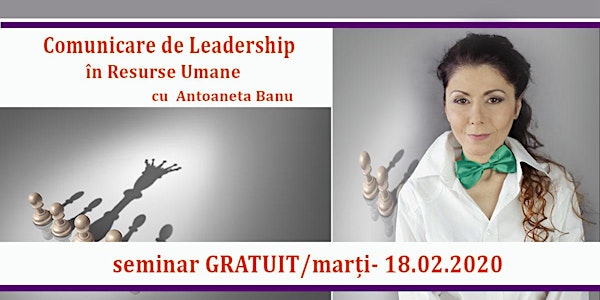 Comunicare de Leadership în Resurse mai Umane
Potrivit unui raport recent realizat de McKinsey Global Institute, până în 2030 vom asista la schimbări majore, profunde în domeniul HR.
When and where
Location
Fundația Competenți, Corecți și Utili - CCU nr. 134-138 Strada Progresului 052034 București Romania
About this event
Evoluțua rapidă a noilor tehnologii-automatizarea configurează o altă imagine a acestui domeniu.
Înscrierile se fac completînd formularul de pe site!
Împreună cu Antoaneta Banu, trainer acreditat ANC - vom discuta despre cele mai importante elemente care compun the big picture în zona muncii:
- disparația a peste 24,7 milioane de locuri de muncă;
-apariția a peste 14,9 milioane de locuri de munca noi;
- schimbarea tipurilor de abilități pe care companiile le caută;
- abordarea unitară, integrată a dezvoltării personale și profesionale;
- concentrarea pe dezvoltarea soft skills , esențiale pentru orice nivel de carieră;
-tranziția focusului, de la job la carieră;
-mixul de generații în forța de muncă;
-atragerea și retenția talentelor într-o piață tot mai fluctuantă,
Vă așteptăm pe data de 18 februarie 2020, de la ora 17:45, la seminarul "Comunicare de Leadership în Resurse mai Umane" susținut la sediul Fundației CCU - Str.Progresului 134-138, et. 1, sala Mihai Eminescu, sector 5, București .
4IR( cea de-a 4 revoluție industrială) reprezintă o mare provocare pentru fiecare dintre noi, fie că vorbim de leaderi, companii, organizații, businessuri, echipe și clienți interni.
În acest context provocator, Leaderii HR sunt învestiți de câtre organizații cu statutul de business partners, rol strategic și comunicator principal.
Leaderul de HR este principalul purtător de mesaj, în toate formele (internă și externă) pentru organizația pe care o reprezintă.
Iar principala abilitate a unui leader rămâne comunicarea.
Seminarul Comunicare de Leadership în Resurse mai Umane este un intensiv de comunicare 360, care acomodează participanții cu cele trei tipuri de comunicare non verbală, paraverbală și verbală.
Cui se adresează?
Profesioniștilor din HR, L&D, antreprenorilor care sunt convinși de rolul comunicării eficiente în businessul, organizația lor;
Specialiștilor care doresc să îți dezvolte abilitățile de comunicare.
Cui nu se adresează?
Celor care funcționează în clișeele și tiparele clasice de gândire.
Seminarul este structurat pe două dimensiuni:
-prima parte: introducere în comunicarea efectivă;
-partea a doua: un atelier de lucru, în care se vor aplica noțiunile basic.
Ce vor afla partipanții? Într-o abordare 360, tips&tricks despre:
-construirea mesajelor;
- vorbire şi persuasiune;
- expresivitate şi limbaj corporal;
- dinamică vocală.
Despre trainer:
Antoaneta Banu este trainer acreditat ANC, moderator în diferite evenimente de business, realizând propriile conferințe și seminarii.
Cu o experiență peste 15 ani de jurnalist tv și de 10 ani în consultanță și coordonare în comunicare, Antoaneta susține azi, propriile cursuri și workshopuri în calitate de: #Creative Communication Trainer & Design de Leadership personal.
Parcarea este gratuită!
Vă așteptăm!